Interview with Tony Naumovski
(August 2019)
Actor Tony Naumovski portrayed "Dmitry" in DAREDEVIL Season 1 and here we discuss his acting background, his role as one of the Ranskahov brothers' henchmen, and working with the talented cast and crew of the show.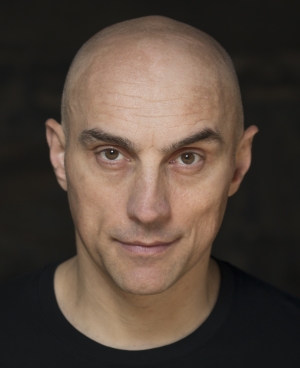 Kuljit Mithra: Good morning and thank you for the interview. I know it's been a few years since your work on DAREDEVIL as Dmitry, but what's the first thing that comes to mind when you think back on the role?
Tony Naumovski: The excitement of being a part of a Marvel show. The joy and enthusiasm of each moment on set. I so much loved the entire process, had so much fun, I could go on forever. And last but not least, of course, filming together with the exceptional Rosario Dawson and the incredible David Vadim.
Mithra: One thing I always ask people who have worked on the show is the whole audition process, considering all the secrecy with Marvel projects... what was that whole process like and did you even know you were auditioning for DAREDEVIL?
Naumovski: Yes [smiles]. No, I had no idea what I was auditioning for. I don't recall anyone knowing what they were auditioning for. I only knew that it was a Marvel's 'Bluff' titled project. I auditioned with a completely different material than what was in the show. I had heard some rumors about it but that was all. The whole process for me from auditioning to being offered the role was like five or six weeks. No scenes from the actual script, no other info. Looking back at it now I really like the mystery of it and not being able to get too much into my head about what they would want to see and expect from me, etc. It was kind of raw and now I really love it, although at the time, of course, I wanted to be thoroughly informed so I could be as specific as possible.
Mithra: How did Marvel describe the character in the casting call?
Naumovski: A Russian henchman, threatening, physically imposing, dangerous looking [smiles] something like that. If I remember correctly there was even a different name for my character.
Mithra: You've got a quite an interesting background in theater, film and TV work all over the world. Can you briefly describe how your path has taken you from Australia to Europe to New York?
Naumovski: I was born in Sydney to a Macedonian family. When I was still a baby we moved back to Macedonia, so I was brought up there. Coming from a strong musical family and culture, as Macedonian culture is, I grew up with music and later on in High school I discovered the power of theatre and acting. When time came to decide between music and drama academy I chose drama. I was lucky enough to have studied at one of the most prestigious acting schools in the world at the National Academy for Theatre and Film arts in Sofia, the capital of neighboring Bulgaria. I studied there for four years conservatory classical training with true Masters of the acting craft in the class of a living legend, Professor Stefan Danailov. After, I wanted to expand my horizons and endeavor even bigger challenges so I moved back to Sydney where under the leadership of the renowned Oxford professor Jim Davis I completed the incredible Masters Program in Theatre at the University of New South Wales. Flash forward, the passion for theatre and the legends of NYC acting giants and the Actors Studio legacy took me to NYU by recommendations of my Australian professors and colleagues, where I met Jeremiah Jay Newtown, an illustrious professor and NYU industry liaison, who was able to introduce me and present all my work, materials and high recommendations to Anna Strasberg who granted me a scholarship to study (specialize in the method acting) at the iconic Lee Strasberg Theatre and Film Institute in NYC. The rest is history as they say. Fifteen years later I have been very fortunate to have worked and collaborated with some world renowned artists and companies and take a part in the creation and development of some 200 theatre, film and tv productions to a global artistic, critical and commercial acclaim.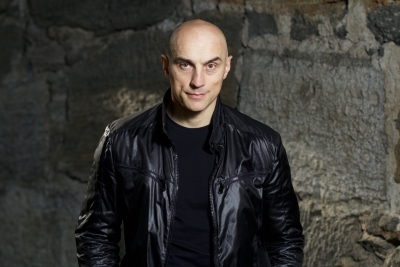 Mithra: You appeared in a couple of episodes in Season 1. You worked closely with David Vadim (Sergei) in episode 4 "In the Blood", where you break into Claire (Rosario Dawson)'s apartment, get some info out of Santino (Moisés Acevedo) and then kidnap Claire at her hideout. Then you have that fight with Daredevil in the taxi company garage. Were you used to these types of physical roles, as you have to do some stunt work, shoot a semi-automatic gun and you got that tire iron on the side of your head from Daredevil at the end. What was that like to prepare for, and ultimately executing all the fighting in that dark garage?
Naumovski: What you see in the relatively short scene was shot in two 12 hour days. I think there was about 200 people crew and cast on those two days. It was brilliant. Anything that an actor could ask for. Being in a scene where you need to act under high expectations and pressure, driving a car, where combat skills are required as well as use of weapons and speaking in a foreign language and all of it done in almost a complete darkness. All of it requires an utmost focus and precision. There is almost no margin of error. I have been training mixed martial arts for over a decade, which helped me a great deal and also I had already had a lot of experience in stage combat and some stunts both in theatre and on camera. So I was/am used to these types of physical roles. Everything you see combat wise I did it myself including my own stunts. Although there is always a stunt double for these kind of roles and shows I always prefer to do all the action and stunts myself. Otherwise I feel incomplete in terms of creating the role.
Before filming for those two days I woke up four hours before my call time and went through a thorough physical exercises and vocal warm up, stretching, imagining, visualizing and anticipating any possible ways that I could offer or be asked in order to execute the scene in the most powerful authentic in detail possible way. I also believe the mental part of the preparation is extremely important cause you must be full on to dictate your body and mind to behave in an in-ordinary manner. But if you are physically fit, athletic, flexible and you own the physical and emotional identity and language of your character then you can accomplish anything. That being said I could not be unaware of the pressure of so many people waiting for me and expecting me to bring my "A" game and perform at the highest level under very difficult circumstances. I still vividly remember there were 3 or 4 cameras rolling when I had to fire several rounds with my semi-automatic weapon and fired almost 400 bullets to get the coverage and the effect we needed for the scene. The responsibility was enormous. But thankfully my preparation, hard and wise crafting paid off beautifully.
Mithra: In your second episode "World of Fire", you are with Vladimir (Nikolai Nikolaeff) in his office when he meets with Wesley (Toby Leonard Moore). Then Anatoly (Gideon Emery)'s headless corpse is brought in... as an actor do these horrific things affect you at all, or do you just marvel at the work involved in creating those effects?
Naumovski: Yes and no [smiles]. I believe the basic action is to marvel at the work involved in creating those effects. On one hand as an actor, of course, you think of everything and you get into deep analytical investigations to be as specific as possible, on the other hand you can not overthink it cause it could be an obstacle if you overdo it and get too much into your head. For myself personally after I am done filming I need some time to recuperate or as they say restart myself. I mean you simply can not ignore those images and there is no way not to be affected by it. Even more so you are affected by the energy, behavior and thinking process of your character's body and mind. Remember, what we do as actors is unnatural and taxing physically and mentally so it takes some time to rest yourself.
Mithra: I interviewed Nikolai Nikolaeff a few years back and we spoke a bit about the Russian dialogue in the script. Are you fluent? He was describing the work Gideon Emery put into learning his Russian. And Nikolaeff is also from Australia, correct?
Naumovski: Yes, Nikolai is a wonderful Russian-Australian actor born and raised in Melbourne. I am still perfecting my Russian, so at the time I was not as fluent as I am at the moment. Languages for me are challenges. It is like music, as long as understand what I am saying, why I am saying it and most importantly what my need is and have a character sculpted, then in the name and position of my character I can speak in any language. I also love the nuance and various new colors that the thinking process of the body and mind incorporate by speaking another language. It gets you out of your comfort zone and habits which is always rewarding. I recently filmed 12 pages in Romanian language and I speak zero Romanian. It was not easy but what is the point of doing it if it is?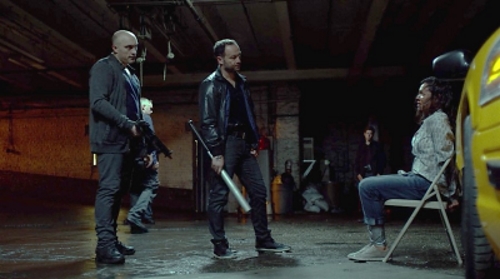 Mithra: Anything you wanted to add about any of the actors or crew you worked with on the show? It seems like everyone I've interviewed enjoyed their time on this show so much, especially with Charlie Cox.
Naumovski: Ooooh YES!!! It was a pure joy from the first to the last moment of being a part of that journey. It was such an open, free and collaborative environment I would work for Marvel again anytime, anywhere, anything.
Mithra: Thanks for answering all my questions. Since DAREDEVIL, what kind of projects have you appeared in, and are there any future projects you can talk about? Thanks again.
Naumovski: In the last five years, I will mention only a few. I recently did Blacklist, The Enemy Within, Madam Secretary and did season one of the HBO Europe, Macedonian version of 'In Treatment'. That was such an honor and privilege to be acting in Macedonian, my mother tongue. The show had an overwhelming success that has not been paralleled in the history of Macedonian TV. On that note I just completed a wonderful feature film 'Lena and Vladimir' in Macedonian language which is in postproduction at the moment where I play the role of Vladimir. Also, I am in season one of the New York based TV Series 'Big Dogs' that will come I believe this fall or next spring on a network that is yet to be determined. I am principal cast in Big Dogs and I speak in five languages in it.
Theatre wise, I did two fantastic off-Broadway productions at the 59E59 Theaters. 'Wide Awake Hearts' written by the amazing Canadian actor, writer, producer Brendan Gall and 'The Birds' by one of the modern geniuses, Irish writer Connor McPherson. Both productions were directed by the brilliant Stefan Dzeparoski and produced by the award winning Zorana Kydd. Also I played Tiresias in 'The Bacchae' to a sold out audiences at the historical LaMaMa ETC, marvelously constructed and conducted by Mark Greenfield. For this experimental production in addition to the role of Tiresias I was one of the music creators for which I was nominated for Best Original Score from the Innovative Theatre Awards. Another successful production was 'Kentucky Cantata' a beautifully written by Paul Young and amazingly directed by Kathy Gail MacGowen which also brought me a recognition from the Innovative Theatre Awards, this time for Best Outstanding Actor in a Featured Role. Most recent theater was the musical 'From Here to Eternity'. Based on the novel by James Jones, book by Donald Rice and Bill Oakes, lyrics by Tim Rice, music by Stuart Brayson, directed and choreographed by the outstanding Brett Smock and performed to sold out houses at the Ogunquit Playhouse. There is also lot of other projects in the works Film, TV and Theatre wise but I can not say more at this moment [smiles].
--------------------------------------------------------------------------------------------
(c) 2019 Kuljit Mithra & Tony Naumovski
Daredevil:The Man Without Fear
http://www.manwithoutfear.com
--------------------------------------------------------------------------------------------

---
Read more interviews!