Interview With the Daredevil '83 Creators
(October 2011)
Chris .R. Notarile, the man behind the Elektra: Hand and the Devil fan film from 2008 is back with another fan film, Daredevil '83. This time, Daredevil is played by actor Nick Groch and Typhoid Mary is played by actress Mandy Evans. I spoke with the three of them about filming in NYC.
If you haven't seen the film yet, please check it out!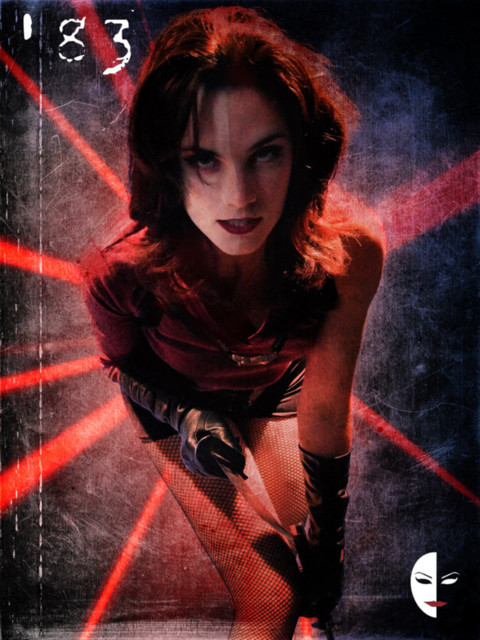 Kuljit Mithra: Chris, I wanted to start with you and get to know some background on your ideas for this fan film... the retro feel, and bringing in Typhoid Mary for this one.
Chris Notarile: Daredevil '83 is actually a sequel to my Punisher webseries, which is of course, a period piece. I chose to make the Punisher as a period piece for a simple reason -- I wanted to see the Vietnam version of Frank Castle. I always felt that he was most relevant in that time in American culture. New York City was at its worst, crime was up and the idea of a ruthless, gun-toting vigilante seemed very appropriate. It was a world that needed the Punisher. So I set the first episode in 1979 with no intention of doing anything beyond it, but the short was so well received, that people began demanding more. So I conceived 1980-1982. I wanted to set each episode a year apart. I also wanted to show the evolution of Frank as the Punisher. From starting out as a guy with a lot of guns 'til we see him in '82 in full tactical gear. After I wrapped on 1982, I got my usual emails from people asking me if there was going to be a Punisher '83. But for some reason, the idea didn't excite me. Punisher massacred just about every memorable villain he's ever faced in one foul swoop. There wasn't much else I could do with the character that interested me. So I decided to shift the focus to someone else. His interaction with Daredevil in 1981 was pretty deep. I wanted to imply that Frank's insults were responsible for Matt's change of costume. And if that were the case, how would that effect his behavior as a masked vigilante? Would he try to be more like the Punisher? Would he still stand true to his morals? That idea interested me, so I decided to give Daredevil a shot and made 1983 with him as the main character.
The retro vibe was just flavor to the story, which of course totally lent itself to the story. In fact, I think it defined Typhoid Mary more than it did Daredevil. I chose to do Typhoid for two simple reasons, the first was that I left a little bit of a teaser at the end of 1982, where she miraculously survives a gun shot to the stomach from the Punisher. She wakes up, looks at the camera and snickers. So since I had already done that, the logical thing was to use her as the villain in 1983. The other reason why I chose her was because she's the only other significant costumed female in Matt's life. I had already done Elektra and there's no way Elektra would ever sink to such a maniacal level as Typhoid. And I really wanted Mary to do something sick, so sick that it would change Daredevil forever. That about sums it up.
Mithra: Nick and Mandy, you've worked with Chris before, so how excited were you to work on this film, and what kind of research did you do for your respective characters?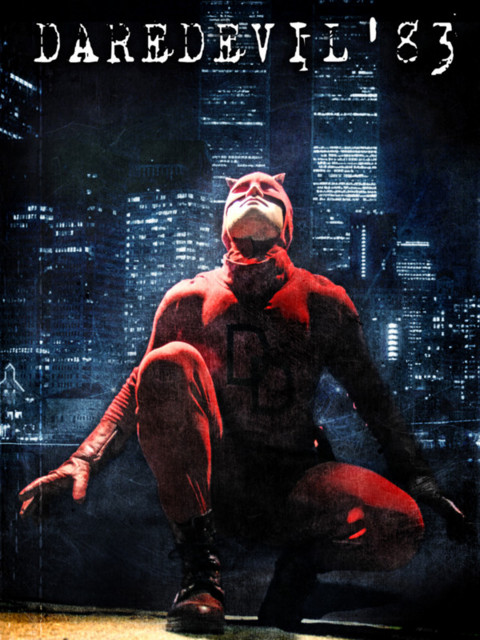 Nick Groch: I was especially excited to work with Chris again on DD'83 because it gave me the opportunity to perform in the leading role of a Blinky production as a visually-impaired supersensory superhero. It's an incredibly challenging task to perform as a character who is blind, but to perform as a man who is mentally processing every sense except sight to generate an understanding of his environment is downright mind-boggling. To prepare, I did a lot of heavy lifting, read as much about MM/DD as possible (not so much the comics but more the tabulated history of the character -- I didn't want to muddle the character that other authors have made of DD with the one that Chris was developing), and generated a personalized concept for the way in which DD perceives his world. I brushed up on my limited martial arts training, and rehearsed every day on the subway, on my walks home, and in front of the mirror, as well as with Chris and Mandy.
Mandy Evans: I was very excited to have the opportunity to dig my teeth into portraying Typhoid Mary. I know there are Hollywood actresses who have been dying to play this role, so I consider myself very lucky to have had this experience. I was also so thrilled to get to dance to "maniac". I started my research by simply reading the comic book to get a sense of who Mary was. Portraying comic book characters is relatively new to me. It was a challenge to figure out a way to stay true to the history of the character while staying organic and truthful as an actress. Often times with these kinds of roles, because they have such a large fan base, people have an idea of how they should be played. I wanted to find my own interpretation. Typhoid is a villain but I didn't want to play her as that. I chose to focus on the fact that she was a sex crazed maniac who has been extremely damaged by the men in her life. That's where the D.I.D. comes from, which explains the constant switch from sensuality to sadistic brutality.
Mithra: I've interviewed Chris before for the Elektra fan film, so I'll ask the two of you for a little bio?
Groch: I'm a Philadelphia-based architectural designer, actor/producer, author, and homebrewer. I studied engineering at Lafayette College, where I acted in my first play at the ripe old age of 21. After ten years and a big recession, I decided to take a chance with acting again; soon thereafter, Chris cast me as Superman in Die Laughing. It wasn't my most authentic performance, but it made me a part of the Blinky Productions family... One year (and a lot of day trips up to NYC) later, we're proud to give you DD'83!
Evans: I spent my entire childhood as a Jersey girl obsessed with becoming a professional dancer. I trained for many, many years in ballet, jazz, tap, modern and gymnastics. After graduating from the University of the Arts in Philadelphia, I started my career performing all over the world in the musicals Fosse, The Who's Tommy and also as a Radio City Rockette. I got bit by the acting bug in 2005 while on tour in Holland. When I returned to NYC I studied the Meisner technique for two years. During that time I developed a strong technique and began to perform in several readings and plays throughout Manhattan and Brooklyn. In 2007 I ventured into film and television acting in several student and short indie films. The past few years I have started to gain some more exposure, appearing on One Life To Live, national commercials for Trojan, and most recently the feature, Stand Off which is premiering in January, 2012.
Mithra: What did you all think of the costumes and who designed/created them?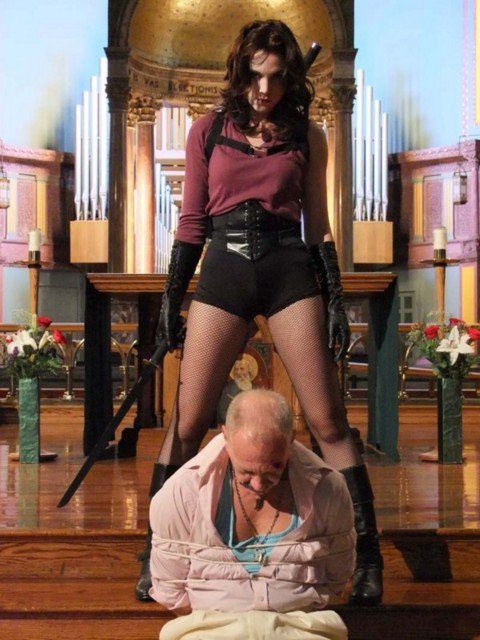 Notarile: I created all the costumes for this movie as I do every other movie. Since it was set in 1983, I really wanted to capture certain aspects of fashion. With Daredevil, I wanted his costume to look homemade. Stick wasn't in the story and I doubt Matt knows any good tailors yet, plus I felt it was more powerful to see him at the sewing machine working on a new suit while bitching about what the Punisher said to him. As Matt Murdock, I told Nick that I wanted him to look as yuppie as possible and..... he did. And it worked. Regarding Typhoid Mary, since she was going to be dancing and since I already used the gray and black outfit in 1982, I wanted to switch things up, so I chose to dress Mary in her first appearance outfit, minus the spiked shoulder pads. Mandy even cut her hair so it had that 80's feel to it. All in all, the fashion of 1983 combined with the music selection really helped sell the time period. There isn't much in the film that doesn't look legit and I'm pretty proud of that.
Groch: Above all else, the costumes were authentic. The materials, the look, the fact that thick cotton makes a man sweat heavily while doing battle... It's all there. From the dyeing to the stitching to the aptly-placed Velcro, the costumes are legit... In Chris' World, the grittiness of reality takes precedence over a super slick leather bodysuit with cleverly located flaps and folds to make an actor look two times more muscular than he actually is. It takes a lot to fill a costume like that, but that type of challenge drives an actor to maintain and develop his or her physique so that he or she can do their character justice. After all, in the superhero business, it's all about justice. Hollywood might consider him to be something of a rascal, that Chris .R. Notarile, but the man makes one hell of a costume!
Evans: I love everything 80s so yes, I loved the costume! Who wouldn't love to wear fishnets, a one sleeved shirt and booty shorts?
Notarile: I wear that on the weekends.
Mithra: The film was shot in NYC and in a real church, so I was curious how the team felt about filming "on the streets" and in the church itself. How did you convince the church to let you shoot there, and what was it like as actors to have the fighting and swearing in there?
Notarile: The way I got the church was pretty funny. I was walking down the street and I had already decided I needed a church to film in, and the several local churches I had gone to in my area, said no. I was kinda grumpy about it. So as I'm walking, I pass St. Paul the Apostle and stop dead in my tracks. I look up and see the arches and said "why the hell not?" and walked in. I then approached the first pastor I found and asked if it would be possible to shoot. After a quick discussion about what I wanted to do, he said "sure" and I was rather impressed by his candor. I thought I would have to do a little more convincing/negotiating. Turns out I didn't have to and that was a real treat.
The street scenes were simple. Nick and I went to the surrounding area of the church and just guerilla'd shots of him running around and jumping on and off of stuff. It was pretty easy and fun.
Groch: Shooting on the streets of NYC is great, because people seen to love watching the filmmaking process - I think I even made a few people's Facebook pages; shooting our performances in that church took a lot of justification for me, being raised a Catholic school boy acolyte from K-12... Since DD was raised Catholic, I was able to draw from my own life in order to get into character within the familiar architecture, and since the ultimate goal of any superhero is saving lives and vanquishing evil, I figured God wouldn't mind us depicting the Struggle in a place of worship. (In fact, as was the case with the pastor, I think there may have even been a sincere appreciation for our work.) At the end of the day, it's about authenticity, and in Notarile's gritty world, a few F-bombs are necessary to express the emotion.
Evans: I was a little shaken up filming this scene in the church, but I knew that it was justified in the script. Even though it may come across sacrilegious, in the end Mary is looking up asking God for forgiveness for what she has done. It just made sense to film it there. It also was comforting knowing that the priest supported what we were doing. It is about fighting evil after all.
Notarile: I'd also like to point out that Mandy and I also both attended Catholic school together as kids, so I find it pretty funny that now with Nick on our team, we get to do a story with such a dark undertone in a religious setting. It was definitely a pretty surreal experience shooting in a cathedral and indeed dropping some serious F bombs. I still can't believe we got away with it.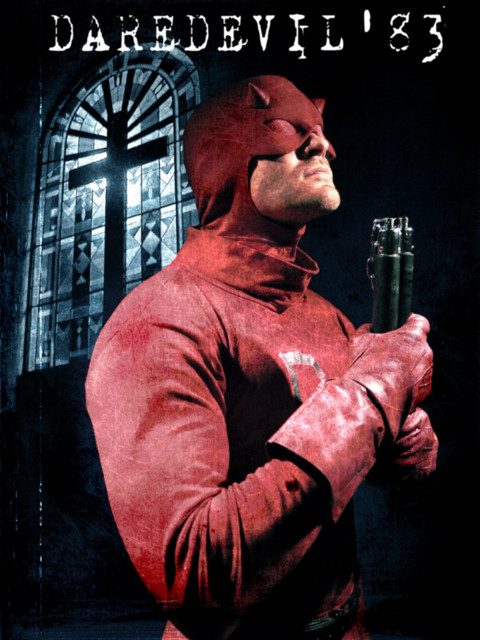 Mithra: For Nick and Mandy, do you find the action sequences more difficult to master than the dialogue? How much practice did you do individually and together?
Groch: Action sequences are definitely more difficult for me at this point in my career. I only have limited martial arts experience, and almost no practice in the art of stage combat. In our fight scene, I depended entirely upon real-world self defense techniques, and actual defensive maneuvers typically don't look all that good on screen. Chris' guidance and Mandy's strength and experience were crucial to the success that we enjoyed with that sequence. Our rehearsal the weekend prior to shooting and the videos of the fight choreography that Chris sent me months in advance helped immensely. After all of that, the final step was to approach the battle as if it were a dance, and strive for a connection with my partner Mandy!
Evans: I am very physically active and a dancer so the fight scene came pretty naturally to me. We rehearsed one day together for a few hours and then worked on it on our own. The most difficult part was the length of time we had to execute the entire scene, fight included. We only had 2 hours for all of it because there was a wedding there that afternoon.
Mithra: Finally, with news of a Daredevil reboot out there by David Slade, I was wondering if any of you had any aspirations to get a chance to work on the film? And what do you think of the news that the movie will be based on Born Again?
Notarile: I would love a chance to work on the reboot as I'm sure Nick and Mandy would too. My only hope is that no matter what storyline they choose, they DON'T FUCK IT UP! I can't stress that part enough. There's this unspoken curse going around that all comic movies done by outside companies suck. So if this reboot comes to pass and they get it right, then it will definitely be a game changer. I only hope that Nick and Mandy get the opportunity to audition for their respective roles and I at least end up as a crew member. That wouldn't be so bad.
Groch: Absolutely! I'm aiming high with this career path, and I hope to bring something new to the table. Simply being offered the opportunity to audition for the lead in the reboot would be fantastic. I realize that it's a risky move on the part of any production team to even consider an unknown actor for such a challenging role, but I have some experience with DD, and I have a profound appreciation for the Man Without Fear and his struggle. What if I nail it? It's possible... I love developing a character, I take direction to heart, and the level of commitment with which I would approach the project would be second to none. I would LIVE this project. Lots of protein and heavy lifting and Tang Soo Do classes and one-on-one work with acting coach Drucie McDaniel here in Philadelphia before we begin principal photography. Sign me up, Mr. Slade!
With Frank Miller's influence on the reboot, and his ability to work with cinematographers to transcribe the spectacle of one of his graphic novels to the screen, I'm incredibly excited to see what happens when he presents what could be an exceptionally vivid, all-encompassing and multi-sensory experience that is the world as DD 'sees' it. There are so many opportunities inherent in his unique perception. In an ideal world, a prototype theater would be developed that shifts the audience into DDVision when point-of-view scenes occur in the film. Sounds, vibrations, even smells and (artificial) spatial reverberations would immerse the viewer in a new form of entertainment. This system could then be used to enhance the cinematic experiences of those without vision or hearing in the future as further developments are made. Again, it's all about what is possible with a superhero like Daredevil...
Evans: Of course it would be amazing to be in the reboot! I am realistic though, it is an extremely competitive industry. This is why I continue to work on these amazing roles that Chris and other directors give to me. If I keep doing the work and learning from each experience how to be even better next time, I will be ready when the big budget feature comes my way.
----------------------------------------------
(c) 2011 Kuljit Mithra
Daredevil:The Man Without Fear
http://www.manwithoutfear.com
----------------------------------------------

---
Read more interviews!