Interview With Khoi Pham
(July 2012)
Khoi Pham has recently worked on two issues of DAREDEVIL as artist and here we talk about his past education that relates to Matt Murdock, and what it's like to work on the title. He is currently hard at work on the SCARLET SPIDER series from Marvel.
Kuljit Mithra: I wanted to thank you for this opportunity to interview you. When you first started working with Marvel, one thing that I read that always stuck with me was that you were a defense lawyer and were doing both jobs at the same time. Are you still doing both, or have you dedicated your efforts to the art world now? To me, they both seem like they take up all hours of the day and I'm surprised you are able to do both.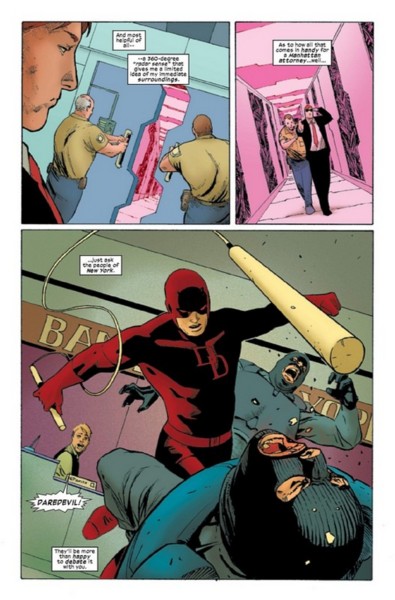 Khoi Pham: You're welcome, Kuljit! I stopped the lawyer work around the time I started Mighty Avengers way back when. However, before the switch, it DID take up all hours of the day. There was a nice synergy there, though -- defending criminals during the day and drawing them getting beat up at night.
Mithra: Obviously, the main reason I remembered your lawyer skills was how it could help for a DAREDEVIL stint. (Unfortunately, most thoughts I have somehow relate back to DAREDEVIL). Have any writers ever asked for your input or help? Ever read a comic that featured a trial and you just shook your head at how incorrect it was?
Pham: Ha! Most of my lawyer thoughts relate back to DD, too. Actually, at my law school orientation, there was an info card asking the incoming students to list their favorite attorney. I put down Matt Murdock. Haha. And this was an Ivy League school, too. They probably thought I was crazy. And when I started working at Marvel, I switched from private practice to working at the Public Defender's Office (great work, great people, btw), so I actually got to BE Matt Murdock. Haha. So I totally get your obsession. I haven't worked on any "lawyer" stories, so I haven't been enlisted for any help in that area. And most lawyer stories I read stay pretty clear of any real legal stuff, so no issues there.
Mithra: With DAREDEVIL, you've recently done two issues... the Point One #10.1 issue and last month's #13. Were you always on board to do the Point One issue and then editor Steve Wacker asked you to do another issue as DD started double-shipping?
Pham: Well, from my end, I think I was meant to do the point one and then the entire 3 issue Omega [Effect] arc, but I was given the choice to jump to an ongoing instead, which I took.
Mithra: With #10.1, the villain Pyromania was introduced. How did writer Mark Waid describe the character in his script, and how did it influence your design for him?
Pham: If I remember correctly, Mark suggested making his costume simple, so I took that and added some of the classic elements that Paolo and Marcos brought to the series.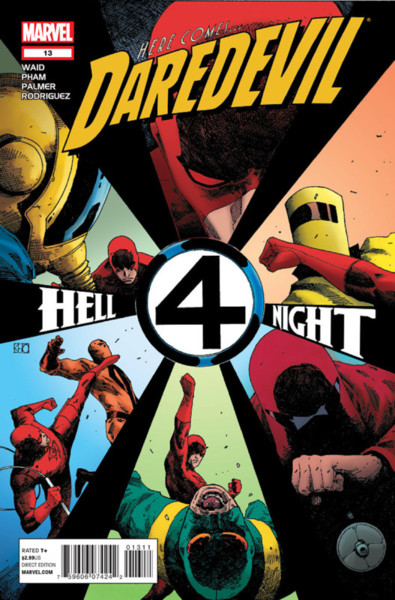 Mithra: How is it working with Waid? This whole relaunch has been so successful with his stories and all the great artists who have contributed.
Pham: Mark is awesome, but I don't have to tell you that. Very clear storytelling and good sense of pacing. No lulls. Good stuff. And the art team has been amazing. Personally, I don't think my style lines up enough with what they've got going, but I wasn't going to say no! It's Daredevil!
Mithra: There have been different interpretations of DD's costume recently, with some artists drawing it with seams like the movie costume, and boots etc. Any particular reason you stuck with the traditional "spandex"?
Pham: Like probably most DD fans, Miller and Mazzucchelli's issues are my favorite run in comics. So naturally, I was going to go there with the costume.
Mithra: I think issue #10.1 was the first time I've seen you ink your own work. Do you enjoy that control over your artwork? In comparison to issue #13, where Tom Palmer inked over you, your lines are thinner than his.
Pham: I do enjoy that control over my work, especially since I find that my art keeps evolving, so I find that inking helps refine what I see in my mind better. On the other hand, I also love when Tom inks the pencils, because he does a good job handling all those shifts and turns in my style. It's all good!
Mithra: Palmer was one of the few inkers, I believe, you could really work with Gene Colan's art. Do you have any favourite artists who have worked on DAREDEVIL?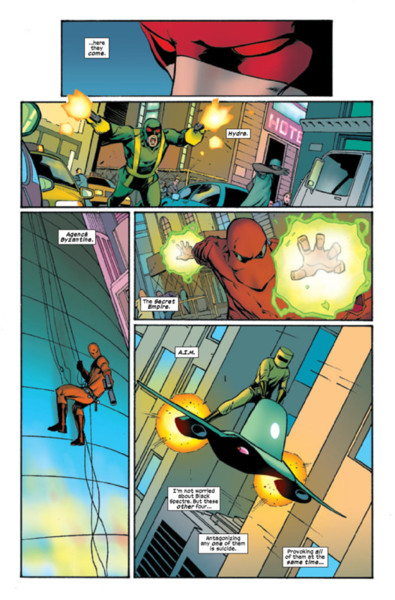 Pham: Well, as I mentioned previously, David Mazzucchelli absolutely defined DD for me. Nobody really comes close.
Mithra: For issue #13, you got to design the cover, with the "4" logo and all the members of Megacrime. How many different concepts did you broach with Wacker?
Pham: All credit for that goes to Wacker! the "4" logo and the spokes were his idea. I came up with the actual elements within the spokes, but that's secondary to the initial design. It worked out great.
Mithra: This issues's fight scenes with all the different groups must have been a joy to draw... instead of the "talking heads" stories that usually are difficult to make "exciting" on paper. Which of the Megacrime groups has the best costume?
Pham: I agree! Why sit and talk when you can fight and talk?! Of the costumes, I really dug the Black Spectre and AIM ones, with AIM winning by a hair.
Mithra: And last question... how excited are you for SCARLET SPIDER?
Pham: Scarlet Spider is awesome. Totally reminds me of the Hercules relaunch with Greg Pak, Fred Van Lente, Paul Neary, the late Stephane Peru, and Mark Paniccia's office. Chris Yost has a similar tone to his scripts, and Steve Wacker and Tom Brennan with editorial are great to work with. (Dangling preposition there, I know. I don't care.) Fans will totally dig what we've got going on there!
----------------------------------------------
(c) 2012 Kuljit Mithra & Khoi Pham
Daredevil:The Man Without Fear
http://www.manwithoutfear.com
----------------------------------------------

---
Read more interviews!