2021 NEWS
---
Follow updates to NEWS on

Click on the links to display article!
---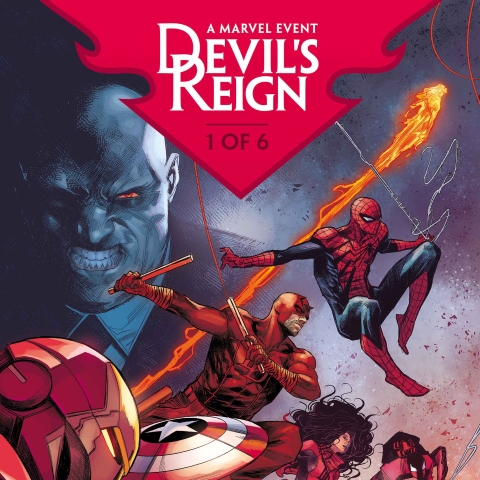 09/16 - DAREDEVIL December 2021 Solicits
December is a big month, with DEVIL'S REIGN, the ELEKTRA mini, ECHO continues, some EPICs and more!
DAREDEVIL December 2021 Solicits
---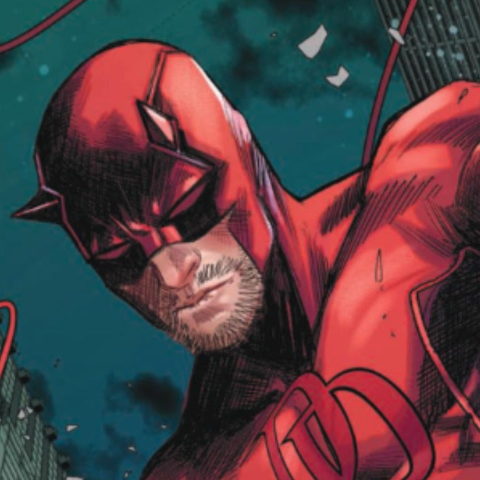 09/15 - DEVIL'S REIGN First Look
The first issue of DEVIL'S REIGN is not coming out for another few months, but there's already a preview available on IGN.
So if you don't mind spoilers, you can click on ahead.
In the meantime, Chip Zdarsky had a few comments about the series:
"From the beginning I had Fisk's catalyst figured out, the thing that propels him to, well, lose it," Zdarsky told IGN. "But the fallout and what it meant for New York was something I worked on in the background as the series went along."
Zdarsky continued, "Part of what shaped the story is the fact that, when I pitched the Daredevil storyline to the Marvel editors and writers, the feedback kept making it bigger. Like, originally it was a big Daredevil story, and then it was suggested we make it a mini event and then when I submitted the first outline it became clear this is much bigger than Daredevil and the street-level heroes, so it got the green light as a big ol' event!"
"He's trying to sway the public using cherry-picked examples of various incidents, Matt's recent troubles being one of them," Zdarsky said. "He's a politician and he's actually pretty good at it, which is a problem for our heroes. But, beyond that, he has some aces up his sleeves that are definitely not about politics."
Zdarsky continued, "What makes Fisk an elevated threat is his mind, not his fists. That's always been the case. Sure, Thor could turn him into paste, but Fisk knows that and has planned for it. And Marvel superheroes aren't about to overthrow democracy."
IGN
---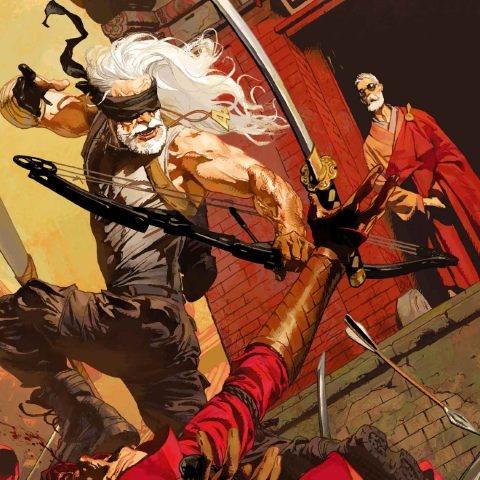 09/14 - WASTELANDERS: HAWKEYE
RETURN TO THE WASTELANDS OF OLD MAN LOGAN IN BRAND-NEW SERIES OF WASTELANDERS COMICS
All-new Old Man Logan spinoffs starring Black Widow, Wolverine, Hawkeye, Doctor Doom, and Star-Lord coming in December
New York, NY— September 14, 2021 — This December, return to the post-apocalyptic Wastelands of OLD MAN LOGAN in five all-new stories set in the Marvel future where heroes have fallen, villains have won, and your favorite characters defy all odds to survive. Brought to you by all-star creators including writers Steven S. DeKnight, Ethan Sacks, Rich Douek, and Torunn Grønbekk, these five one-shots will focus on Wolverine, Hawkeye, Doctor Doom, Star-Lord, and making their first appearance in the Wastelands, Black Widow.
DeKnight, known for his work on Netflix's Daredevil and WOLVERINE: BLACK, WHITE & BLOOD, will lead the return alongside artist Ibrahim Moustafa in WASTELANDERS: WOLVERINE, an all-new story set in the days after the conclusion of the original OLD MAN LOGAN, as he fights once again to save the people of the Wastelands who have been crushed under the heel of the Red Skull and Bruce Banner! The super villains united and took out most of the world's super heroes decades ago, and while the man known as LOGAN attempted to live a life of peace, he had to pop the claws once again to do what he does best! But saving the day looks different with the Baby Hulk under his care. Is Logan doing the right thing by protecting the progeny of the HULK or dooming what's left of the war-torn world? Logan may not have long to ponder if he is crushed by the adamantium armor of his newfound enemy Downfall!
"It's such a rare, bloody joy to be able to transport readers back to the universe of Old Man Logan in the one-shots for WASTELANDERS: WOLVERINE and WASTELANDERS: BLACK WIDOW," DeKnight said. "Old friends, new foes, and quite a few surprises await. You don't want to miss this one!"
Wastelanders mastermind Ethan Sacks, writer of both OLD MAN HAWKEYE and OLD MAN QUILL, is also back with artist Ibraim Roberson to bring you a never-before-told story of Hawkeye's training with Stick—the man formerly known as Daredevil—in WASTELANDERS: HAWKEYE! Clint Barton's sight may be gone, but his will to avenge is stronger than ever, and with the training and expert guidance of Matt Murdock, arrows will fly again! But what is Murdock's actual target? And how will this change Hawkeye's path in the Wastelands? This is one issue YOU can't afford to miss!
THE MIGHTY VALKYRIES writer Torunn Grønbekk and rising star Julius Ohta explore the complex nature of everyone's favorite tyrant in WASTELANDERS: DOOM! Doctor Doom helped wipe out the heroes on the Day the Villains Won, but even as he rules his domain in the Wastelands, a greater destiny calls to him. When a mysterious power blocks his oversight of a particular region, what he discovers will have ripple effects across the WASTELANDERS stories!
Writer Rich Douek (Superman: Red and Blue) makes his Marvel Comics debut alongside artist Brent Peeples in WASTELANDERS: STAR-LORD! The legendary STAR-LORD has fallen on hard times. With the Guardians of the Galaxy disbanded, Peter Quill returned to Earth to find it a wasteland unlike anything he's seen across the stars – heroes dead, villains in power. While he's taken out one threat, others remain in the Wastelands, and Star-Lord's own desire to assuage his guilt for being off-world during the calamity will land him right in the middle of another! Will Quill overcome the mysterious force waiting for him at the site of his lost love's death? Or is she not really dead at all?
"I've been a huge fan of Marvel's Wastelands setting ever since the original OLD MAN LOGAN series, and it's been an honor to contribute to it with WASTELANDERS: STAR-LORD," Douek said. "Both the new podcast series by Ben Percy, and OLD MAN QUILL from Ethan Sacks and Robert Gill inspired me to really dive into what makes Peter Quill tick, and to send him on a thrilling adventure in this grim and gritty version of the Marvel Universe. I can't wait for readers to come along for the ride and see what we've cooked up!"
Bookending the saga, DeKnight will team up with artist Well-Bee to introduce the Wastelander's take on Natasha Romanoff in WASTELANDERS: BLACK WIDOW. The Lizard King has grown monstrous and deadlier than ever as the lord of his southern domain. But when rumor breaks that critical information is believed to be stored in his impenetrable fortress, only the greatest spy of all is up to the infiltration: the deadly Black Widow! But who is she, and how has she survived this many decades in the Wastelands undetected?
Since Mark Millar and Steve McNiven's legendary 2008 Wolverine story arc, the universe of OLD MAN LOGAN has gripped readers with its hard-hitting stories in multiple spinoff titles and a hit podcast series. Don't miss the latest evolution of this fascinating saga when this all-new group of WASTELANDERS adventures hit stands in December! For more information, visit Marvel.com.
WASTELANDERS: WOLVERINE #1
Written by STEVEN S. DEKNIGHT
Art by IBRAHIM MOUSTAFA
Cover by JOSEMARIA CASANOVAS
Podcast Connecting Variant Cover by STEVE MCNIVEN
On Sale 12/1!
WASTELANDERS: HAWKEYE #1
Written by ETHAN SACKS
Art by IBRAIM ROBERSON
Cover by JOSEMARIA CASANOVAS
Podcast Connecting Cover by STEVE MCNIVEN
On Sale 12/8!
WASTELANDERS: STAR-LORD #1
Written by RICH DOUEK
Art by BRENT PEEPLES
Cover by JOSEMARIA CASANOVAS
On Sale 12/15!
WASTELANDERS: DOOM #1
Written by TORUNN GRØNBEKK
Art by JULIUS OHTA
Cover by JOSEMARIA CASANOVAS
On Sale 12/22!
WASTELANDERS: BLACK WIDOW #1
Written by STEVEN S. DEKNIGHT
Art by WELL-BEE
Cover by JOSEMARIA CASANOVAS
On Sale 12/29!
---
09/13 - HAWKEYE Trailer
The Hawkeye show on Disney+ will debut on November 24th and here's the first teaser trailer!
There is a quick glimpse of Alaqua Cox as Maya Lopez (Echo).
Will we see another trailer with Wilson Fisk?
---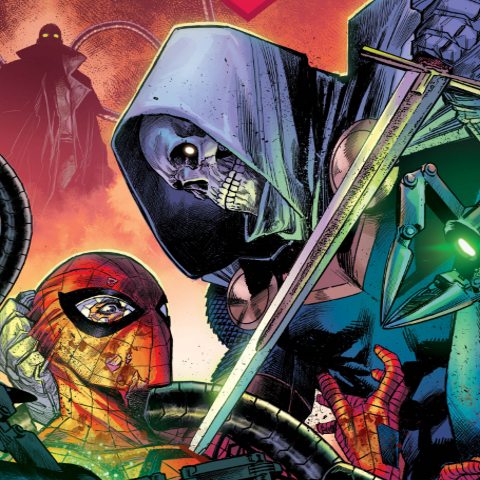 09/13 - DEVIL'S REIGN #2
KINGPIN'S NEW THUNDERBOLTS BEGIN THE PURGE OF MARVEL'S SUPER HEROES IN DEVIL'S REIGN!
Check out the cover of DEVIL'S REIGN #2 and learn about new tie-ins to the upcoming Marvel Comics event!
New York, NY— September 13, 2021 — The recently announced Marvel Comics event DEVIL'S REIGN launches this December with two exciting issues! The highly anticipated saga from writer Chip Zdarsky and artist Marco Checchetto will see Kingpin on a vicious quest to rid the world of super heroes through any means necessary, and he'll have an army of super villains at his command to see it through. Consisting of Crossbones, Taskmaster, Typhoid Mary, Shocker, Whiplash, Rhino, and Kraven, this deadly new team of Thunderbolts will report for duty in DEVIL'S REIGN #2 and represent only the opening salvo of Kingpin's plan to remake the Marvel Universe in his own image.
"Our Daredevil plan just kept getting bigger and bigger, to the point where it would clearly affect the Marvel Universe in huge ways," Zdarsky explained. "Thankfully, Marvel recognized this as well and gave Marco and I the opportunity to tell the story on a massive stage with DEVIL'S REIGN! This is a proper Marvel event springing from the pages of Daredevil and I think all Marvel readers will love what's coming!"
DEVIL'S REIGN will also tie into some of your favorite ongoing series including December's SPIDER-WOMAN #18 by series creative team, writer Karla Pacheco and artist Pere Pérez. Mayor Wilson Fisk is purging vigilantes from his city, and Spider-Woman is on his list! Fisk will do anything to bring her down, including going after her loved ones. It's all on the line for Spider-Woman during DEVIL'S REIGN! Here's Pacheco had to say about what's come for Jessica Drew:
"When Chip first asked about tying Spider-Woman into this spectacular event, I immediately said 'How did you get this number, and what do you want?' Okay, actually it was more me begging 'PLEAAAAASE CHIP!!! LET ME AND PERE BE A PART OF THIS BIG AWESOME THINGY! WE LOVE DEADPOOL AND *YOU*. After he corrected me that it was a DAREDEVIL event, we were still really stoked about it. I can't wait for everyone to see how Jessica Drew handles the chaos Wilson Fisk is bringing to her world, and we have some absolutely explosive issues coming up. Devil's Reign threatens everyone Jess loves, AND brings back one of her greatest nemesisiseses in a way I don't think anyone will see coming. Especially not Jess!"
From the Fantastic Four to the X-men, be there when Kingpin brings his full criminal and political power to bear on all of Marvel's super heroes. Stay tuned for more announcement about upcoming DEVIL'S REIGN tie-in series including January's DEVIL'S REIGN: VILLAINS FOR HIRE! For more information, visit Marvel.com.
DEVIL'S REIGN #1 (OF 6)
Written by CHIP ZDARSKY
Art and Cover by MARCO CHECCHETTO
On Sale 12/1!
DEVIL'S REIGN #2 (OF 6)
Written by CHIP ZDARSKY
Art and Cover by MARCO CHECCHETTO
On Sale 12/15!
SPIDER-WOMAN #18
Written by KARLA PACHECO
Art by PERE PÉREZ
Cover by JUNGGEUN YOON
On Sale 12/29!
---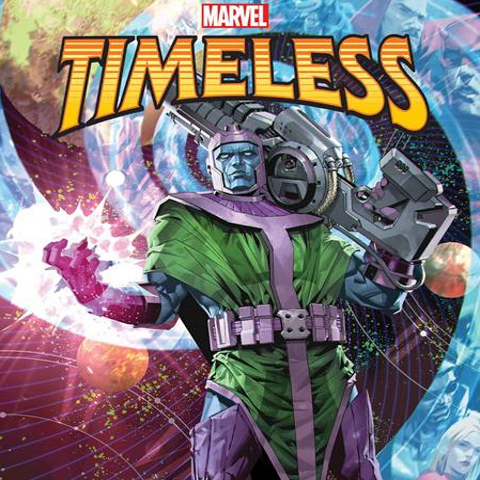 09/09 - TIMELESS One-Shot
THE FUTURE OF THE MARVEL UNIVERSE IS TIMELESS!
See what 2022 holds for Marvel Comics in TIMELESS #1, a special one-shot arriving in December
New York, NY— September 9, 2021 — How do you win a war against time? Find out this December in TIMELESS #1, a journey through the future of the entire Marvel Universe! Announced last week, this special one-shot from writer Jed MacKay and artists Kev Walker, Greg Land, and Mark Bagley will give readers their first glimpse at what's to come next year, including new developments for the X-Men, Daredevil, Venom, the Avengers, and all the major players in the Marvel pantheon! Don't miss your chance to follow Kang the Conqueror into the very beginning of all the epic sagas, surprising revelations, and blockbuster new Marvel Comics series that everyone will be talking about in 2022!
Kang the Conqueror is a warrior, a destroyer, a subjugator—but even he is subject to the whims and vicissitudes of time itself. When a parallel timeline threatens to overwrite the future that Kang has fought so long and so hard to control, the master of the ages will have no choice but to go to war with time itself, battling through days of tomorrow as he struggles to prevent the end of what is to come!
"Kang the Conqueror always knows what happens next- it's a perk of being from the 31st century. But when chronal chaos throws the future he expects into disarray, the Conqueror finds a new challenge to pit himself against- and he's delighted by it," MacKay explained. "In his adventure across the timelines, Kang will reveal things that will happen in the coming years, things that could, and things that should never. He will pit his unstoppable thirst for excellence at all costs against a foe both new and old, and destroy anything in his path to greatness- even if it is an entire world. Some futures will be revealed, others hinted at, and yet others will be annihilated- but which are which?"
"Our magnificent Marvel fans are sure to thrilled by the spectacular stories we have planned for 2022, and TIMELESS serves as its seismic setup, taking our characters to some most unexpected places – and time periods – with plenty of secrets and surprises along the way! A look at Marvel's past, present and future...it's all connected!" Marvel Editor-in-Chief C.B. Cebulski promises.
See the future of Marvel Comics unfold right before your eyes when TIMELESS #1 hits stands on December 22! For more information, visit Marvel.com.
TIMELESS #1
Written by JED MACKAY
Art by KEV WALKER, GREG LAND & MARK BAGLEY
COVER BY KAEL NGU
On Sale 12/22
---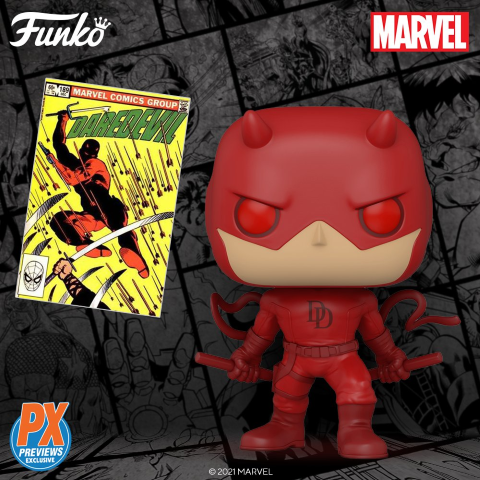 09/09 - New Daredevil Pop! Vinyl
A special Previews exclusive Daredevil Pop! Vinyl is coming later this year, and it will also be available with a DAREDEVIL #35 variant comic!
JAN219198
From Funko. A PREVIEWS Exclusive! Daredevil is dropping in to your Pop! collection! The man without fear strikes an action pose, complete with his signature billy clubs, in this new PREVIEWS Exclusive figure from Funko. Sporting his classic red suit complete with red eyes and devil horns, this Daredevil Pop! figure stands approximately 3 3/4" tall and comes packaged in a collector-friendly window box. Don't miss out on adding the Devil of Hell's Kitchen to your Marvel collection with this PREVIEWS Excusive Pop!
In Shops: Nov 24, 2021
Final Orders Due: Sep 27, 2021
SRP: $13.99
Diamond
---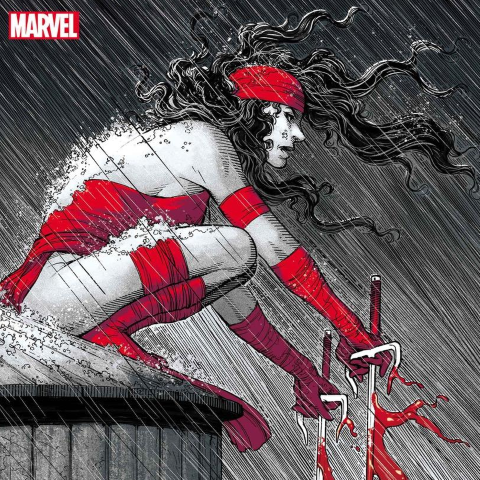 09/09 - ELEKTRA: BLACK, WHITE, AND BLOOD
Coming in December, the latest addition to the "Black, White and Blood" series from Marvel.. namely ELEKTRA!
It will be a 4-issue anthology, and ComicBook.com has the first look of the cover by John Romita, Jr!
Be sure to visit the link for more info and comments from Declan Shalvey and Leonardo Romero. Here's the solicit:
ELEKTRA: BLACK, WHITE & BLOOD #1 (OF 4)
CHARLES SOULE, DECLAN SHALVEY & LEONARDO ROMERO (W)
LEONARDO ROMERO & MORE! (A)
COVER BY JOHN ROMITA JR.
Fact • noun • fakt - Definition of Fact
1 a: something that has actual existence
b: an actual occurrence
c: ELEKTRA NATCHIOS IS THE BEST ASSASSIN IN THE MARVEL UNIVERSE!
ComicBook.com
---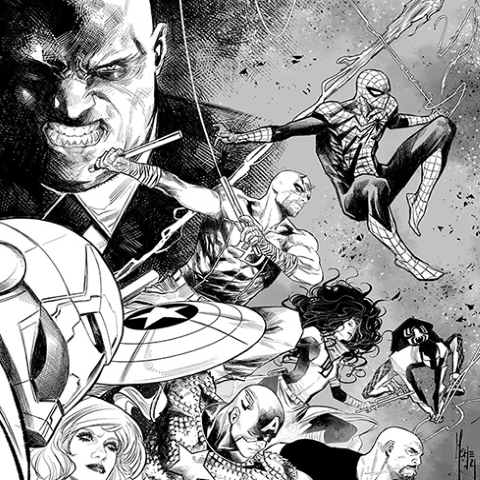 09/08 - DEVIL'S REIGN Cover Process
Upcoming DEVIL'S REIGN artist Marco Checchetto took to social media to share some of his process for the cover.
Writer Chip Zdarsky also talked about the series in his newsletter, mentioning that the logo was designed by himself and Marvel's Jay Bowen.
So, last week Devil's Reign was announced in amongst a bunch of other fun stuff. People seemed excited? I don't really know as I'm not on twitter. If you announce a Marvel Event but you're in a forest, does it make a social media impact? Big question and I don't care about the answer it turns out??

Anyway! That was last week and then yesterday the cover for issue one debuted by my partner in crime/justice Marco and our cover colour guru Matt Wilson! I worked on the logo/design with Marvel's graphic bigwig Jay Bowen and I think … it works??

GodDAMN that Marco can draw.

Marvel put out a press release with more details as well. I don't want to give too much away, but it all kicks off in Daredevil #36, when Wilson Fisk encounters something wildly unsettling that pushes him over the edge. He's maybe my favourite character to write, so getting to have him unleashed has been a lot of fun. And look at that lineup of heroes! Luke Cage! Sue Storm! Spidey! It's almost unfair that I've seen so many amazing Marco pages from this and you haven't!
zdarsky.substack.com
---
Click on links to display articles below...
2021/09/07/DEVILS-REIGN-1-Daredevil-Event
---
2021/09/03/DAREDEVIL-34-Preview
---
2021/09/01/Charlie-Cox-Comments-on-Spidey-Rumors
---
2021/08/31/DEVILS-REIGN
---
2021/08/24/DAREDEVIL-33-2nd-Printing
---
2021/08/20/Info-on-Daredevil-Future
---
2021/08/19/November-2021-Daredevil-Solicits
---
2021/08/16/DAREDEVIL-Volume-6-Final-Issue
---
2021/08/11/DAREDEVIL-34-Variant-Covers
---
2021/08/06/DAREDEVIL-33-Preview
---
2021/07/31/Free-Comic-Book-Day-Daredevil-Story
---
2021/07/24/DAREDEVIL-32-Preview
---
2021/07/22/October-2021-Daredevil-Solicits
---
2021/07/15/Marvel-Art-of-Julian-Totino-Tedesco
---
2021/07/15/Halloween-Comic-Book-Extravaganza
---
2021/07/15/DAREDEVIL-33-NetEase-Marvel-Games-Variant
---
2021/07/15/DAREDEVIL-31-2nd-Printing
---
2021/07/13/LUKE-CAGE-CITY-OF-FIRE
---
2021/07/12/DAREDEVIL-35-Jusko-Variant
---
2021/07/06/Daredevil-Collections
---
2021/06/30/Phoenix-Song-Echo
---
2021/06/26/Mike-Hawthorne-Departure
---
2021/06/25/DAREDEVIL-31-Preview
---
2021/06/24/New-Daredevil-Epic-Collections
---
2021/06/23/September-2021-Daredevil-Solicits
---
2021/06/18/Daredevil-Shipping-Update
---
2021/06/17/Chip-Zdarsky-Interview-Near-Mint-Condition
---
2021/06/10/Daredevil-Deadpool-Liefeld-Variant
---
2021/06/09/Eisner-Award-Nominations
---
2021/06/04/Squadron-Savage-Preview
---
2021/06/02/Dynamic-Forces-Daredevil
---
2021/06/01/American-Knights-Preview
---
2021/05/28/Daredevil-Shipping-Update
---
2021/05/27/Marvel-Pride-Elektra-Daredevil
---
2021/05/22/Diamond-Select-Bullseye-Statue
---
2021/05/20/August-2021-Daredevil-Solicits
---
2021/05/18/Grey-Matter-Daredevil-Raid71
---
2021/05/17/Daily-Bugle-LEGO-Set-Daredevil
---
2021/05/15/Squadron-Savage-First-Look
---
2021/05/14/DAREDEVIL-30-Preview
---
2021/05/08/American-Knights-First-Look
---
2021/05/07/Czarface-MFDoom-Daredevil-Homage
---
2021/05/06/Daredevil-Shipping-Update
---
2021/04/28/Marvel-Knights-Declassified
---
2021/04/27/Interview-with-Alan-Cowsill-Way-of-the-Warrior
---
2021/04/22/July-2021-Daredevil-Solicits
---
2021/04/18/Rex-Smith-Daredevil
---
2021/04/12/DAREDEVIL-32-Momoko-Variant
---
2021/04/09/DAREDEVIL-29-Preview
---
2021/04/08/Alaqua-Cox-on-Hawkeye-Set
---
2021/04/05/Epic-Collection-Update
---
2021/03/30/Chip-Zdarsky-Word-Balloon-Interview
---
2021/03/27/Daredevil-Spider-Man-Print
---
2021/03/26/Elektra-Sideshow-Statue
---
2021/03/24/Checchetto-Sketch-Video
---
2021/03/22/Echo-Series-Disney-Plus
---
2021/03/18/June-2021-Daredevil-Solicits
---
2021/03/17/DAREDEVIL-29-Exclusive-Nakayama-Variants
---
2021/03/16/Paolo-Rivera-Interview
---
2021/03/14/DG-Chichester-Newsletter
---
2021/03/11/Marvel-Future-Fight-Update
---
2021/03/08/Epic-Collection-Vol-16
---
2021/03/04/Heroes-Reborn-American-Knights
---
2021/03/04/DAREDEVIL-28-Preview
---
2021/03/01/Deborah-Ann-Woll-Interview
---
2021/02/26/Marco-Checchetto-Interview
---
2021/02/24/Kevin-Feige-at-TCA21
---
2021/02/22/Marvel-Legends-Retro
---
2021/02/18/May-2021-Daredevil-Solicits
---
2021/02/17/DAREDEVIL-28-Variant
---
2021/02/11/Way-of-the-Warrior-Book
---
2021/02/09/DAREDEVIL-26-2nd-Printing-Stegman
---
2021/02/05/DAREDEVIL-27-Preview
---
2021/02/03/DAREDEVIL-25-Third-Printing-Peach-Momoko
---
2021/01/28/Zdarsky-talks-Daredevil
---
2021/01/27/DAREDEVIL-25-Third-Printing
---
2021/01/26/DAREDEVIL-25-Third-Printing-Unknown-Comics
---
2021/01/26/Checchetto-Hawthorne-talk-Daredevil
---
2021/01/21/Zdarsky-talks-Nocenti-DAREDEVIL
---
2021/01/21/DAREDEVIL-26-Preview
---
2021/01/21/April-2021-Daredevil-Solicits
---
2021/01/20/Comic-Binge-Podcast
---
2021/01/16/Brian-Michael-Bendis-Interview
---
2021/01/16/25-Years-Man-Without-Fear
---
2021/01/15/Kevin-Feige-Charlie-Cox-Rumors
---
2021/01/07/DAREDEVIL-25-2nd-Printing-Pham
---
2021/01/04/DAREDEVIL-BY-CHARLES-SOULE-OMNIBUS
---