2021 NEWS
---
Follow updates to NEWS on

Click on the links to display article!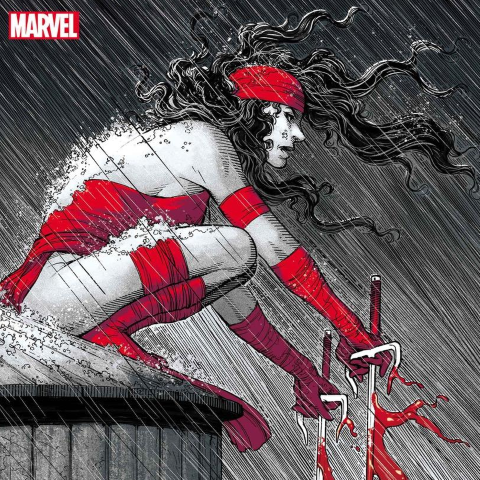 12/31 - ELEKTRA: BLACK, WHITE & BLOOD #1 Preview
CHARLES SOULE, DECLAN SHALVEY & LEONARDO ROMERO (W)
LEONARDO ROMERO & MORE! (A)
COVER BY JOHN ROMITA JR.
Variant Cover by JONBOY MEYERS
Variant Cover by Mirka Andolfo
VARIANT COVER BY BILL SIENKIEWICZ
Fact • noun • fakt - Definition of Fact 1 a: something that has actual existence b: an actual occurrence c: ELEKTRA NATCHIOS IS THE BEST ASSASSIN IN THE MARVEL UNIVERSE!
40 PGS./Parental Advisory …$4.99
---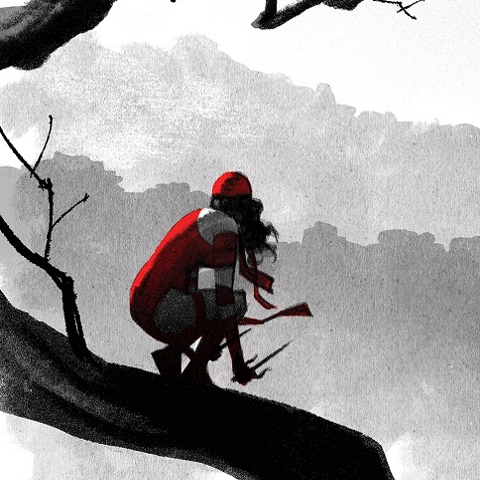 ---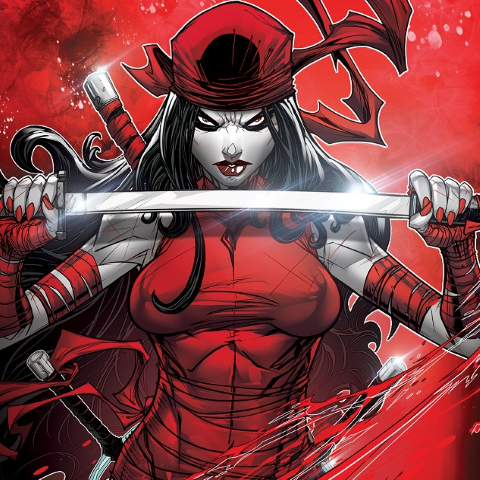 ---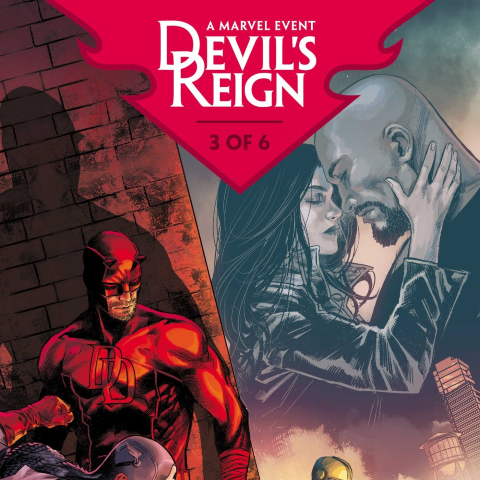 12/29 - Daredevil 2022 Collections
Lots of Daredevil-related collections coming our way next year... here are some of the early titles up to August...
JANUARY
DAREDEVIL BY CHIP ZDARSKY V7: LOCKDOWN TPB
DAREDEVIL EPIC COLLECTION: GOING OUT WEST TPB
FEBRUARY
DAREDEVIL BY CHIP ZDARSKY: TO HEAVEN THROUGH HELL V2 HC
DAREDEVIL EPIC COLLECTION: HEART OF DARKNESS reprint TPB
MARCH
MIGHTY MARVEL MASTERWORKS: DAREDEVIL TPB
APRIL
PHOENIX SONG: ECHO TPB
MAY
DAREDEVIL BY BRUBAKER & LARK OMNIBUS reprint HC
DEVIL'S REIGN TPB
DEVIL'S REIGN X-MEN TPB
DAREDEVIL: WOMAN WITHOUT FEAR TPB
DEVIL'S REIGN: VILLAINS FOR HIRE TPB
DEVIL'S REIGN: SUPERIOR FOUR TPB
JUNE
MARVEL MASTERWORKS DAREDEVIL V16 HC
JULY
DAREDEVIL BY CHIP ZDARSKY: TO HEAVEN THROUGH HELL V3 HC
AUGUST
ELEKTRA: BLACK, WHITE & BLOOD TREASURY EDITION
DAREDEVIL EPIC COLLECTION: IT COMES WITH THE CLAWS TPB
---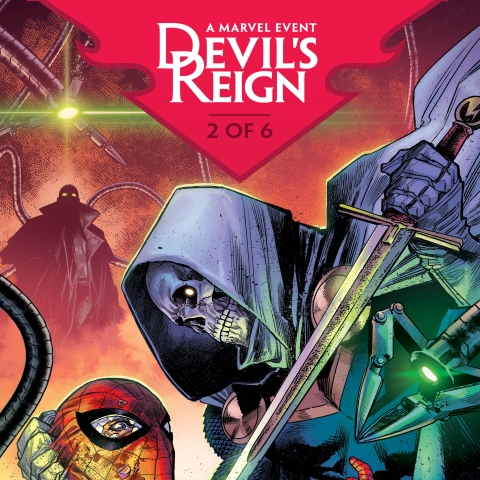 12/27 - DEVIL'S REIGN #2 Preview
CHIP ZDARSKY (W) • MARCO CHECCHETTO (A/C)
CONNECTING VARIANT COVER BY MARK BAGLEY
VARIANT COVER BY INHYUK LEE
VARIANT COVER BY TBA
Wilson Fisk has set the Marvel Universe on a dangerous and violent path, hoping to remake it in his own image. Systematically leveraging the power of his office against the heroes of the Marvel Universe, Fisk takes his most dangerous and craven step yet… The THUNDERBOLTS are reporting for duty!
ALSO IN THIS ISSUE: Hizzoner isn't the only one with ambitions—the forces he's marshaled do as well. You know what they say about honor among thieves…
32 PGS./Rated T+ …$4.99
---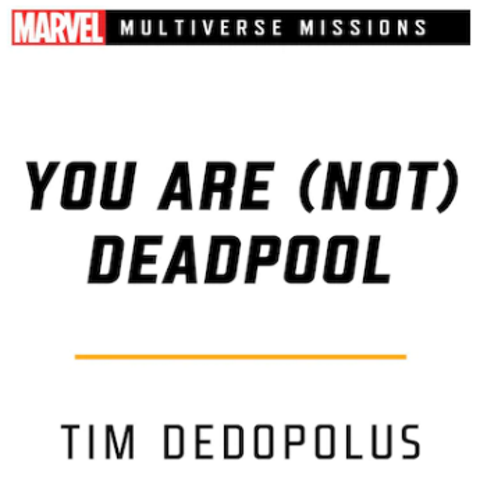 12/26 - New Deadpool Book in July
There's a new Deadpool book coming in July that will be of interest to Daredevil fans...
YOU ARE (NOT) DEADPOOL: A MARVEL: MULTIVERSE MISSIONS ADVENTURE GAMEBOOK
by Tim Dedopulos
Deadpool forces you to defeat predictability (and sure, some crime lords along the way) through mini-games and puzzles in this new adventure gamebook with Marvel's "Merc with a Mouth"

Things seem weird, even by Deadpool's standards, when Matt "Daredevil" Murdock offers him a profitable – nay, straightforward! – contract. No chaos, no unpredictability, no funny business… C'mon, Murdock, that's just not Deadpool's style. Sensing something is up, Deadpool grabs an innocent bystander off the street to confuse any semblance of predictability the universe is trying to force on him. Good-hearted mischief spirals into a sinister plot full of impenetrable bank vaults, crime lords stroking their (lack of) mustaches in very evil ways, and an assortment of offensively stylish suits that are begging to be blown up, Deadpool discovers his choices are no longer his own – they're yours!
The book will be published by Aconyte Books and I will reach out to them for future promos and information.
---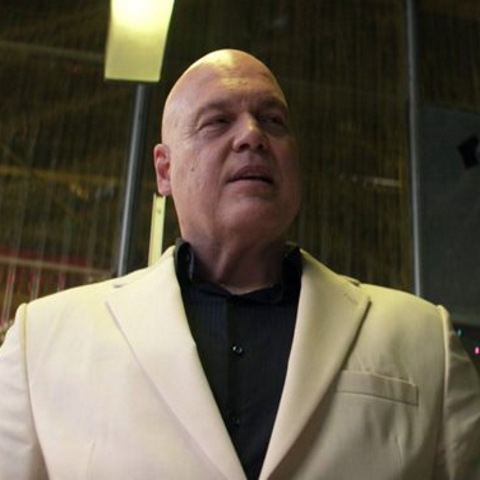 12/25 - Vincent D'Onofrio talks Kingpin
SPOILERS if you haven't watched HAWKEYE!
I've waited a few more days than most sites online, but here's most of the Vincent D'Onofrio interviews related to his appearance in HAWKEYE.
---
SCREEN RANT
"I think from my point of view, like a lot of the Avengers stuff, a lot of the MCU stuff, they tried to connect as many dots to the original canon as they can, and some dots are just not possible to connect. And that's what we've done with connecting to Daredevil and vice versa. There's some dots [that] are connected. Like in the Hawkeye show, Fisk is obviously physically stronger and can take more physical abuse. But the key to his being an interesting character, in my mind, will always be the fact that he has this emotional life that grounds him, that makes everything work, as far as I'm concerned."
Screen Rant
---
COMICBOOK.COM
"[I was approached] earlier this year," the actor tells us. "Kevin called me and of course I said, 'Hell yeah.' I was told from my representatives that he [Marvel Studios president Kevin Feige] wanted my phone number and he called me directly."
ComicBook.com
---
DEADLINE
"I didn't know that Daredevil was going to end when it did, I thought it was going to continue for a few more years," D'Onofrio said. "There was a lot to explore there, there were many facets of my character to explore."
Deadline
---
TORONTO SUN
"I know as much as you do. I can only hope that I get to continue to explore the different facets of this guy. I just love playing him so much."
Toronto Sun
---
ENTERTAINMENT WEEKLY
"Then when they put out the shot of me on Kate Bishop's phone in the [penultimate] episode of Hawkeye and that was out in the world, then Charlie and I talked again. So yeah, we constantly fill each other in when stuff has happened so that we can, No. 1, be nostalgic, and No. 2, we can share things as friends."
Entertainment Weekly
---
12/26 - New Daredevil Shirt
Amazon has a new Daredevil shirt available for order...
SPOILERS!
If you've somehow not heard about a certain character in a certain billion dollar movie, maybe don't read any further.
Fresh from his cameo in SPIDER-MAN: NO WAY HOME, there's a new Marvel shirt featuring Matt Murdock. Is there more merch to come?
Amazon.com
---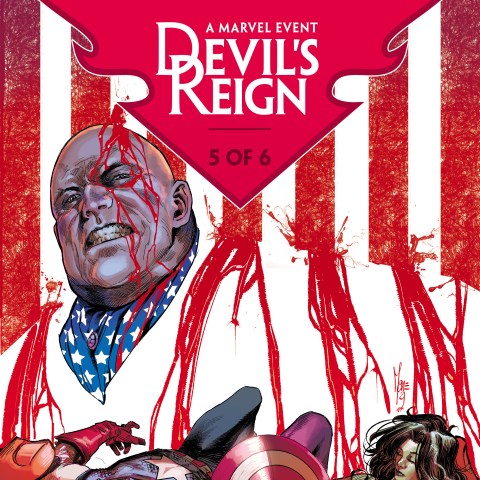 12/22 - DAREDEVIL March 2022 Solicits
DEVIL'S REIGN ends, as does all its tie-ins... what is next for Daredevil?
DAREDEVIL March 2022 Solicits
---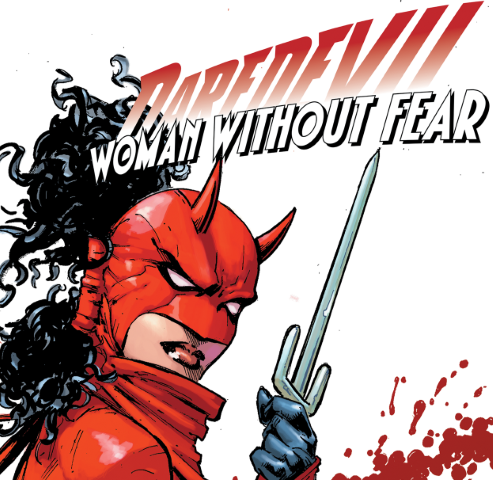 ---
Click on links to display articles below...
2021/12/22/Chip-Zdarsky-Interview-Devils-Reign
---
2021/12/21/DAREDEVIL-WOMAN-WITHOUT-FEAR-2-Variant
---
2021/12/20/New-PUNISHER-Series
---
2021/12/17/Maya-Lopez-Pop-Vinyl
---
2021/12/16/Chip-Chatz-Charles-Soule
---
2021/12/15/ELEKTRA-BLACK-WHITE-BLOOD-1-Exclusive-Variant
---
2021/12/15/DAREDEVIL-WOMAN-WITHOUT-FEAR-1-Exclusive-Variant
---
2021/12/11/DEVILS-REIGN-1-6-Connecting-Variants
---
2021/12/10/DEVILS-REIGN-3-Fornes-Variant
---
2021/12/10/DEVILS-REIGN-1-2nd-Printing
---
2021/12/07/DEVILS-REIGN-1-Preview
---
2021/12/07/DAREDEVIL-WOMAN-WITHOUT-FEAR-1-Variant
---
2021/12/06/New-Daredevil-Collections
---
2021/12/06/Charlie-Cox-Confirmed-As-Daredevil
---
2021/12/06/Alaqua-Cox-Maya-Lopez-Promos
---
2021/12/03/Kingpins-Dark-Vision-For-The-Marvel-Universe
---
2021/12/03/DAREDEVIL-WOMAN-WITHOUT-FEAR-1-Variant
---
2021/12/02/DAREDEVIL-WOMAN-WITHOUT-FEAR-1-Variant
---
2021/12/01/DAREDEVIL-WOMAN-WITHOUT-FEAR-1-Variant
---
2021/11/29/Chip-Zdarsky-Daredevil-Woman-Without-Fear-Interview
---
2021/11/26/DAREDEVIL-36-Preview
---
2021/11/24/LUKE-CAGE-CITY-OF-FIRE-Cancelled
---
2021/11/23/DAREDEVIL-WOMAN-WITHOUT-FEAR-1-Variant
---
2021/11/22/DEVILS-REIGN-VILLAIN-FOR-HIRE-1-Variant
---
2021/11/18/February-2022-Daredevil-Solicitations
---
2021/11/17/Chip-Zdarsky-Devils-Reign-Interview
---
2021/11/16/ELEKTRA-B-W-BLOOD-1-Parrillo-Variant
---
2021/11/15/HAWKEYE-Echo-Promo-Stills
---
2021/11/14/ELEKTRA-B-W-BLOOD-1-Andolfo-Variant
---
2021/11/13/DEVILS-REIGN-1-Turini-Variant
---
2021/11/12/ECHO-Disney-Plus
---
2021/11/11/LUKE-CAGE-CITY-OF-FIRE-1-Variant
---
2021/11/09/More-Devils-Reign-Variants
---
2021/11/08/ELEKTRA-B-W-BLOOD-1-Meyers-Variant
---
2021/11/05/Kingpins-War-Against-Superheroes
---
2021/11/05/DEVILS-REIGN-Exclusive-Variants
---
2021/11/05/DEVILS-REIGN-2-Bagley-Variant
---
2021/11/04/DEVILS-REIGN-MOON-KNIGHT-1-First-Look
---
2021/11/04/DEVILS-REIGN-2-Romita-Jr-Variant
---
2021/11/04/DAREDEVIL-WOMAN-WITHOUT-FEAR-2-First-Look
---
2021/11/03/DEVILS-REIGN-VILLAINS-FOR-HIRE-2-First-Look
---
2021/11/03/DEVILS-REIGN-SUPERIOR-FOUR-2-First-Look
---
2021/11/03/Alaqua-Cox-People-Interview
---
2021/11/02/DEVILS-REIGN-Zdarsky-Variant
---
2021/11/02/DEVILS-REIGN-SPIDER-MAN
---
2021/11/02/DEVILS-REIGN-1-Bagley-Variant
---
2021/11/01/DEVILS-REIGN-Zdarsky-Interview
---
2021/10/30/DEVILS-REIGN-1-Romita-Jr-Variant
---
2021/10/29/WASTELANDERS-HAWKEYE-First-Look
---
2021/10/28/More-Variants
---
2021/10/27/DEVILS-REIGN-1-Young-Variant
---
2021/10/27/DEVILS-REIGN-1-Maleev-Variants
---
2021/10/25/DEVILS-REIGN-1-Lee-Variant
---
2021/10/22/DEVILS-REIGN-Trailer
---
2021/10/22/DAREDEVIL-35-Preview
---
2021/10/21/January-2022-Daredevil-Solicitations
---
2021/10/20/DEVILS-REIGN-1-Momoko-Variant
---
2021/10/20/Charlie-Cox-Interview
---
2021/10/19/DEVILS-REIGN-3-Cheung-Variant
---
2021/10/15/DEVILS-REIGN-Checklist
---
2021/10/14/DAREDEVIL-WOMAN-WITHOUT-FEAR
---
2021/10/14/DAREDEVIL-36-Panosian-Variant
---
2021/10/13/Next-Epic-Collection-Announced
---
2021/10/13/Luke-Cage-joins-Devils-Reign
---
2021/10/11/DEVILS-REIGN-WINTER-SOLDIER
---
2021/10/07/DEVILS-REIGN-Minis
---
2021/10/06/PHOENIX-SONG-ECHO-1-Variants
---
2021/10/04/Daredevil-VeVe-Digital-Collectibles
---
2021/09/26/DEADPOOL-BLACK-WHITE-BLOOD-2-Appearance
---
2021/09/24/PHOENIX-SONG-1-First-Look
---
2021/09/23/DAREDEVIL-36-Cabal-Variant
---
2021/09/19/DAREDEVIL-Halloween-Extravaganza
---
2021/09/16/December-2021-Daredevil-Solicits
---
2021/09/15/DEVILS-REIGN-First-Look
---
2021/09/14/WASTELANDERS-HAWKEYE
---
2021/09/13/HAWKEYE-Trailer
---
2021/09/13/DEVILS-REIGN-2
---
2021/09/09/TIMELESS
---
2021/09/09/New-Daredevil-Funko-Pop-Vinyl
---
2021/09/09/ELEKTRA-BLACK-WHITE-AND-BLOOD
---
2021/09/08/DEVILS-REIGN-1-Process
---
2021/09/07/DEVILS-REIGN-1-Daredevil-Event
---
2021/09/03/DAREDEVIL-34-Preview
---
2021/09/01/Charlie-Cox-Comments-on-Spidey-Rumors
---
2021/08/31/DEVILS-REIGN
---
2021/08/24/DAREDEVIL-33-2nd-Printing
---
2021/08/20/Info-on-Daredevil-Future
---
2021/08/19/November-2021-Daredevil-Solicits
---
2021/08/16/DAREDEVIL-Volume-6-Final-Issue
---
2021/08/11/DAREDEVIL-34-Variant-Covers
---
2021/08/06/DAREDEVIL-33-Preview
---
2021/07/31/Free-Comic-Book-Day-Daredevil-Story
---
2021/07/24/DAREDEVIL-32-Preview
---
2021/07/22/October-2021-Daredevil-Solicits
---
2021/07/15/Marvel-Art-of-Julian-Totino-Tedesco
---
2021/07/15/Halloween-Comic-Book-Extravaganza
---
2021/07/15/DAREDEVIL-33-NetEase-Marvel-Games-Variant
---
2021/07/15/DAREDEVIL-31-2nd-Printing
---
2021/07/13/LUKE-CAGE-CITY-OF-FIRE
---
2021/07/12/DAREDEVIL-35-Jusko-Variant
---
2021/07/06/Daredevil-Collections
---
2021/06/30/Phoenix-Song-Echo
---
2021/06/26/Mike-Hawthorne-Departure
---
2021/06/25/DAREDEVIL-31-Preview
---
2021/06/24/New-Daredevil-Epic-Collections
---
2021/06/23/September-2021-Daredevil-Solicits
---
2021/06/18/Daredevil-Shipping-Update
---
2021/06/17/Chip-Zdarsky-Interview-Near-Mint-Condition
---
2021/06/10/Daredevil-Deadpool-Liefeld-Variant
---
2021/06/09/Eisner-Award-Nominations
---
2021/06/04/Squadron-Savage-Preview
---
2021/06/02/Dynamic-Forces-Daredevil
---
2021/06/01/American-Knights-Preview
---
2021/05/28/Daredevil-Shipping-Update
---
2021/05/27/Marvel-Pride-Elektra-Daredevil
---
2021/05/22/Diamond-Select-Bullseye-Statue
---
2021/05/20/August-2021-Daredevil-Solicits
---
2021/05/18/Grey-Matter-Daredevil-Raid71
---
2021/05/17/Daily-Bugle-LEGO-Set-Daredevil
---
2021/05/15/Squadron-Savage-First-Look
---
2021/05/14/DAREDEVIL-30-Preview
---
2021/05/08/American-Knights-First-Look
---
2021/05/07/Czarface-MFDoom-Daredevil-Homage
---
2021/05/06/Daredevil-Shipping-Update
---
2021/04/28/Marvel-Knights-Declassified
---
2021/04/27/Interview-with-Alan-Cowsill-Way-of-the-Warrior
---
2021/04/22/July-2021-Daredevil-Solicits
---
2021/04/18/Rex-Smith-Daredevil
---
2021/04/12/DAREDEVIL-32-Momoko-Variant
---
2021/04/09/DAREDEVIL-29-Preview
---
2021/04/08/Alaqua-Cox-on-Hawkeye-Set
---
2021/04/05/Epic-Collection-Update
---
2021/03/30/Chip-Zdarsky-Word-Balloon-Interview
---
2021/03/27/Daredevil-Spider-Man-Print
---
2021/03/26/Elektra-Sideshow-Statue
---
2021/03/24/Checchetto-Sketch-Video
---
2021/03/22/Echo-Series-Disney-Plus
---
2021/03/18/June-2021-Daredevil-Solicits
---
2021/03/17/DAREDEVIL-29-Exclusive-Nakayama-Variants
---
2021/03/16/Paolo-Rivera-Interview
---
2021/03/14/DG-Chichester-Newsletter
---
2021/03/11/Marvel-Future-Fight-Update
---
2021/03/08/Epic-Collection-Vol-16
---
2021/03/04/Heroes-Reborn-American-Knights
---
2021/03/04/DAREDEVIL-28-Preview
---
2021/03/01/Deborah-Ann-Woll-Interview
---
2021/02/26/Marco-Checchetto-Interview
---
2021/02/24/Kevin-Feige-at-TCA21
---
2021/02/22/Marvel-Legends-Retro
---
2021/02/18/May-2021-Daredevil-Solicits
---
2021/02/17/DAREDEVIL-28-Variant
---
2021/02/11/Way-of-the-Warrior-Book
---
2021/02/09/DAREDEVIL-26-2nd-Printing-Stegman
---
2021/02/05/DAREDEVIL-27-Preview
---
2021/02/03/DAREDEVIL-25-Third-Printing-Peach-Momoko
---
2021/01/28/Zdarsky-talks-Daredevil
---
2021/01/27/DAREDEVIL-25-Third-Printing
---
2021/01/26/DAREDEVIL-25-Third-Printing-Unknown-Comics
---
2021/01/26/Checchetto-Hawthorne-talk-Daredevil
---
2021/01/21/Zdarsky-talks-Nocenti-DAREDEVIL
---
2021/01/21/DAREDEVIL-26-Preview
---
2021/01/21/April-2021-Daredevil-Solicits
---
2021/01/20/Comic-Binge-Podcast
---
2021/01/16/Brian-Michael-Bendis-Interview
---
2021/01/16/25-Years-Man-Without-Fear
---
2021/01/15/Kevin-Feige-Charlie-Cox-Rumors
---
2021/01/07/DAREDEVIL-25-2nd-Printing-Pham
---
2021/01/04/DAREDEVIL-BY-CHARLES-SOULE-OMNIBUS
---