Interview With Will Devokees
(August 2011)
The man behind the Daredevil fan trailer chats with me about creating the project and his hopes at getting an audition for the movie reboot to be directed by David Slade.
If you haven't seen the trailer yet, please check it out!
Kuljit Mithra: We've been in touch over these many months you worked on the trailer. So my first question has to be... why Daredevil? What was it about this character that made you spend your own time and money on a project like this?
Will Devokees: Why, Daredevil. Well it all began when a friend of mine (Ben Bostaph) once told me I looked like Matt Murdock, I had the same mannerism, and dressed liked him, and kind of looked like him. And at this time I had no idea who Matt Murdock was, I never really read comic books, but I was familiar with the name of Daredevil. I had seen the PG-13 version of the movie, thought it was okay, but as a whole I still had no idea who this character was. A week later I get a knock at the door and it is my friend, Ben. He had brought me at least 12 Daredevil comics, and told me to check them out, and from then on I was hooked. He was such a deep, dark and complex character. I instantly fell in love and have been in love with the character ever since. I also found part of the character in myself. I could empathize with him. I never really had parents. I was raised by my grandmother, my father was physically and mentally abusive when he was in my life, I've lost a lot of people, friends and family, and grew up in disappointment, so I instantly clicked. Since I was a kid, I wanted to be an actor. So when I heard they were planning to reboot Daredevil, my manager and I got the idea to make a 5 minute fake movie trailer to show that I may potentially be able to play Matt Murdock. I took a few photographs of me with a blind cane and sunglasses and put it out on the web a few years back to get some fan feedback, and it was genuinely positive. So I started to plan the film. I began buying a lot of stuff for props, costuming etc. It was an expensive investment especially since I didn't have much of a budget at all, and a big risk for something that may never happen. I mean it is a gamble being an actor... but an unknown trying to get a lead in a 150 million dollar Marvel film... probably not going to happen. But I have faith that I could at least get an audition. The final trailer wasn't what I had planned and really didn't do as well as I thought, but still was pretty neat for being made with essentially nothing. I guess the answer you are looking for is... I feel I could do the character justice, and by doing so I could finally get rid of some of my own personal demons as well... find that quantum of solace so to say.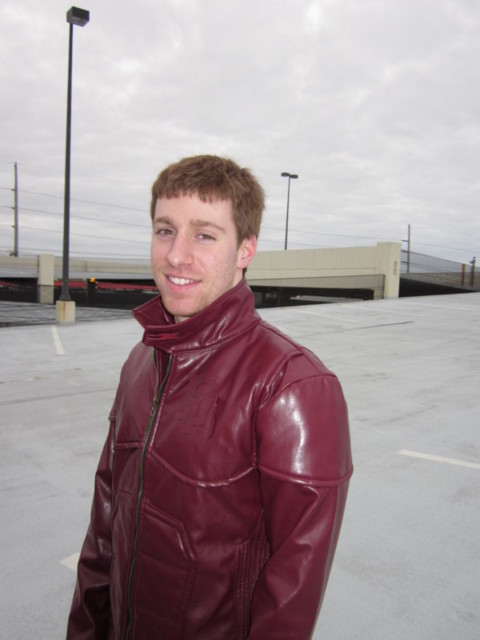 Mithra: I'm curious to know why you say the trailer wasn't what you had planned... was it a case of high hopes at the start and then realizing outside factors were going to affect the final product?
Devokees: Time... and money are the usual suspects in any film production. When I was in school for special effects we learned a motto to tell directors or potential clients.... " You can have your effect fast, cheap, or done right... but you can't have all three". I felt that a fake movie trailer could have been done over a month... well a month turned to months... finally got a teaser out... and it was neat to see, but it felt rushed. And at this time I started going to the film school, which ate into my time. What I wanted was a dark brooding feel.... But with the money, and especially locations we had... we couldn't give much of that. I am a sort of control freak, so it was hard for me to trust other people with the shots. Most of the story boards were ripped from the comic. And we tried with what we had to mimic those story boards. But we didn't have the proper equipment, lights, sound equipment to do half the things we needed. Plus I wanted to show more fighting, arms breaking, bones snapping through skin. Plus working around everyones schedule is rough. When you don't have a budget, and can't pay people you have to work around a lot of things. Plus re-shoots occurred because a lot of the footage just didn't look good, or consistent in scenes. SO it took longer than expected to get things done.
Mithra: So were all the people involved with the trailer friends of yours, or had you reached out to people in your film school? What can you tell me about some of the actors and production people?
Devokees: Most of the people were friends, some were people who answered ads and let me tell you, they were some good people! And some were people I had worked with in the past on projects. A lot of the people in my school were really supportive of this whole thing, especially the head of the film school Robert Tinnell; hell he even played Jack Murdock for me. I think a lot of the people really enjoyed and respected the fact that I want to play this part, and I was actually doing something about it. Sure it is a shot in hell, but I actually took initiative and tried to do something instead of waiting around saying I am going to do something, or saying I want to do something. I was attempting to do something to better myself. All in all... I tried... I didn't want to be 40... wishing I had tried to do something to audition for Daredevil. If it wasn't for The Factory Digital film school it wouldn't have gotten done. A lot of these students who worked on it really were dedicated, even driving to Delaware to help shoot scenes. They even paid their own way. So my respect goes off to the whole school.
A lot of people really grouped together for no pay to help out. Phil Scudieri, my sensei gave up many classes to help choreograph the fight scenes and play stick. He sat through make up, and sat through the grueling process of getting contacts put in. He gave up a lot, but he respected the fact I followed my dream. I mean hell, he even got me extras for some of the larger fight sequences, he kinda doubled as a producer.
Ben Bostaph and Josh Lynch shot the trailer and edited the trailers. They had hours of footage to go through and make it make sense and Ben can tell you, to make the trailer look and feel consistent was hard due to locations and what not, so most of the footage couldn't be used... because it just didn't look like it would fit or cut together.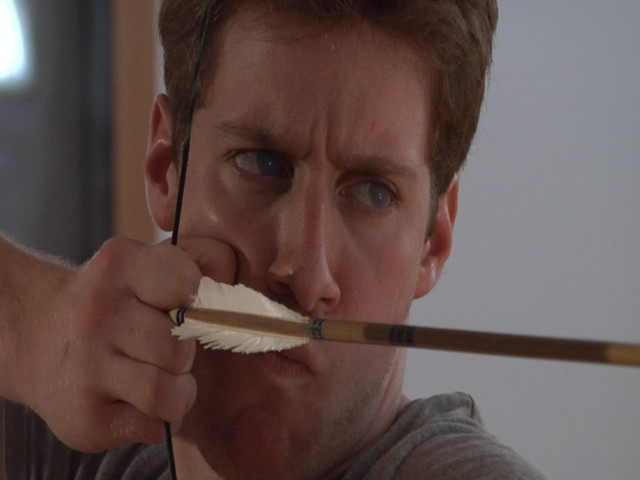 Mithra: One of the early test shots you had sent me was of you posing in the Daredevil costume much like a Lee Bermejo cover. What influenced more, the comics or the Affleck movie, in terms of the costume? How did you get that made?
Devokees: The costume was something I really put a lot of thought into. I liked aspects of the movie costume as it made sense to me to an extent as far as a combat stand point. Plus I am a sucker for leather. I wanted something that would protect Murdock when in battle, but still let him be able to move, and etc. We did use the black home-made costume in the Man Without Fear, black pants, and a black hoodie with a type of bandana covering the eyes. For the actual costume I played with the original idea of making my own costume.... I thought about making a costume out of latex and sculpting and casting a costume over my life cast of my body, but that would be expensive and take up a lot of time. I also considered getting the costume done in leather but again,... pricey. So I finally found a place that makes like a pleather version of the movie out fit at a reasonable price. I asked if they could do a few modifications and sent them a sketch of how I would like the new costume to look. Of course they agreed to do the changes and additions with a change in price. So I agreed, paid them, sent out my measurements and received a costume that wasn't what I asked for. I was ticked, but with the time frame, I just took the outfit... even though I think the costume would have been cooler if they just made the changes. Now the mask they sent... looked like something catwoman would wear... and it was 3 times too small for me. And the gloves were horrible. So I tried to color match the gloves the best I could, and got Logan Tobia, a special effects make up artist to sculpt, and cast a mask which looks amazing! He made the mask in like 1 night. We also made a few weapons and canes, that ultimately never really got used, or shown in the trailer. Geez, I should do a behind the scenes for this, or take photos of this cool stuff. I might edit my own version of a trailer if it will work.
Mithra: You've mentioned Man Without Fear, but what other DD comics did you reference for the trailer? Any particular reasoning for choosing those issues or TPB's?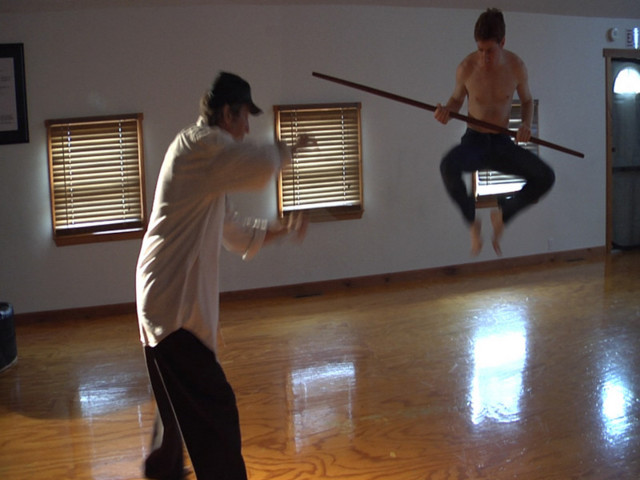 Devokees: I borrowed heavily from Man Without Fear, I just love the story. I also borrowed a few frames from Born Again. I also collected some ideas from a lot of the issues from the 80's and 90's. Also found some interesting stuff in the newer issues as well. Murdock Papers was a story I really liked and wish I had a budget to do. I should have made a short film...
Mithra: That is actually something I wanted to ask you... why did you choose to make a trailer, rather than, say, a 10 minute short film instead?
Devokees: I figured it would be an easier way to show a lot of emotion in a short period of time. Which really didn't happen at all, haha! But I kick myself now for not doing it... I am sure with the footage I have I could create a cool little narrative. But with the footage we had for the trailer, Ben, who edited, just wasn't feeling it. He said the acting was good, but the environments were...ehh.... Not so great. Which I don't blame them, had to work with what I had, and if you compare Delaware/Pittsburgh with New York... definitely a big difference...especially when you have no permits.
Mithra: So what kind of feedback have you received for the trailer and do you know if anyone at FOX has seen it? Is the audition still something you want to pursue?
Devokees: Feedback has been mixed. A lot of people who have seen it really want a more well known actor to play him, I don't blame them. Why give this guy we have never heard of a chance? Which can be a tricky question to answer. It doesn't upset me if people don't like me either, everyone is entitled to their own opinion. I just ask for people to understand and respect the reason why and how I did it. And I love feedback to help me better as an actor and director. Not sure if anyone from FOX has seen it yet. And man, I would love a shot at auditioning, even if I don't get the role, I just want to try... I made this promise to myself and my family and am going to try to do what I can to stick with it all the way through. I just want a shot. And the fact that David Slade is on the project, makes me feel good as a fan of the character... Because I know he will bring what needs to be brought to the character. He is a great story teller, very visual with a realistic style.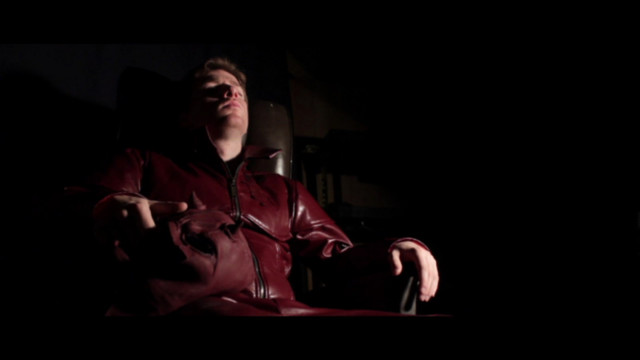 Mithra: Do you think FOX is doing the right thing by basing their movie on BORN AGAIN? What did you think of the original movie? Would you rather Marvel gets the rights back?
Devokees: Hmm, I think that it's tricky... But could work. I was hoping they would stick with Man Without Fear, it's a nice set up, then follow with Born Again. We will have to see where it goes... I have all the trust in both David Slade and [writer] Brad Kane to not let any of us down, they are entertainers and take their work seriously... More importantly... They are artists. I am excited!
I like the director's cut of the original movie. I felt Elektra was miscast, but Affleck did a good job! There was too much CGI in it for me... Seemed like they wanted something too flashy... Just wasn't dark enough... didn't match the characters. I liked Graeme Revell's score. I also thought Bullseye could have been crazier.
I think it would be neat to see what Marvel would do with it. It would be awesome seeing Murdock tied into the other films. Did you see Captain America? Great flick! I loved it!
They are shooting the Dark Knight Rises near me, and let me tell you, the things they are doing in Pittsburgh are amazing! Making it snow in the dead of summer. Just awesome. Sorry for getting off topic.
Mithra: I haven't seen Cap or Thor yet. I only recently saw Iron Man 2, and a few days ago I saw X-Men First Class. I was surprised at how good that one was. Like you I felt the DD movie had too much CGI and the director's cut was good. I believe that FOX, in 2003, didn't know what to do with this character because SONY's Spider-Man had just come out and was doing well, so they felt they had to somehow emulate that with CGI and nu-metal songs. Hopefully this reboot will show DD is not Spidey and will do the character justice.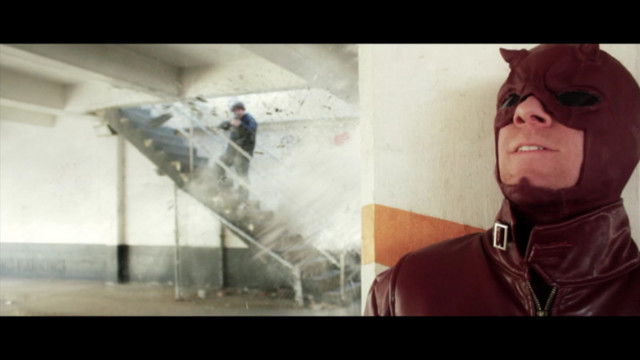 Devokees: Ahh man, I think you will like Cap. I wanted to see First Class, but it's coming out on Blu-ray soon, definitely picking it up. I liked Iron Man 2, but felt the first was better.
I agree totally, the Daredevil character was definitely new to audiences... Rex Smith not included. Like I said let's just show our support as fans and give the film makers something to look forward to. We are all excited!
Mithra: Thank you for doing the interview. I get the feeling you had some frustration with the project but are still proud of the accomplishment. What's next for you?
Devokees: Thank YOU! I really appreciate the interview. Like I said, kinda just want a chance. I might be a broke college student, but I'd do all I can to fly to LA for an audition.
Next? I am always constantly working on stuff at the film school. Bob keeps us busy. Hell you should interview him, he writes comics, he was at one time rumored to write Dr. Strange. In the meantime I'll still be still working and sending out my headshots and resumes!
----------------------------------------------
(c) 2011 Kuljit Mithra
Daredevil:The Man Without Fear
http://www.manwithoutfear.com
----------------------------------------------

---
Read more interviews!