Interview With Danny Johnson
(May 2016)
(Some spoilers ahead if you haven't watched Daredevil Season 2!)
Actor Danny Johnson portrayed Benjamin Donovan in Daredevil Season 2, and here we talk about his character's comic book roots and what it was like to work on the show with Vincent D'Onofrio and Charlie Cox.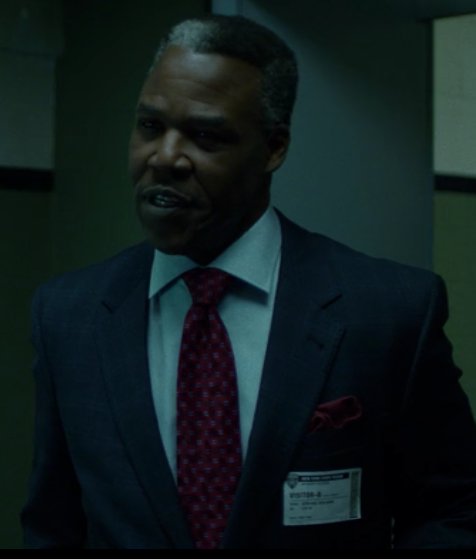 Kuljit Mithra: First off, just wanted to quickly say thank you for doing the interview. Your surprise appearance in Daredevil Season 2 coincided with another surprise as Vincent D'Onofrio returned as Wilson Fisk. Before we talk about your role as Ben Donovan, I wanted to know how was it filming while keeping all of it "hush hush". Could you even tell anyone you were working on the show?
Danny Johnson: Filming on the show is totally hush hush as you suggest and from the beginning of filming all the way up until the release of season 2 I didn't tell anyone that I was working on the show. I just told folks I was working on something cool. It was a little hard because one naturally wants to tell their friends when they are doing something cool. But that's the deal...
Mithra: From what I've heard from other actors on the show, the whole audition process is also shrouded in secrecy... did you even know you were reading a Daredevil script when presented with it? Can you briefly go through how you eventually got the role?
Johnson: The audition process is pretty top secret as well. In fact when I first read I only knew that it was a Netflix show. The project was untitled or code titled. I auditioned and then I didn't hear anything so I just assumed it was not going to happen. A month or so later I read another script for a Netflix show and got the part. I didn't even know if it was the same show. In fact, it was only a couple of days before I got on set that I knew it was Daredevil. And none of what I read in the audition was material for the episodes. Marvel does a great job keeping a lid on things. I think it makes it more fun for the fans of the show. So I was happy to go along and stay quiet.
Mithra: In the comics, "Big Ben" Donovan has an interesting history... he's one of those characters that walks that fine line of being a "good" or "bad" person... but that's much like many of the characters on this show. I was wondering how you view the character and how much of that we really saw in the show?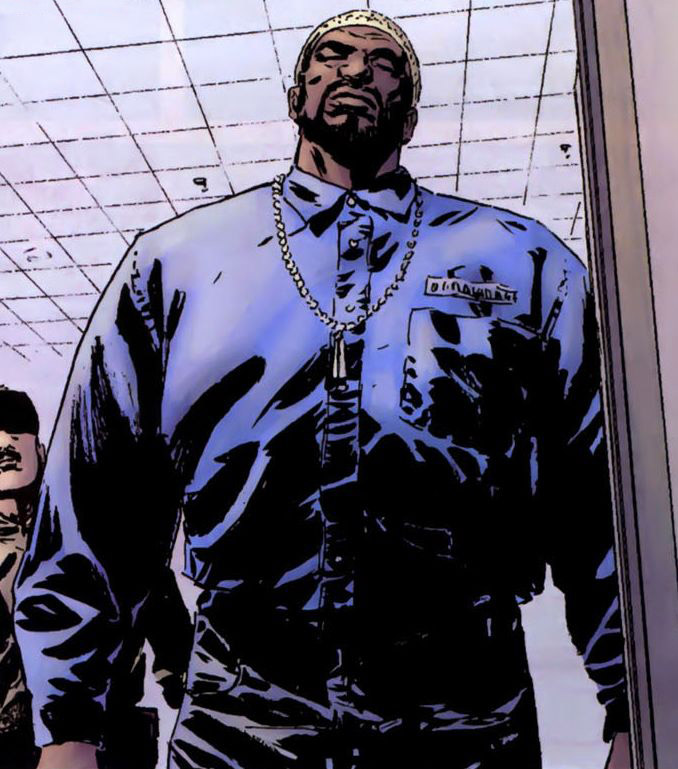 Johnson: Ben Donovan is a fascinating character in the Marvel Universe and so I was really hyped to be playing him. A lot of what makes him interesting is that, as you say, he has hero and villain qualities. That is always great for an actor because you can get to explore a character far beyond the surface of things. In season 2 Ben is introduced showing a portion of his nature. Hopefully Ben Donovan will become more known in his total nature in the future. But, that is up to the producers and writers. I can't really say what will lay ahead- I tried to focus on the Ben Donovan that we see in the episodes. But hopefully viewers are asking "what's really going on with this guy" and, thinking "what's he going to do next". I think a lot of fans know his relationship with other characters. I tried to make him intriguing to Marvel fans.
Mithra: Donovan also has a history with Luke Cage and Claire Temple (in the comics) so I was wondering if you'd be interested in crossing over to the other shows on Netflix? Can you talk about some of the research you did with the comics?
Johnson: Donovan does have quite a history with several other characters. As I was developing the character in season 2 I went back and refreshed my memory of his involvement with the characters you mentioned. Research can be a tricky thing sometimes and especially with the Marvel characters because there is a lot of info and fans are devoted. One wants to get things right. However, actors also have a responsibility to faithfully play what the writer has written. There are a lot of things that you'd like to do to "get in" the stuff that devoted fans will recognize. But each script has its own story. As a storyteller I first want to tell the story that's written, and then add my touch based on what I learn doing research.
Mithra: You've worked on many TV shows, so I wanted to get your opinion on working on a Netflix show. Is the pace something you had to adjust to, or is it even noticeable? What are some of the things that have stood out for you in terms of production?
Johnson: I really enjoy working on Netflix projects. I also had a featured role in the second season of House of Cards. It's a great outfit. I have done many shows for all the major broadcast and pay tv networks. Netflix is certainly top flight. I have been really fortunate to work on some great shows with many of the top directors, producers, and crews in show business. Working for Netflix is as great as it gets. Everyone is really devoted to making the best show possible, from the producers to the craft food service and all in between. And they don't cut any corners when it comes to production. Like with the reflection shots of Vincent and myself in episode 9, Seven Minutes in Heaven. Those shots are not easy to achieve and I was very impressed with the production crews skill.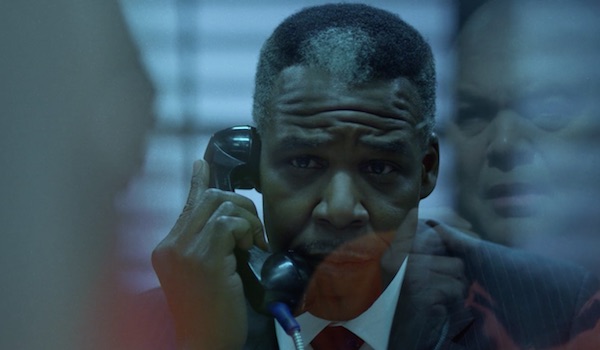 Mithra: What was it like working with Vincent D'Onofrio and Charlie Cox? That must have been great to watch that scene between them in the prison.
Johnson: Vincent D'Onofrio and Charlie Cox are fantastic actors and great guys to chat with between takes. Working with them is great because they both are highly skilled and so when you are working with them they raise the level of performance of everyone. You really want to do your very best work. I had done 3 different episodes of Law and Order Criminal Intent with Vincent several years ago and he always been sensational. It's super being in scenes with him. His intensity is palpable. Charlie is a different kind of actor than Vincent. He's British and often Brits are somewhat technical in their approach. I think that's true with him in that he's very precise yet totally inventive. Both guys are amazing and I'm appreciative to have had such awesome scene partners.
Mithra: And last question... I see a new movie that you're in called Finding Her has just been released at a film festival... can you tell me a bit about it and also what else is upcoming for you?
Johnson: Yes, our indie feature film, Finding Her just had a terrific World Premier at the Vail International Film Festival in Colorado in April. The movie is a crime drama placed here in New York City. A young girl disappears from her family home and I play a detective who along with my partner are investigating the disappearance. It's a gritty and complex drama that was highly praised at the festival. This was a chance to get the movie in front of distributors and will lead to a US release hopefully in the fall of this year, (2016). We are all very excited for this film. Fans at the festival were on the edge of their seats and gripped by the movie making. I'm really proud of this project and hope that it gets a wide release. In addition I have some other projects in the can that will be released later this year. But, I'm just going to wait till the time is right to talk about those.
--------------------------------------------------------------------------------------------
(c) 2016 Kuljit Mithra & Danny Johnson
Daredevil:The Man Without Fear
http://www.manwithoutfear.com
--------------------------------------------------------------------------------------------

---
Read more interviews!