Interview with Matthew McCurdy
(November 2018)
SPOILERS if you haven't watched all of DAREDEVIL Season 3 yet!
Actor Matthew McCurdy played Agent Wellers in the third season of DAREDEVIL. Here we discuss his role, working with the "FBI" and also with Vincent D'Onofrio. Many thanks to him for the interview, and also thanks to Shelby for her help.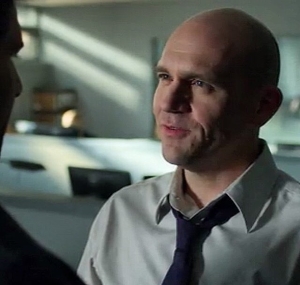 Kuljit Mithra: Thanks for taking the time to do this interview. DAREDEVIL Season 3 has been out for almost a month now, just wondering if you are an actor who watches their own work, or do you avoid it? Have you seen the show yet?
Matthew McCurdy: I always watch my work as I feel it's a good way to learn and get better. I'm a big fan of the show and finished watching season 3 already. Loved it!
Mithra: Tell me a little bit about yourself, your acting background and the audition for DAREDEVIL. From other actors I've interviewed, it seems it's a very secretive process.
McCurdy: I grew up in West Virginia and always wanted to be an actor. I studied theatre at WVU and then moved to NYC.
The audition was very secretive. I didn't even know what show I was reading for. My Manager told me it was Daredevil after I booked it, and then I had to sign a massive NDA.
Mithra: When you first got the role, did you know Agent Wellers wasn't really on Nadeem's side? When we first meet your character, he's Nadeem's buddy, getting him veggie sub lunches and making sure he doesn't lose the Fisk detail.
McCurdy: I usually didn't know what would happen with Wellers each week until the table read, which happens right before each episode films.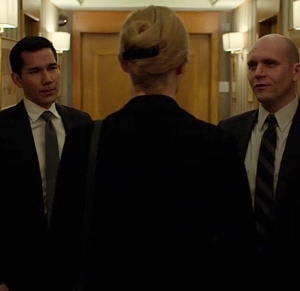 Mithra: How was it working with Jay Ali and the rest of your FBI agents?
McCurdy: Jay is a great guy. I didn't meet him until our first scene together and we clicked immediately. I enjoyed working with him and all of the other FBI agents. Felt like a big family.
Mithra: A lot of your scenes were also in the hotel where Wilson Fisk is staying under FBI guard. Was that a set built for the show, or was that a real suite somewhere?
McCurdy: That set was built entirely for the show on a big soundstage in Greenpoint, Brooklyn. It was a very cool thing to see.
Mithra: One of the best scenes was the tense exchange between Karen Page and Wilson Fisk in episode 8... just wondering if you had a chance to watch the filming of that before you had to come in and handcuff Karen.
McCurdy: Sadly, I didn't get to watch them film scene because I was waiting outside the door to bust in. I did get to watch them rehearse and set up the scene. They are pros. It was a pleasure to watch them.
Mithra: How was it working with Deborah Ann Woll and Vincent D'Onofrio?
McCurdy: Both are very nice and professional. I wouldn't hesitate to work with them again.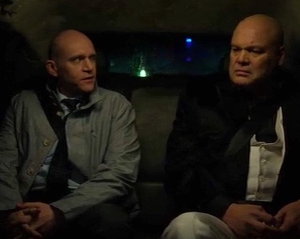 Mithra: By episode 9 we know you're in the unfortunate group who have to abide by Fisk's commands... were you surprised by any of the other characters that also joined you in that FBI office?
McCurdy: I wasn't surprised at all. Seemed like the right way for the show to progress. He is The Kingpin after all. The FBI is no match for a super villain.
Mithra: We learned of Wilson Fisk's anger issues in the first season... and sadly your character had to experience it in that car this season. How do you even prepare for a scene like that, just getting repeatedly punched in the head after giving over your jacket. I hope that was a stunt person under the jacket!
McCurdy: We had fun doing that scene. We sat in the back of the limo and went over it step by step until it was perfect. I wanted to do the whole scene, but they would not allow that for safety reasons, and brought in a stunt guy to take the beating under the jacket. He wore a special helmet to protect his face.
Mithra: Thanks again for the interview. DAREDEVIL wrapped a while back, so what have you worked on recently and what's next for you in terms of films or shows?
McCurdy: Thanks for having me. I'm currently working on a couple independent film projects here in the city. In December, I'll be on set shooting a webseries in which I play a vampire.
--------------------------------------------------------------------------------------------
(c) 2018 Kuljit Mithra & Matthew McCurdy
Daredevil:The Man Without Fear
http://www.manwithoutfear.com
--------------------------------------------------------------------------------------------

---
Read more interviews!