Interview with George Papadimatos
(June 2017)
Actor George Papadimatos appeared in DAREDEVIL Season 2 on Netflix as Elektra's chauffeur. Here we discuss working with the cast and his lifelong interest in all things comics. Hope you enjoy this interview and many thanks to Mr. Papadimatos for this opportunity.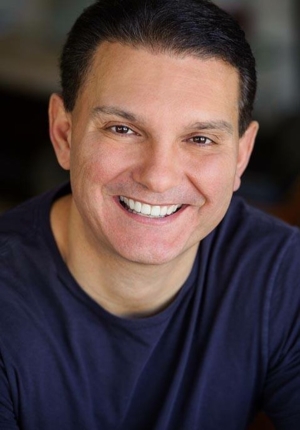 Kuljit Mithra: I think we've chatted a few times online, so I know you are a big comics fan. What's it like for you to be a part of this Marvel universe on Netflix? I don't know if I could act professionally if I was on the show, I'd be constantly going "wow!".
George Papadimatos: First off, let me just say, I'm not a BIG comics fan, I'm an ENORMOUS comics fan!!! When I was a kid, Marvel comics and Yankee baseball were my LIFE! Starting from when I was 4 years old, I went back and read every issue of all the Marvel heroes. I loved them all! Daredevil, Spider-Man, Avengers, Fantastic Four, Captain America, Iron Man, X-Men, you name it. I was and still am hardcore. I even have a Spider-Man wallet, a zillion classic Marvel T-shirts that I always wear, a Captain America Business card holder and my favorite, my Captain America shield backpack. Men and women all over the city give me high-fives and yell, "Captain America" when they see me wearing that! Now, having said all that, it was an absolute THRILL of a LIFETIME for me to be a part of the Marvel Cinematic Universe! My dream is to have a big part in Marvel TV or films, especially as a hero or villain. I was overjoyed to finally get in the door as Elektra's Chauffeur on Daredevil. And yes, I was 100% geeking out inside! I've never experienced that as an actor. I'm always in character for every role that I play and I was so comfortable for this one. But I have to admit, when they yelled "Action" for the 1st take and I opened the door, as serious as I was, in my head I was screaming, "Holy Cow! It's Matt Murdock, Karen Page and Foggy Nelson!" It was so surreal. I felt like my childhood came to life and I was in the pages of a real comic book! It was a dream come true for me. I never felt that before as an actor. It was the absolute coolest!!
Mithra: Tell me about the process of getting the role. From talking with a few other actors, it sounds like it's a very secretive process and you may not even had known you were auditioning for Daredevil at first.
Papadimatos: I think all actors should target a list of TV shows and Film directors that they feel fit their personalities and style of acting and try to meet and audition for them. You can't just sit around and wait for that moment to be discovered or for your agent or manager to get you that dream audition, no matter how awesome they may be. It's a team effort, but it's your career. You have to be responsible, put in the work and ultimately rely on yourself to take action as you would with anything in life. I saw that one of the Casting Directors, Julie Schubert, was in town, so I jumped at the chance to meet her and perform for her. A month later, she called me in for an audition and I booked it. It is indeed a guarded and secretive process. You don't really know the name of the character or role you're exactly auditioning for until you book it and rightfully so. There are so many fans clamoring to know what's happening with the show and they don't want to give anything away. May I add that Julie Schubert is one of the most wonderful CD's I've EVER met. Not only that, she and the ENTIRE Daredevil cast and crew are incredible and some of the nicest and most genuine people I've ever met in the industry. It's no surprise to me that their shows are so amazing. I'm not just saying that, I love to compliment great work. They care so much about everyone and every detail and enjoy what they do and it resonates through the screen.
Mithra: As "Elektra's chauffeur", your character appears in episode 6 to get (well, demand) Matt Murdock for his next adventure with Elektra. For a scene like that, how much time do you spend on set? And how much time did you have to prepare for it?
Papadimatos: My scene was a one day shoot, so I was only on set for about 6 hours. They were very organized and had everything ready to go and I had enough time to do what I had to do. As a huge fan of the comic book and these TV shows/films, I understood the character extremely well and knew how someone that worked for Elektra would act. She's a woman that's totally in charge. You don't mess with Elektra!
Mithra: Did you get a chance to speak with the cast off-set? If I remember correctly, Charlie Cox, Deborah Ann Woll and Elden Henson were part of your scene. How were they to work with? The impression I get is that everyone loved working on this show.
Papadimatos: When I said, the ENTIRE Daredevil cast and crew are incredible, I wasn't kidding. As soon as I arrived on set, Charlie Cox, Deborah Ann Woll and Elden Henson all approached me together as a group and literally welcomed me to the Daredevil family. They couldn't have been more friendly and approachable and I was completely overwhelmed by their warmth and kindness. They really made me feel comfortable and like I belonged. They were amazing. I made sure to tell them that I'm a HUGE comic book fan and know every issue of Daredevil and that they completely nailed the characters and bring their stories to life. They were so happy to hear that I was a diehard fan of the comics and thought they were perfect. I had some great talks with Charlie about how awesome previous episodes and his fight scenes were. I can't say enough about what great people they are and how nice they were to me.
Mithra: From visiting your site, I see that you have a great acting coach in Chazz Palminteri. How has he helped you, and what do you think his best advice has been for you?
Papadimatos: Wow. It's hard to answer that in one question, I could do an entire separate interview just on what Chazz Palminteri means to me. I've met plenty of celebrities and everybody knows how great an actor Chazz is, but as a teacher, Chazz is as great as it gets. I've never met a star that's more approachable, more caring about the actor and more comfortable with who he is than Chazz. There's not an OUNCE of fakeness in this man. He is 100% real and genuine. He's extremely kind and honest, which is awesome. He makes you feel incredibly comfortable in his class and tells it like it is. He has such a brilliant and natural way of teaching and breaks things down to make it almost seem easy (When we all know it isn't). He doesn't waste a single word. Not one. Everything he says makes unbelievable sense and has great meaning. He makes the light bulb go off in your head that says, "YES! I can see it now!" I was always a confident actor, but Chazz' techniques teach you how to relax and focus for your audition and channel that confidence to the fullest. The 1st time I took his class, I used his acting techniques and booked my next 4 roles!!! He is my acting mentor and role model. I can listen to Chazz speak all day. I never want his class to end. If you're a serious actor, you be crazy NOT to take his class. I could talk all day about how wonderful this man is and how he's changed my life as an actor. He's definitely taken me to the next level and where I needed to be to get where I'm going. He is the absolute BEST.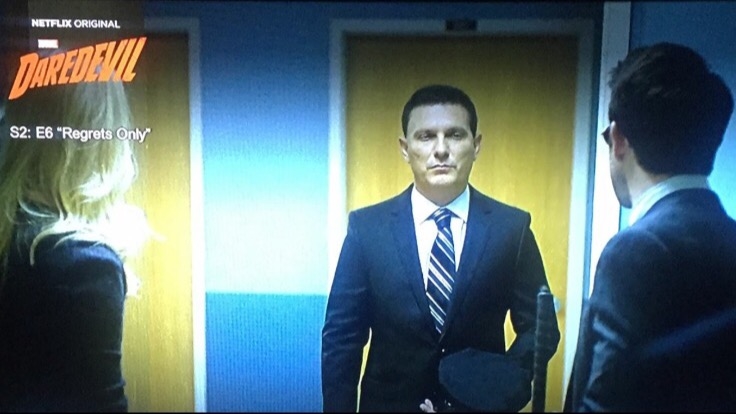 Mithra: I know you can't even answer this question, but I'll ask anyway... we know Elektra is back for The Defenders... any chance you're driving her around? ;)
Papadimatos: That is what I'm PRAYING for!! I would love to return and get a chance to expand that role! It would be a dream come true to keep working with that awesome Daredevil team! I'd even be happy if The Punisher shot me! Lol!
Mithra: And last question, what's next in terms of acting, comedy, your radio stints etc. You've billed yourself as a Jack of all Trades, so where are you headed next?
Papadimatos: Lol! I say that because I find myself doing all kinds of different entertainment in my travels! My friends call me "Kramer" because I get so many different types of jobs. One minute, it's Daredevil, then I'm speaking Greek in a film, then I'm doing standup comedy, a workout infomercial, the lead in a singing musical in the village or doing Shakespeare, or being asked to appear at a Comic-Con! I just worked on 2 great TV pilots, "Wholly Broken" and "Riding the D with Dr. Seeds", am currently Co-Starring in a terrific comedic play called "Bromance-a-roni" with actor/writer Roberto Ragone in the Manhattan Theatre Festival this July and after that I'll be working in 2 Indie films, one as a Greek mob boss. I also found out that I might be the model for a new comic character in a new line of Indie comics called "Mantastic" created by a talented guy named Frank Cooper! That would be so cool!!! I find myself in these opportunites because of my Dad. He was my best friend, my hero and the wisest and funniest man I ever knew. He taught me how to treat everyone you meet with mutual kindness and respect and to not be afraid to talk to people because you never know WHO you're talking to. How to be a giving person and to love all people for who they are. I can't tell you how many job offers I've received just by being like my Dad, kind and easy to work with. I think it's so important to be a good person and do the right thing and try to make work a great experience. It should never be about you. If you're a giving actor, you're making the entire project better and that's what it's all about. I do Standup comedy about my Dad with plans to make it a one man show and movie (Sounds like Chazz!) and if my Dad were still alive I'd have him perform with me on stage as a 2 man comedy show. He was the greatest and the man I aspire to be everyday. If I can be half the man he was, my life will be wonderfully fulfilling. Thank you so much for this interview!
--------------------------------------------------------------------------------------------
(c) 2017 Kuljit Mithra & George Papadimatos
Daredevil:The Man Without Fear
http://www.manwithoutfear.com
--------------------------------------------------------------------------------------------

---
Read more interviews!