Interview with Nandita Shenoy
(October 2019)
Actress Nandita Shenoy played Ray Nadeem's sister-in-law Saanvi in DAREDEVIL Season 3. We had a chance to chat about diversity, family and theatre, and how it all relates to Daredevil. Many thanks for the interview!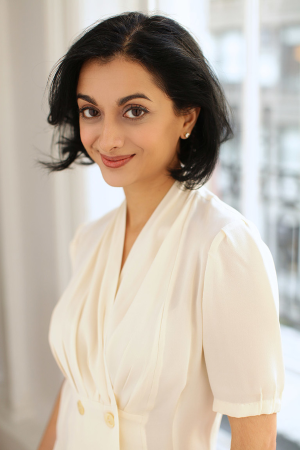 Kuljit Mithra: I had interviewed Sunita Deshpande (Seema Nadeem from DAREDEVIL Season 3) about a year ago and we talked about the importance of seeing a South Asian family like mine on TV. I was looking around your website and saw you are a part of many organizations that work for diversity in theatre... so I wanted to get your honest opinion on how the show represented South Asians. The thing that has stuck with me is that the Nadeem family is not stereotypical, it was written to show how "normal" they could be with problems everyone could have.
Nandita Shenoy: I agree with Sunita's characterization of the Nadeems as a normal American couple "who happen to be Indian." Issues around money and children are part of family life for most people in America, and yet it is rarely depicted as the norm. For me, Saanvi's illness added another dimension of stress on the family because of the enormous financial burden of dealing with disease. As an actor, the biggest stress in my career is qualifying for health insurance every year, and even with insurance, I know a major illness would really be hard to manage financially. That's why I really appreciated her storyline in the show.
Mithra: Tell me a little about yourself... I see you grew up on the other side of Lake Ontario in Buffalo (I'm in Toronto) and got the acting bug in college.
Shenoy: I did grow up in Buffalo! My mom enrolled me in dance lessons when I was a little girl because she had studied Bharatnatyam dance in India and thought the practice was very important. Since there were no Bharatnatyam classes available in Buffalo at the time, she enrolled me in a tap/ballet combo, and I fell in love. I danced throughout high school and college when I realized that I wanted to pursue it. After I moved to New York, I started auditioning for every dance job there was and booked an Off-Broadway musical which introduced me to the theater. I pretty much have never looked back! TV work has come as an off-shoot of my theater work - a new medium that I am eager to continue exploring!
Mithra: I've interviewed quite a few people involved with the show and the one thing I always ask is how their audition was, just because of the Marvel secrecy. Did you know it was for DAREDEVIL, did you even know your character's name?
Shenoy: I did not know the name of the show or the character when I auditioned. I knew it was for Marvel and had other friends who had gone in and booked Marvel shows, so I knew that I should not ask questions! Also, I was doing an industrial that day and had to run to the audition right after I finished. When I got to the audition, Julie Schubert, the casting director, told me to take all my make-up off. So I scrubbed my face in the waiting room and did the audition! I don't think I heard anything for more than a week, so I didn't even think I had booked the show.
Mithra: What was it like to put on the bald cap for your role? That must have been quite the interesting day watching that transformation in the mirror.
Shenoy: It was really an amazing process. The make-up artists on the show were really incredible. It took two and a half hours to make my hair disappear, but I thought the final product was absolutely fantastic. Even my parents thought it looked like I was really bald!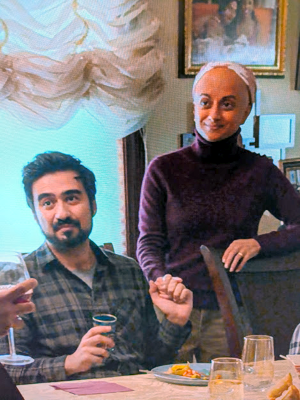 Mithra: What do you think the word "family" meant to Saanvi? How do you think her character would have reacted to all the drama with Ray?
Shenoy: I think family meant supporting each other to Saanvi. While she was obviously touched by Ray's help, I think she also felt that the time would come when she would help him. I'm not sure Saanvi would have known what to make of Ray's secret, but I do know that she really trusted him to do right by his family.
Mithra: What was it like working with your acting family on the show (Jay Ali, Fajer Al-Kaisi, Sunita Deshpande, Noah Huq and others)?
Shenoy: I interacted the most with Jay and Sunita who were both lovely to work with. Sunita and I knew each other through mutual friends, but I had never met Jay before. He was incredibly generous and welcoming from the first moment. The set was a lot of fun!
Mithra: A lot of actors who have appeared on DAREDEVIL have done theatre work, and you're no exception. What is it about the theatre that excites you?
Shenoy: I love performing before a live audience! There is nothing more gratifying than hearing someone laugh at your joke. And as a playwright, I say that is doubly the case. My happiest moment in the theater was the first time I heard an audience laugh at something I had written. I'll never forget that moment!
Mithra: Thank you for this opportunity. Please let the readers know about some forthcoming projects. Thanks again.
Shenoy: I just returned from acting in the world premier of "House of Joy" by Madhuri Shekar in the Bay area at Cal Shakes, and now I'm back to auditioning. Also, my play "Washer/Dryer" just closed its fourth production in Seattle, WA. I am currently a regular on a web series called "Insomnia" that might be of interest to your readers. The series launched a few months ago, but thanks to the beauty of web series, it's still available for viewing! In it, I play another woman with a chronic illness, although this character is a bit saltier than Saanvi! The show streams on Youtube and can be found at @Insomniatheshow.
--------------------------------------------------------------------------------------------
(c) 2019 Kuljit Mithra & Nandita Shenoy
Daredevil:The Man Without Fear
http://www.manwithoutfear.com
--------------------------------------------------------------------------------------------

---
Read more interviews!