Interview with Jose Guns Alves
(August 2016)
Actor Jose Guns Alves appeared in Daredevil Season 2 in a pivotal role in prison where two major characters meet for the first time. Many thanks to Mr. Alves for the interview and hope you enjoy this Q&A.
Spoilers for Daredevil Season 2!!!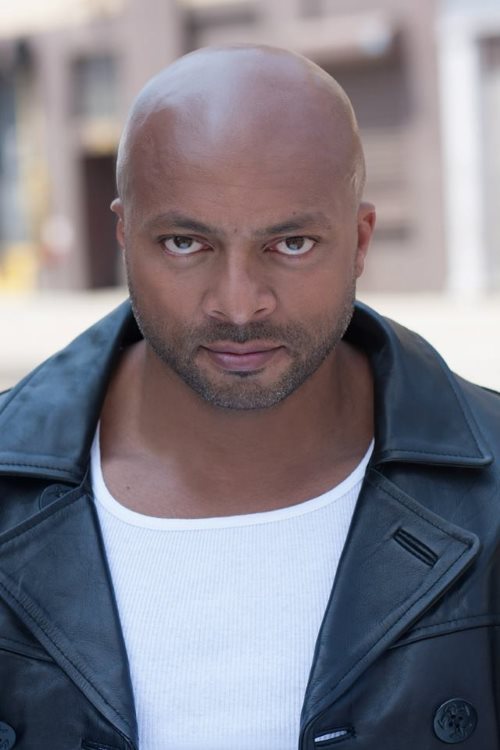 Kuljit Mithra: Thanks for doing this interview. You appeared as "Teardrop Brother" in two episodes of Daredevil in season 2; two episodes related to the previously unannounced return of Wilson Fisk in prison. I've asked other actors who've worked on Daredevil about the secrecy surrounding the show, so I wanted to know how you handled keeping your role a secret for so long and how you filmed without any of the details getting leaked to the press?
Jose Guns Alves: Generally speaking, as a working actor, I have a guideline that I follow when working on any project. It's pretty simple... KEEP MY MOUTH SHUT. I don't feel the need to tell anyone about anything I'm working on or have the urge to blab about any project I may be involved with. There are some beginning actors who do this, perhaps for attention or fame. But none of that interests me. I don't act for those reasons. I act because I love the entire process of building a character and moving an audience emotionally with my performance. It's cathartic for me to emote certain feelings that I wouldn't otherwise have reason to express in my non-acting life. It really has never been about fame or fortune to me, so I don't tell people about what I'm doing. Plus, I feel it's much more impactful when the project actually comes out and people realize I was involved and didn't say a word. Oh yeah... and if all that fails, there's that nasty NDA thing too! [laughs]
Mithra: When you first learned about the role, did you even know it was for Daredevil?
Alves
: No, I didn't. The whole audition process was held for a project under a totally different name. Completely unrelated to Daredevil. There was no mention of the type of project, only the type of character that they were looking for. It was really a well kept secret, until I got the call that I was cast, and that's when I was told.
Mithra: I was reading that you left your corporate job to pursue acting... what is it about acting that inspired that decision?
Alves
: This is true. I was working at Fidelity Investments as a client manager. I had been there for five years. In total, I had spent twelve years of my life in various principal compliance and brokerage positions at a few different firms like Merrill Lynch and Prudential to name a couple others. Also, prior to that I was a senior sales executive at Federal Express in Boston for five years. But through all that time and numerous promotions, though the money was good, I came to discover that there was something missing in all of that for me no matter how much money I made. Money couldn't fill the hole that had me feeling empty. I needed to be able to express myself in a non-corporate manner. I had already been back to dabbling at acting after quite a few years off on the indie scene and immediately I felt that this is what I should have been doing with myself all along. So I gradually got deeper and deeper into acting using vacation time for auditions and shoots until I reached my tipping point.
Mithra: Your role didn't have many lines, but you had some important scenes with Vincent D'Onofrio and Jon Bernthal where you had to basically show you could take them in a fight. As an actor, how do you prepare for these kind of roles, where it's more about your presence and actions, rather than what you're saying?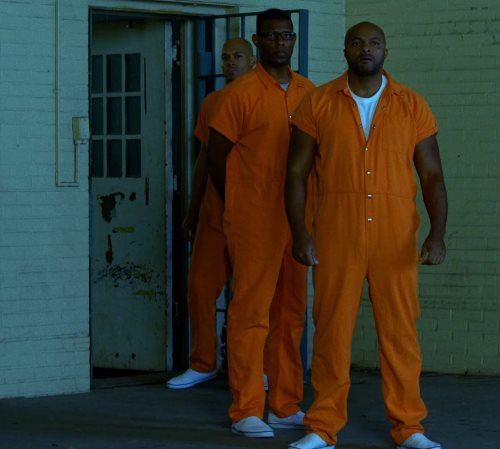 Alves
: Haha, I actually didn't have ANY lines; but I knew this going in. I was told the character was silent though he was a principal role and that his presence needed to be very strong. When I auditioned the sides they gave me had lines, but it was my presence that had to carry the performance. They told me they needed an actor with strong physical acting skills and that later on, if I was cast, the character would have lines...even though I had no idea what I was auditioning for. In my own life I tend to be very physical in that I love weight training and athletics. I was always deeply involved in sports as a young man too. In addition, all of my best acting coaches always taught that it's not the lines that make the performance, it's what goes on in between the lines...your presence, your listening skills, allowing what is being said by another actor to affect you and your facial expressions your eyes. I guess these things I've been focusing on for years and it paid off.
Mithra: How was it working with D'Onofrio, Bernthal, and also with Lawrence Bingham and Korey Jackson?
Alves
: It was amazing to work with Vincent and Jon, to pick their brains and just have regular conversations with them. They're really nice guys with a wealth of experience and knowledge. It was wonderful to watch them work...like being schooled in an acting class. I almost had to pinch myself because I was actually doing scenes with them. Lawrence has become my brother. We still keep in touch and keep track of each other and of the projects we're working on. We touch base weekly. Korey is an extremely talented actor who is very cerebral and deliberate in his performance. It was great to watch he and Vincent work together.
Mithra: And last question, tell me a little bit about any current projects you're working on, or what is coming up in the future you can discuss? Thanks again.
Alves: Well, now you have me breaking my number one rule! [laughs] I recently shot a scene with Keke Palmer and Vanessa Morgan for the upcoming feature film, 'PIMP' set to release in 2017. It is an awesome project written and directed by a fantastic woman by the name of Christine Crokos. The story is set in the seedy, gritty world of drugs, prostitution and inner city violence. It's a great story that will shine the light on those who grow up under those conditions and will humanize an element of society that we often classify simply as criminals. Besides that, I've filmed a few indie shorts that will be released later this year and early next year. I have also been focusing on a screenplay I have been writing over the past two years. Me and my partners have hopes of bringing that to light in the next year. You see... I too, have plans for world domination! Muwhahahaaaa! Thanks for the interview!
--------------------------------------------------------------------------------------------
(c) 2016 Kuljit Mithra & Jose Guns Alves
Daredevil:The Man Without Fear
http://www.manwithoutfear.com
--------------------------------------------------------------------------------------------

---
Read more interviews!












COMICS:
Volume 1
|
Volume 2
|
Volume 3
|
Volume 4
|
Volume 5
|
Volume 6
|
Volume 7
|
Annuals
|
Appearances
|
Costumes
|
Digital Comics
|
Hardcovers
|
Key Issues
|
Logos
|
Origin
|
Price Guide
|
Recommended
|
Reviews
|
Secret Identity
|
Sales Data
|
Titles
|
Trades
|
Untold Tales
CREATORS:
Cover Artists
|
Inkers
|
Pencillers
|
Writers
MEDIA:
Actors
|
Books
|
Cartoons
|
Computer Fun!
|
Movies
|
Music
|
Pictures
|
Sightings
|
Sketches
|
Video Games
|
Wallpapers
FANS:
Fan Art
|
Fan Costumes
|
Fan Custom Figures
|
Fan Fiction
|
Fan Films
|
Fan Guitars
|
Fan Tattoos

Daredevil (and other related characters appearing) and the distinctive likenesses are Trademarks of Marvel Characters, Inc. and are used WITHOUT permission.
Copyright &copy 2023 Marvel Characters, Inc. All Rights Reserved. Visit Marvel.com.
www.manwithoutfear.com is owned and operated by Kuljit Mithra. Web site is © Kuljit Mithra 1996-2023.
Keep up to the date with your trusted Daredevil source ManWithoutFear.com on
and