Interview With Chris Brewster
(January 2016)
If you've enjoyed the first season of Daredevil on Netflix, you probably have seen Chris Brewster's work and not even have realized it. Brewster is the stunt double for actor Charlie Cox. Here we discuss being a part of the show and the team involved with creating the SAG nominated stunts. Many thanks to Mr. Brewster and we look forward to season two!
Kuljit Mithra: Wanted to say thank you first for taking the time to answer these few questions. Production wrapped up on Season 2 last month and we're getting a lot of promotional pics and videos now... and we've finally learned March 18th is the release date. One thing I've asked others who have worked on Daredevil is this: What is it about this show that made it special for you, because everyone involved seems to have enjoyed it so much and rave about it. Is it really so different than other productions you've been involved with?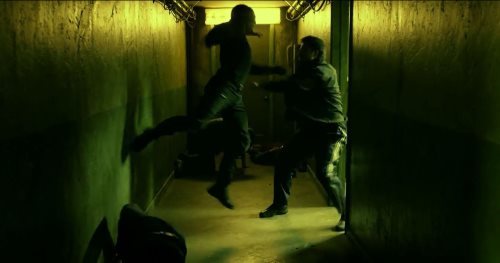 Chris Brewster: Daredevil is unlike any other show. I love the story, I love the characters, but the best part of the show for me is the crew. The show is run by some amazing show runners, directors, and producers. They have created a really great project to be a part of. Every department is phenomenal, and works together as a team. Everyone is like one big family. And ultimately, every team has a leader, and our team is led by Daredevil himself. Charlie plays such an integral part, not only on the screen, but behind it as well. He brings such positive energy to set every day, and it's contagious.
Mithra: Is it safe to say your time on the show has turned you into a big Daredevil fan, be it comics or merchandise, or even things like this... conversing with Daredevil fans?
Brewster: Whenever I work on a superhero show, I buy a graphic novel of the character to study poses and movement, and learn a little bit of the character's back story. I think that affects the physical movement of the character. After starting on this show, I went out and bought literally 2 dozen Daredevil graphic novels. I have read everything I can find. Ironically, I read more comic books now than I did as a child. This career definitely lets you stay young forever.
Mithra: You've probably answered all questions about the amazing hallway fight scene already from episode 2, so I'll pose this question to you... Would you rather have a Lego set based on that hallway scene with a microwave launcher, or a video game based on that hallway scene?
Brewster: I'm terrible at video games, and I think a Lego set based on the hallway scene would be awesome. But that being said, either one would be pretty great!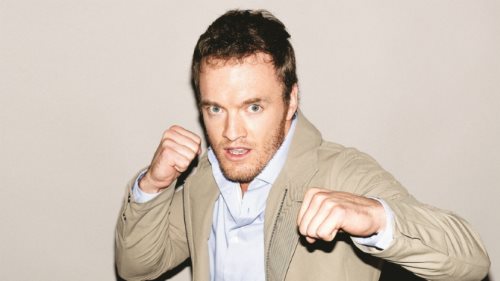 Mithra: Was there any part of the show where you think people didn't realize it's you and not Charlie Cox in a scene that might not necessarily be a "stunt"?
Brewster: Well, that's the goal... for people to never realize it's me when I'm on camera. But you would be surprised. I think a lot of people assume that all of the fighting is me, when in fact Charlie does a TON of his own stunts. He is super athletic, so he jumps into every action sequence!
Mithra: Were there any stunts Charlie Cox wanted to do, but you did them to satisfy the insurance policies?
Brewster: There are a few stunts that I know Charlie would absolutely do, but it's not worth the risk. Normally crashing through glass windows and smashing through walls is safe, but if the lead actor gets a cut on his face, or a sprained ankle, it can really hurt the show.
Mithra: Congratulations on the SAG nomination for Best Stunt Team! I know you work closely with Phil Silvera, but I wanted to get a better sense of how the team is organized... is it a company of employees, or is everyone freelance? So when this "Team" is nominated, just how many people are we talking about?
Brewster: We are all freelance in the stunt world. The "team" consists of every stunt person who has worked on the show. Whether you are the main stunt double, or a random stunt guy who only takes one punch, you are part of the team. If even one person is off in a fight sequence, it can ruin the entire shot, so it is very important to have a strong team. Phil is the stunt coordinator. His job is to take the director's vision and map it out with the action. Then we have a fight choreographer, Roberto Gutierrez, who I think is the unrecognized hero of the team. He basically adds physical acting and style to each performer in a scene. Each performer then gets to add our own personal style and movement to the sequence, and it takes on a life of its own. It's very fun and exciting watching a fight evolve from script to screen.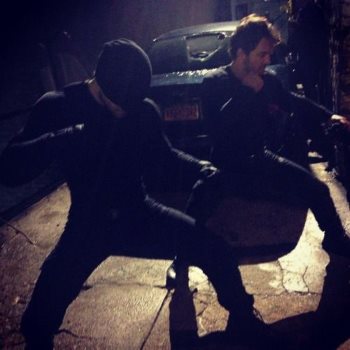 Mithra: Now I know I can't ask you anything specific about Season 2, and I can only really mention things we've seen in promo pics and teasers... any comments about those pics or teasers? The poster and video released recently were really good.
Brewster: The only thing I can say is that I can't wait for Season 2. The teasers and promo stuff definitely works. I worked on the show, and I still get so excited every time I see a photo or something posted.
Mithra: And final question, and once again, you might not be able to answer, what's next for you and the team? Is it a safe bet you'll be back if there's a Season 3? Or the Defenders?
Brewster: It's safe to say that I want to keep doubling Charlie, and being part of this show. Hopefully I will get the call! I haven't heard anything yet, but I'm keeping my fingers crossed. This is definitely the best project I have ever been a part of, and I really want to keep it going!
--------------------------------------------------------------------------------------------
(c) 2016 Kuljit Mithra & Chris Brewster
Daredevil:The Man Without Fear
http://www.manwithoutfear.com
--------------------------------------------------------------------------------------------

---
Read more interviews!