Interview with Holly Cinnamon
(January 2020)
Actress Holly Cinnamon, who portrayed "Julie Barnes" in DAREDEVIL Season 3, talks about her character's actions and reactions to Wilson Bethel's "Dex" in this quick discussion about the show. We also chat about her background and much more. Hope you enjoy it!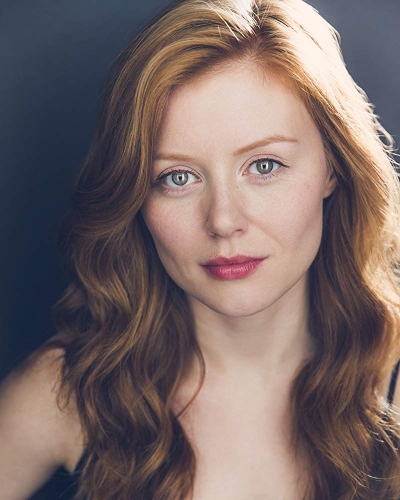 Kuljit Mithra: Thank you for the interview. I was reading about some of your acting background in theatre and TV, but the thing that stuck with me was your time in Canada for work and education. Are you Canadian? I'm just north of Toronto... it sounds like you've been all over the country... can you briefly talk about your interest in acting and how it's taken you all over the world and Canada in particular?
Holly Cinnamon: I am originally from Western Canada: Edmonton, Alberta to be specific. I lived in Edmonton, Montreal and Charlottetown before moving to Boston to complete my MFA and then to New York City, where I currently live. I did theatre in Canada for years before making the transition to America and focusing more on film and TV since I moved to New York.
Mithra: You appeared as Julie Barnes in DAREDEVIL Season 3, acting mostly opposite Wilson Bethel. One question I always ask actors who have worked on the show is: What was your audition like? Did you even know it was for DAREDEVIL? Did you even know the character you were auditioning for? Everyone talks about the secrecy involved.
Cinnamon: I did not know it was for Daredevil at first, no. My audition was for the show's codename: Ringside (which I think most fans know, and I can reveal now that the show is no longer shooting.) The character had a different name in the audition, and I think even a different name between when I booked it and when we were shooting. I did sign many NDAs, and didn't even tell anyone what show I was on until after it came out on Netflix. I auditioned in New York for the lovely Julie Schubert, and I owe it to her and Lain at that casting office for this amazing opportunity. It was actually my first TV audition in New York!
Mithra: We're first introduced to your character where Dex, Bethel's character, stalks Julie while she eats pizza, or when she's jogging... so initially there wasn't any dialogue for you. At that particular moment of shooting, did you even know what was ahead for the character in later episodes?
Cinnamon: I knew that my character's purpose was to develop Dex's backstory as a character, and the audition sides had a scene at the suicide hotline that is not in the show, so I had some vague backstory going into the process... but, I only received the scripts to the episodes I was in one at a time. So no, I did not know what was ahead until we got the script for each episode. But I had a clear sense of who the character was from the start.
Mithra: For your scene with Bethel in the hotel bar, I wanted to get your thoughts on the preparation and the final product. It starts out innocently enough, but quickly morphs into panic when Julie realizes Dex knows things about her that he shouldn't.
Cinnamon: I really loved the arc of that scene, and have to thank the writer of that episode, Tonya Kong, for the brilliant writing. I was grateful to have the space in that scene to go from leaning in and forward to a full reversal and I think the scene plays really well to give the audience the same the feeling that Julie has when something isn't right and she has to step back. I particularly love the moment where we see Julie decide to play it off casually and say that it's getting late and she has to feed her dog. I think this is a tactic that many women have to use in situations like this, and it feels very honest to me, before it shifts darker. It's definitely the most dynamic scene I am in and my personal favorite.
Mithra: In later episodes Dex convinces Julie to meet at a coffee shop to discuss what's really going on, and Julie surprisingly offers to help him. When you read the script, did you believe Julie really was "nice and kind", or was she just saying things to appease Dex?
Cinnamon: I think Julie genuinely wants to help Dex, and unfortunately Fisk comes out of left field to subvert those intentions and try to control Dex by killing his only hope. I do wonder what would have happened if Julie and Dex got the chance to talk, if Dex would have tried to hold on to some hope or goodness.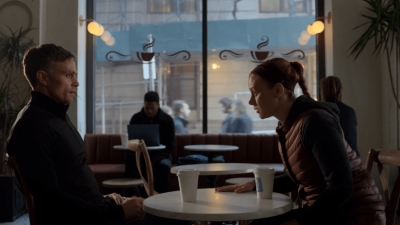 Mithra: Was Bethel's goat impression really part of the script? How did you not burst out laughing?
Cinnamon: It was part of the script. But I think the way he did it was totally Wilson's own choice! Haha! I found it really awkward actually, and I think it's more of an awkward funny moment than a genuinely laugh out loud moment. I think Dex is trying too hard to make a joke, and it's very much not the right moment, and he just isn't capable of that or doesn't understand how, and so I think the way that moment plays out reveals the awkwardness of his character.
Mithra: Unfortunately your character met her demise because of Wilson Fisk. That must have been disappointing to find out you were getting killed off, but it must have also been surreal to film, in your "frozen" make-up and then being driven around in a car. What was involved with those effects and then trying to sit still with your eyes open for so long?
Cinnamon: Yes, I was as sad as everyone else, and I still receive fan mail from people wishing Julie had stayed alive, which is very sweet. It was a little creepy playing a dead body in a freezer, especially with the reality that this does happen to women more often than we would like to think. It was hard as an actor to embody that experience and I had to disconnect a bit from the reality of it and make light of it to not feel the full weight of it. They put a lot of makeup on my face to achieve the frozen look - the makeup people on the show are absolutely incredible - and I did have to stay very still and not move my eyes, but I actually really enjoyed that part! I do prefer playing living, breathing, ass-kicking women though!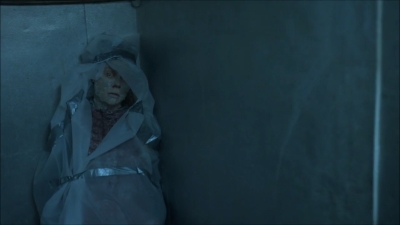 Mithra: Last questions... you teach actors something called the Alexander Technique, I was wondering if you could share what that is? Also, what's coming up for you soon on stage or screen? Thank you for your time.
Cinnamon: Yes, I teach Alexander Technique to actors, and have adapted tools from the technique to specifically serve actors in their on-camera work. The goal of the work is to support actors in being more fully embodied on screen, feeling connected to their environments, and not feeling compressed by the frame of the camera. I work with a lot of actors who are transitioning from theatre to film and TV. Alexander Technique, at its core, is a way for people to change or adapt new physical and mental habits and practices to better serve their lives and their work. So, I am helping actors use time and space better in their on-camera work.
I can't really say what's coming up on stage or screen yet... but a film I am in just had great success as part of a U.N. Human Rights Film Series at the St. Louis International Film Festival, and also was acclaimed at the Cannes festival. It's called The Girl Who Cannot Speak. Follow me on Instagram @holly.cinnamon to stay updated about my future work!
Thank you so much for having me for an interview!
--------------------------------------------------------------------------------------------
(c) 2020 Kuljit Mithra & Holly Cinnamon
Daredevil:The Man Without Fear
http://www.manwithoutfear.com
--------------------------------------------------------------------------------------------

---
Read more interviews!