Interview With John Pirkis
(June 2016)
Actor John Pirkis portrayed Stan Gibson in the second season of DAREDEVIL. Here we talk about his role, which started as an accountant for The Hand but then eventually revealed much more. Many thanks to Mr. Pirkis for the interview!
SPOILERS for Season 2!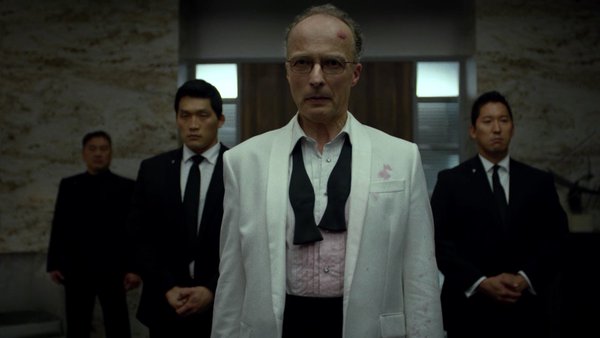 Kuljit Mithra: Having talked to a few of the other actors who have worked on DAREDEVIL, I've heard that the initial auditions were very secretive and didn't really reveal what character or even what show the job was for. So I was wondering if that was the case with you for the Stan Gibson role?
John Pirkis: Absolutely! Even the character I read for had a false name on the sides. I had no idea what I was being seen for. All I knew was that I had to learn Japanese before going to camera.
Mithra: One thing I liked about your character was how there was more to him... he wasn't just the "representative" for Roxxon in America, he had this other side to him that shows he really isn't as bad as you think he is. Once you realize he's being forced to help The Hand to save his son, there's an added dimension. Agree with that assessment?
Pirkis: Spot on! The depth to Stan's character and his journey are very carefully crafted and mapped out, adding stakes that are game changing for the story, as well as adding character layers for me as an actor to eventually play with.
Mithra: With the way scripts are written and handed out to the actors... did you even know at first that there was this other element to the character? How much of that future storyline was revealed to you beforehand, and how do you prepare for that as an actor?
Pirkis: Hahaha! This question makes me chuckle! I did not know till two days before filming the garage scene in the episode where Daredevil 'rescues' me, whether I was a goodie or a baddie or that I had a son. Likewise, till two days before my final episode, I had no idea of my grisly demise. The end effect is achieved by piecemeal character development from me as and when I receive the sides, and gentle nudges from my directors who do have the fuller picture on my character, enabling me to give a look or deliver a line that fits the 'hidden' story line.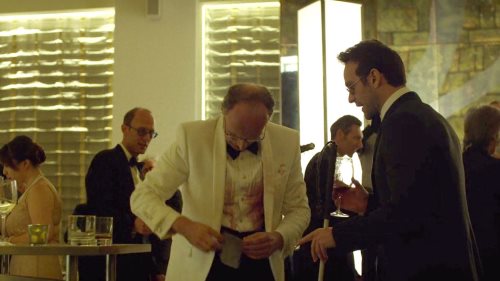 Mithra: I believe you've worked on GOTHAM, so aside from the different comic universes, is there much difference between a Netflix produced show and a network show? I get the impression the Netflix shows are more accelerated in terms of scheduling.
Pirkis: I have worked on GOTHAM. Actually, it is the other way around: Being a Network show, GOTHAM has far tighter more accelerated scheduling, and there is more pressure to get the scene in the can a.s.a.p. DAREDEVIL conversely being MARVEL & NETFLIX have more of everything to play with, to the extent that if an elaborate scene needs re-shooting, they can and will come back a month or two months down the line and shoot it all over again. One thing I will say, is that both universes (DC & MARVEL), really make you feel welcome and a part of their extended 'families'.
Mithra: You worked closely with many actors on the show. Wanted to get your comments on working with Charlie Cox, Elodie Yung, Lucas Elliot Eberl and others?
Pirkis: I have been really blessed with my co-stars. Charlie Cox is a true leading man, and a most generous actor! He is selfless, charming, has a wicked sense of humor, and is on the ball 24/7. Elodie Yung was extremely welcoming, and complimentary of my Japanese. We were also able to speak a wee bit in French together off camera, as my wife is French. I have to say, Elodie's English accent is impeccable. Lucas Elliot Eberl is such a modest, über talented guy. I went along to see him playing some of his own compositions in a piano bar in New York. WOW! He ain't called 'Fingers' for nothing. Rosario Dawson; charming, witty, grounded and one very smart cookie. A massive shout out to Phil Silvera the fight and stunt coordinator, and Charlie's stunt double Chris Brewster, who between them not only took great care of me throughout, but created the most AWESOME fight sequences. And finally, on GOTHAM, Robin Lord Taylor was a total delight to be with both on and off camera. I almost feel the show should be re-titled, PENGUIN.
Mithra: I've read about your background in theatre, in England, Canada and elsewhere. Actors have to take a lot of chances, to get roles, to get representation with agencies, etc., so how was it to make that move from England to study, to learn the craft and make it a career?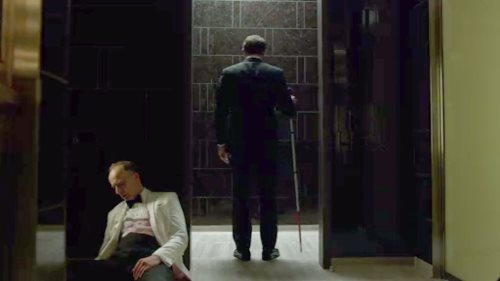 Pirkis: My move over to the States was in fact relatively painless. I had studied acting at the Bristol Old Vic Theatre School in England back in 1980, and had been working out of London professionally for 25yrs before being invited firstly to study with The Meisner Center in Los Angeles, and then to spend a little time at Montreal University studying Alba Emoting and Feldenkrais. I had representation in Los Angeles, and had completed all my studies before I settled in the States. It probably took me a year for things to pick up in LA, with my returning on occasion to work in the UK. But things truly kicked in once I had been introduced to Carolyn Anthony of Anthony & Associates in NYC, and she invited me to be represented by her, and pushed me to re-locate to New York. Since then, I haven't stopped being busy. I LOVE NEW YORK!
Mithra: Last question... unfortunately you met your demise on the show (but history shows never say never to coming back). You mentioned you were currently filming when I contacted you, so if you are permitted to, can you let the readers know what's coming up for you in terms of movies, shows, projects etc.?
Pirkis: Funnily enough, I caught up with Charlie Cox last month when I saw his brilliant performance in the play, INCOGNITO at the Manhattan Theatre Club, and he asked me if I knew whether I would be returning to DAREDEVIL. I replied that judging by the final frame on me, it was unlikely. To which he smiled ruefully, and said, "Well, in this series you just never know...." I have the lead in an independent movie titled, CAN HITLER HAPPEN HERE?. A black comedy that has nothing to do with Hitler, and everything to do with New York real estate. In which I play the totally ruthless, Colby Porter. This will keep me busy to the end of July this year, shooting on location in and around Brooklyn. I can next be seen in November in Stephen Gaghan's latest feature, GOLD with Matthew McConaughey, Corey Stoll and Bryce Dallas Howard, playing Lewis Horne. a U.S. finance guy. I shot this last year, and it looks amazing.
--------------------------------------------------------------------------------------------
(c) 2016 Kuljit Mithra & John Pirkis
Daredevil:The Man Without Fear
http://www.manwithoutfear.com
--------------------------------------------------------------------------------------------

---
Read more interviews!