Interview with Peter Halpin
(December 2018)
Theo Nelson from DAREDEVIL Season 3 talks about his role and comments on the cancellation of the show. Many thanks to him for the interview!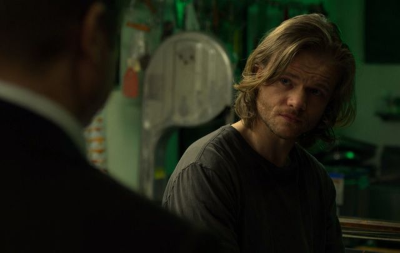 Kuljit Mithra: Nice to finally speak with you. First thing we have to talk about is the cancellation of the show a few weeks back. How did you hear about it and do you have any comments about it? It's been a downer for a couple of weeks now.
Peter Halpin: It's bitterly disappointing news! We were all really excited about season 4 and where the narrative was going to take our characters. All of a sudden our dreams were dashed when the news broke!
I was out to dinner with some friends and I received a text from a close friend asking "was I okay" - I didn't know what they meant. I finished my meal and went on Twitter, the first post I saw was the cancellation of Daredevil! I was in shock, it couldn't be true... Then the calls started rolling in from fellow cast mates and the bad news was confirmed.
I'm super grateful for this opportunity. To play Foggy's brother Theo in 5 episodes in a smash hit show like Daredevil is pretty dope!! Who knows, it may not be the end...
Mithra: What do you think of the #savedaredevil response from the Daredevil fandom about the cancellation?
Halpin: The Daredevil fans are the best fans in the world! Their response has been overwhelming, while upsetting at the same time, because I feel like we've let them down. However, the truth is that, us the actors have zero control over the cancellation of the show. All we can do is bask in what was one of the best seasons so far!
Mithra: Tell me a little bit about your acting background and ultimately how you got the role as Theo Nelson. How was the audition?
Halpin: I was a child actor, I attended an acting school from the age of 8 and turned professional at 14 when I booked the role of Malachy McCourt in the acclaimed film, Angela's Ashes. I worked consistently for the next 15 years in Theater, Film and TV. Then I decided to broaden my canvass and move to New York, which was the best decision I ever made!
I met with Julie Schubert for the audition, she is such a sweetheart! She made me feel very welcome, relaxed and got the best out of me. The rest as they say is history.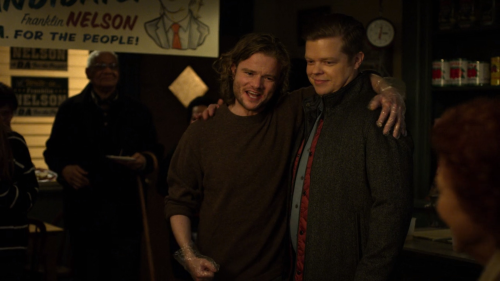 Mithra: One thing I remember is that your role was revealed mere hours before the show was going to premiere. After keeping that a secret for so long, that must have been funny for you to see announced. How difficult was it for you to keep this role a secret?
Halpin: That's right, my character was revealed very close to the premiere. When I first booked the role, I was bursting with excitement, so keeping it a secret was hard, but as the months rolled on it got easier.
When the news hit Deadline, it was like booking the role a second time!! The response was electric!
Mithra: Theo is a new character, so I was wondering how Marvel/Netflix described the role to you at the start? Were you aware that Foggy has a sister instead in the comics?
Halpin: I wasn't told which character I was reading for: everything was coded including the name of the character. All I knew was that it was a recurring character.
I knew that Foggy had a sister, but because I was completely in the dark, I hadn't really zeroed in on any of the characters in particular.
Mithra: When I reviewed Season 3, I mentioned that a theme for the show was "family". How do you think Theo Nelson would describe family as opposed to Foggy?
Halpin: You're right, family is a huge theme in season 3. Family is everything to Theo, he has devoted his life to the family butcher shop and takes pride in it.
Of course Foggy is much more career driven and has had great success, but in my opinion Foggy is a family man at heart also. He has his families back and comes through for them time after time.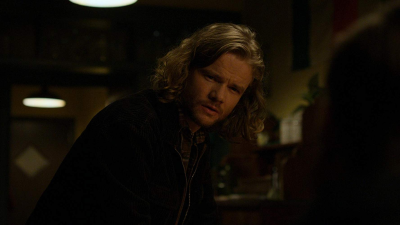 Mithra: Do you think it was fair for Theo to blame Foggy for getting involved with Fisk to keep the business afloat?
Halpin: Theo's back was to the wall, he panicked and lashed out at his brother. In theory it wasn't fair, but in practice it was perfectly normal.
Mithra: How was it working with your "Nelson" extended family and Elden Henson?
Halpin: Elden is one of life's gentlemen! He is a rockstar to work with, I learned so much from him. He is kind, generous and gives you loads to play with in each scene. I LOVED working with him and I hope we can do it again real soon!
The rest of the Nelson family were awesome, we didn't have much to do together on set, but behind the scenes we had a blast!
Mithra: Was the deli a real location, or was that built for the show?
Halpin: The front of the butcher shop is a real location, but the back section where we had the big family meals was a built stage. It's incredible what these set designers and construction workers are able to achieve, it really blows my mind! Most of the real super heroes are behind the camera!!
Mithra: Thanks for the interview. I know you can't speak about any potential involvement you had with season 4 before it was canceled, so tell us what projects you have coming up. Hopefully something can happen and the full cast can return someday. Thanks for your time.
Halpin: I'm very excited about a film I will be doing next year and a one man show also. Pilot season is just around the corner as well, but right now is holiday season and I'm sure going to enjoy it!!
It was my pleasure to do your interview and Happy Holidays!
--------------------------------------------------------------------------------------------
(c) 2018 Kuljit Mithra & Peter Halpin
Daredevil:The Man Without Fear
http://www.manwithoutfear.com
--------------------------------------------------------------------------------------------

---
Read more interviews!