Interview With Matt Costello
(January 2013)
Matt Costello has written many novels, TV series and video games. In 1988, he wrote the book DAREDEVIL: GUILT BY ASSOCIATION for TSR, and here he describes the story and its many different plotlines.
Kuljit Mithra: When it comes to media tie-ins for Daredevil, it's been somewhat lacking, so I'm sure there are fans who don't even know about this book from 1988. When I try to describe it, I usually say it's a "Choose Your Own Adventure"-type of book, which uses dice rolling to do the choosing for you. How is the best way to describe this type of book?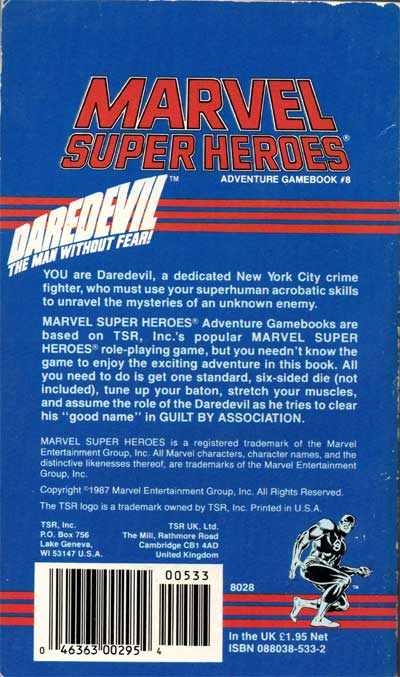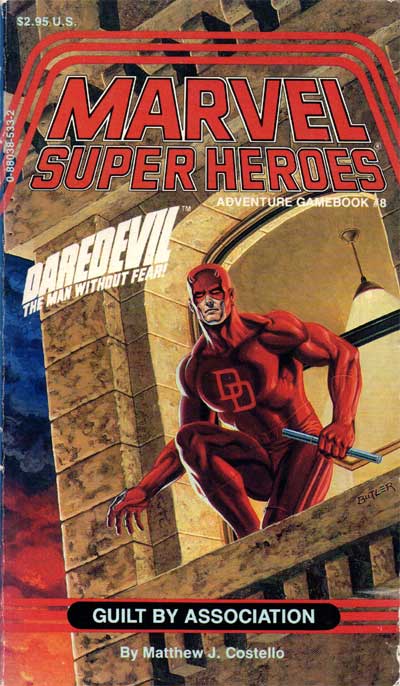 Matt Costello: I think that describes it well, though in that book, and similar ones I did, I strived to give the adventure the 'feel' of a novel.
Mithra: How did you get involved with this project? You've been involved with many video games and movie tie-ins etc., but what in particular drew you to this? Were you a big DD fan?
Costello: Always loved DD, and after I did a major Batman role playing module for Mayfair Games, I was contacted by a packager and publisher and asked if I'd be interested in writing the DD book (and creating the interactive adventure).
Mithra: Were there any guidelines from Marvel/TSR as to what you could and could not have in the story? What ultimately got your story with mayoral candidate Wiley approved and how/why did you go in that direction?
Costello: Twas quite a while ago, but like any project I do, whether with a licensed property or not, I dove into the world of DD, and started to get an idea for the characters, plot, settings etc. that I felt would lend themselves to a great interactive story and gameplay.
Mithra: I liked how the book was somewhat in continuity at the time, as Matt was working on his own, helping clients out with Karen's help... was this a conscious decision on your part to keep the story as up-to-date as possible with what was going on in the comic?
Costello: Yes. Comic book universes are constantly evolving, and I think you need to have your story set at a specific time and place. The decision here was to take DD here and now, and exploit the possibilities that gave him.
Mithra: In terms of gameplay, how did you decide the levels of Strength, Karma, Health Points etc. for DD?

Costello: In that, I worked with the publisher, getting the balance right to DD's success or failure to match what you would expect in a comic adventure. In the end, those point levels need feel 'right' for Daredevil.
Mithra: This isn't a traditional novel, as readers jump to different outcomes on different pages, depending on a dice roll. How do you write something like this... do you plot it out and then break it up into segments with sticky notes to keep track and then write it?
Costello: Doing a book like this is great training for writing actual novels, of which I have done many. In this case, you present to the reader different options which a writer would normally select as the next scene. In this case the reader gets to make those decisions. My method involved multiple file cards, taped to the walls of my office, and keeping . somehow . the whole branching thing inside my head.
Mithra: With Daredevil, you had to focus on his super-senses as well as the story. How hard was it for you to balance the "hero" aspect as well as the story? Or did you even think about it this way?
Costello: Ever great hero has power, limitations, and with luck... humanity. Daredevil brings all that, and then some... much like Batman. The super-senses of Daredevil are, of course key, but his humanity, his own vulnerability, make his heroic story (depending on how you Choose!) all the more satisfying.
Mithra: There was probably no specific reason for getting some of the characters into the book, but how was it getting Turk, Boomerang, Karen Page, Foggy Nelson, Black Widow and Kingpin into the story? Any favourites of yours?
Costello: As far as I knew this would be my one chance to play in the universe. So, I wanted the characters that readers love, that they enjoy, that are great villains... much as the Batman films featured the Joker. Kingpin - of course - is simply too rich to resist.
Mithra: What was the most difficult part of writing a Daredevil story? What was easy to write?
Costello: I love writing. I love also getting lost in games (both video and otherwise). Any problems I may have had certainly didn't seem like problems, but opportunities to do something new... exciting. That said, the file cards do lend a certain mad air to one's office...
Mithra: And last question, are you still doing these types of media tie-in books, or your own novels?
Costello: I respect working in licensed universes as much as working in my own novel and game worlds. For the right property, I am always interested. That has led to my doing the Pirates of the Caribbean video game, the official prequel to Peter Jackson's King Kong the novel Island of the Skull, and other properties. These days, though, creating my own story worlds seems to keep me busy.
You can learn more at: www.mattcostello.com.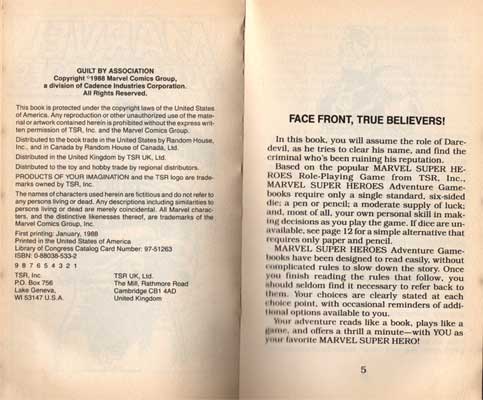 ----------------------------------------------
(c) 2013 Kuljit Mithra & Matt Costello
Daredevil:The Man Without Fear
http://www.manwithoutfear.com
----------------------------------------------

---
Read more interviews!