Interview with Eric Michael Gillett
(March 2018)
Eric Michael Gillett appeared as Dr. Gregory Tepper in the second season of DAREDEVIL on Netflix. Here we discuss his career and his preparation for his role and some behind-the-scenes comments on his scenes in the courtroom and with actors Deborah Ann Woll and Geoffrey Cantor. Many thanks to him for the interview and always, hope you all enjoy this Q&A!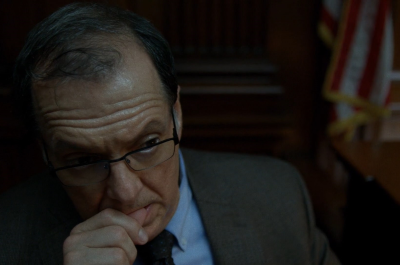 Kuljit Mithra: Thank you for the interview. You've done quite a bit of work in film, TV, theatre, music (and you were even a circus ringmaster!). Can you briefly talk about your career so far?
Eric Michael Gillett: Thanks for asking. Over the years, I think it would be fair to say I've had 4 distinct careers in entertainment. I started in rock bands and musicals, then had my first real break working in productions shows in Las Vegas, including Hallelujah, Hollywood at the old MGM (now Bally's) Grand, and later as the lead production singer in Bal du Moulin Rouge, at what was then the Las Vegas Hilton. From there I went on to work as the ringmaster at Ringling Bros. and Barnum & Bailey Circus for 11 years, before moving to NYC in 1998 to pursue a Broadway career. I spent 5 years doing Broadway musicals, including Sweet Smell of Success, Stephen Sondheim's The Frogs, and the Tony-winning revival of Kiss Me, Kate. While I was on Broadway, I connected with the casting director for New York City Opera and did 3 shows for them before moving over to New York City Ballet to sing in Seven Deadly Sins. Around that time, though I continued to work off-Broadway and in regional theaters around the country, I started focusing more on television and film, which is where I find myself today.
Mithra: I've interviewed a few people who have worked on DAREDEVIL, and one thing I always ask about is the audition... was it a "secretive" process, how much did you know about "Dr. Gregory Tepper"?
Gillett: LOL! Yes, the audition process is very secretive, and you're given very little information. I believe the network was not even auditioning under the true name of the show, as I didn't realize it was actually "Daredevil" until sometime closer to the shoot dates. I had been in for a very small part a few weeks earlier and, in retrospect, I'm incredibly glad I didn't book it, as it would have 'burned' me for the series, at least for that season. When I received my sides for the audition for Dr. Tepper (I seem to remember that even his name was different at that time) it was a very short part of what went on to become the courtroom scene. From the sides, it was clear that I was about to make some admission to the court, but completely unclear what that admission was or why I was going to do it. I remember asking casting, knowing that they were not in a position to reveal very much at that point in the process, if they could at least give me an idea, on a scale of 1 to 10, of how serious this confession was, i.e., what the stakes were. My memory may be a bit fuzzy here but, if I remember it at all correctly, the conversation went something like:
Casting: You could lose your job.
Me: Oh, so it's about a 4.
Casting: Losing your job is a 4? You'd better make it an 8.
We taped the sides and then I remember her saying, "You'd better make it a 12!" So, I upped the ante even more (I think that may be where I first got the idea to bite my fingernails) and booked the job. By, the way, I didn't know until I finished shooting "Semper Fidelis" that Dr. Tepper would be back on the show later.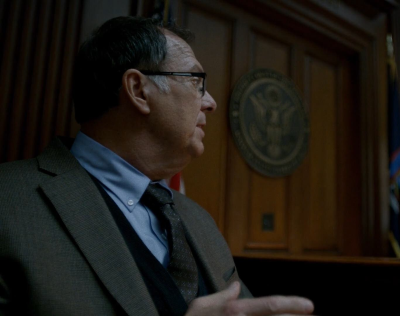 Mithra: It's been a few years, but I wanted to ask you about your scenes in Season 2. For the Frank Castle courtroom case, being on the stand etc., what do you remember most about those days of filming? How did you prepare for that, considering you had to be "nervous" the whole time? (Random thing I remember was your nail biting)
Gillett: Well, as I mentioned above, the finger biting originated at the audition and I just built it from there. Our director for that episode, Ken Girotti, was very specific about keeping up the tension in the scene and I loved both the challenge and having the freedom to keep the character on the boil for the entire day of shooting. Interestingly, Steve Surjik directed the second episode in which Dr. Tepper appears. He was incredibly generous in supporting the choices from the character's first appearance while being careful to remind me to keep the emotions much closer to the chest, to be much drier in the motel scene. He was, of course, absolutely right. In looking at the two appearances, it's very clear that Tepper, though he is much more haggard and drawn in the motel, is still the stressed-out guy from the courtroom scene. He even edited it so that you catch me biting my thumbnail early in the scene. By the way, a side note: Props on "Semper Fidelis" gave me a fake autopsy report and the markings on the corpse, which are drawn in to indicate entrance wounds, definitely helped keep me on edge in the courtroom scene. I had a very specific young person in mind for the victim and all I had to do was glance at the sketch periodically. It kept me right at performance level all day.
Mithra: A couple of episodes later "Dr. Tepper" was in hiding in his apartment and Karen Page (Deborah Ann Woll) & Mitchell Ellison (Geoffrey Cantor) come by to ask questions about medical examinations related to the Castle case. How was it working with them on that scene?
Gillett: I had interacted briefly with Deborah Ann on my first episode. She was very kind and welcoming, as were all of the cast and crew. For the second episode, it was really just the three of us. The scene itself did not take all that long to shoot and both Geoffrey and Deborah Ann treated me as if I had been a part of the company from the beginning. Both are extremely generous actors.
Mithra: Having worked on network TV, do you find Netflix productions vastly different in terms of pace or preparation time?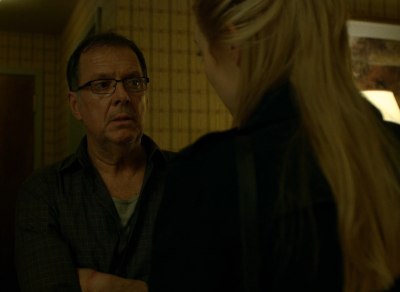 Gillett: Netflix is, for all intents and purposes, network TV. Having worked on shows like "The Blacklist," "Mysteries of Laura," and "Law & Order," I'd say the process is pretty much the same. The big difference, of course, is that network TV shoots its episodes pretty much in order and airs them as they continue to move toward the end of the season, while streaming television operates a little differently for these big series. The entire season is shot and edited, then dropped all at once, which makes it possible to treat the show like you'd treat a great book you just can't put down.
Mithra: Thank you again for your time. Any projects you can talk about that we can look forward to?
Gillett: Again, thanks for asking. I have an episode of "Quantico" airing in a few weeks, and I have a swell little scene on "The Unbreakable Kimmy Schmidt" which will air when the show's 4th season drops later this year. The latter was especially fun because the director was Tristram Shapeero, who is just so wonderful with comedy. I've been a fan of his for years, so it was a thrill to work with him, even briefly. I'm also working with one of the stars of Hamilton, Mandy Gonzalez, whose new album "Fearless" has dropped recently, so she's been back and forth performing all over the country while still fulfilling her obligations to her Broadway show. Amazing energy, that girl. Anyway, we have a new show to put together for a performing arts center called Caramoor and the show we build will be the template for her return to NYC's Café Carlyle this autumn.
Thanks for including me in your interview series. Best of luck to you in all things.
--------------------------------------------------------------------------------------------
(c) 2018 Kuljit Mithra & Eric Michael Gillett
Daredevil:The Man Without Fear
http://www.manwithoutfear.com
--------------------------------------------------------------------------------------------

---
Read more interviews!