Interview with Karina Casiano
(November 2018)
SPOILERS if you haven't watched all of DAREDEVIL Season 3 yet!
Actress Karina Casiano appeared in DAREDEVIL Season 3 as Betsy Beatty, Melvin Potter's parole officer (and secret love interest!). We talked about her theater background and working with Matt Gerald and Charlie Cox. Many thanks!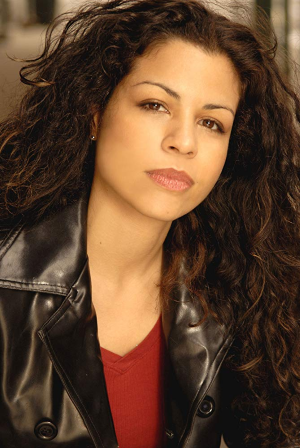 Kuljit Mithra: Hi, nice to talk with you. From interviewing a few actors from DAREDEVIL, it seems the audition process is somewhat like a secret spy mission to find out what it is you're even auditioning for. Can you describe what it was like for you? Did you know it was for "Betsy" and did you know anything else about her?
Karina Casiano: I had an idea of what show it was because I had auditioned for this and similar shows before, but, yes, everything is kept under wraps. I didn't know it was "Betsy Beatty" or who she was.
Mithra: A lot of the actors I've spoken with also have a theater background like yourself... can you briefly talk about how got into acting and specifically what interests you most about the theater, as I see you've done many of your own shows as well.
Casiano: I wanted to be an actor since I was 10 years old (I remember the exact moment I made the decision) and never considered any other profession. I didn't tell anyone, but I was completely sure, and then went straight to college to study it. I have trained and performed in several countries and different acting styles, as well as dance, singing... All of it is present in my work.
I started creating my own shows many years ago, writing my own plays and performing them and founding my theater company. (All of my theater and film work is documented on my website, www.karinacasiano.com.)
Oh, theater is amazing. It is happening right now: We – audience and makers – are all in the same space together, breathing the same air and enraptured by the same story. Also, in theater the actor is the center, so for us it is very satisfying to be able to live with a character for an extended period of time and to go though the story in chronological order. Film acting is fascinating and magical in its own way but, for actors, performing in the theater really is a treat.
Mithra: Playing Betsy Beatty, did you know about her character in the comics and about some of the changes for the show?
Casiano: No, I had to look her up! Betsy is a layered, complex character, and her relationship with Melvin Potter – a very interesting character himself – sounds like a rich source for drama. I do hope it gets developed further. At first I didn't know that Betsy was originally a social worker, but I can see why the writers decided to make her Melvin's parole officer. It brings the stakes of the relationship higher for them, both as a couple and individually. Very exciting!
Mithra: You got to have some great scenes... first with Matt Gerald. How would you describe that relationship with Melvin and Betsy? Why do you think they are willing to risk everything to be together?
Casiano: Oh, I love what Matt is doing with that character. He is giving Melvin beautiful sensibility and depth, which makes it easier for viewers to empathize with Betsy's impulse to protect him and helps me as an actor to understand what drives her.
I think Betsy and Melvin need each other and have grown to love each other for different reasons individually – they fill different emotional gaps for each other, – but WHY we love someone intensely is very hard to intellectualize, isn't it? They are indeed risking a lot, which is a testimony to how much they want to be together.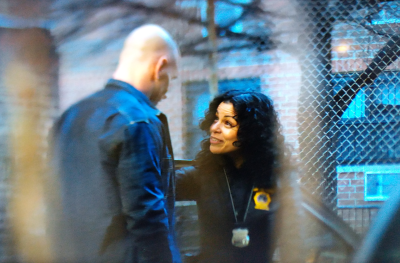 Mithra: You then had another great scene with Charlie Cox, where Daredevil tells Betsy that he knows about Melvin and Betsy's relationship, but also that Betsy should leave town because of Fisk (and Melvin is in jail). Do you think Betsy listened and left town? Or did she stick around to get Melvin out of prison?
Casiano: I don't know what happens next! I am hoping for the latter, even though Fisk threatened to kill her. Still, personal relationship aside, Betsy is Melvin's parole officer.
Mithra: Betsy had some choice words for Daredevil... do you think Betsy really believes Daredevil and Fisk are "cut from the same cloth"?
Casiano: Haha, yes, she definitely gave him a piece of her mind. Betsy feels that both men are taking advantage of Melvin's vulnerability, and she is going to protect him from anyone and everyone who threatens him in any way. She is absolutely in "defense mode." And she won't take crap from anyone, hero or villain, because she is emotionally invested in this relationship, not to mention her professional duty. You become fearless and powerful when you love someone.
Mithra: How was it working with Gerald and Cox?
Casiano: They are two amazing professionals and scene partners. I felt very comfortable working with both of them.
Mithra: Thank you for answering my questions for the interview. Anything coming up in terms of theater work or shows that you can talk about?
Casiano: Thank YOU, Kuljit! No, I have no theater shows this season, but I may or may not be cooking something up for next year :)
--------------------------------------------------------------------------------------------
(c) 2018 Kuljit Mithra & Karina Casiano
Daredevil:The Man Without Fear
http://www.manwithoutfear.com
--------------------------------------------------------------------------------------------

---
Read more interviews!