Interview With John Patrick Hayden
(September 2015)
Actor John Patrick Hayden appeared as "Battling" Jack Murdock in Marvel's Daredevil on Netflix in 2015. Here we discuss portraying Matt Murdock's father, and some insights into some of his scenes. Many thanks to Mr. Hayden, as he was in the middle of shooting his next project (more details on that below!) and took time out to speak with me.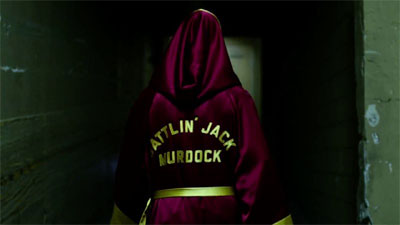 Kuljit Mithra: The show has been available for over five months now on Netflix and has been well-received by fans and critics. Obviously you hope when you sign on for a project that it's a success, but I wanted to get your initial thoughts on getting involved in the Marvel Universe and specifically this experiment with Netflix. Was it being a part of this new corner of the bigger "universe" that excited you? How did you get involved?
John Patrick Hayden: I was thrilled to get the chance to play Daredevil's dad. I was already a big fan of Marvel and the Netflix canon. So when the gig came up I thought it would be a blast. And it was.
Mithra: When the job was offered to you, how familiar were you with the source material? Did Marvel suggest some stories to research?
Hayden: When I was offered the job it was still cloaked as something else. When I was hired for it and it was revealed -- I was so damn excited. I was familiar with the story but not all the details of the world. Stepping into the Marvel Universe was such a great thing, to be a part of a story that so many people love and to have them say that they enjoyed the way we told it meant a hell of a lot. The DD fans, family, and newcomers have been so excited about the show and I think they will love Season 2.
Mithra: One of things I really liked about the show was how there were several great performances by actors whose work I'd never seen before, including yourself. Can you give the brief biography of John Patrick Hayden?
Hayden: I've worked as an actor in NYC for years now. Film, TV and Theatre.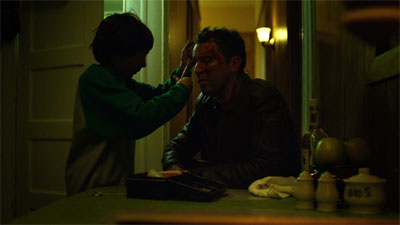 Mithra: Just going back to some memorable moments from your role as "Battling" Jack Murdock, some things really resonated for me... one, that your relationship with Matt (played so well by Skylar Gaertner) is portrayed as a caring father/son relationship, rather than Jack Murdock being this terrorizing force who sometimes resorts to physical abuse and emotional abuse to control Matt's behaviour (as how it has been portrayed a few times in the comics). Sure, Jack is not an angel, but like a lot of characters on the show, there's some good within the bad guys and vice versa.
Hayden: Yes -- Jack is doing the best he knows as a single dad. I think this is all told from memory and with memory we remember the things we are ready for. I think Matt Murdock is at this point able to remember certain things. I think more of the relationship might come into to play as he keeps working out his demons. But that's just my speculation. I think the relationship is hard on both people and each one is trying to find their place in it. These men both need each other. If nothing else, Jack is a father who is trying to do his best.
Working with Skylar was fantastic. We had a lot of fun on set and he is an absolute talent and a professional. The chemistry was born out of us and the entire Netflix/Marvel team that was so supportive, positive and excited to be creating this world.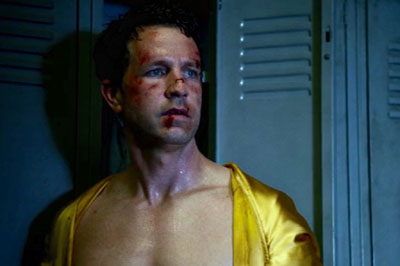 Mithra: Another thing I really enjoyed was when Jack Murdock sits and listens to all the fans chanting his name. It seems like a simple scene, but I felt like you really got the character there.
Hayden: Phil Abraham the director was just damn fantastic. It was a pleasure creating the character with him and we both felt this final moment was Jack's first time ever hearing the crowd cheer HIS name. It was just an honor to honor that character that way. Glad it turned out okay.
Mithra: It seems like a strange thing to notice but it seems like everyone who worked on this show really enjoyed it and wanted it to succeed... and I can see it online with all the interactions with new and old fans. Was this production really different than some of the projects you've been involved with, or do you think the actors themselves became fans of the source material?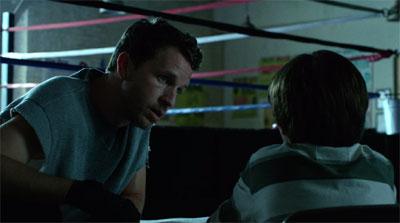 Hayden: Daredevil was just one of those fantastic projects that everyone shared a vision for. There was a real buzz on set and the creativity and hard work ethic became contagious. We wanted to make the best story we could.
Mithra: Marvel, of course, won't allow you to say if you're involved with Season 2 or not, but hopefully there are a few more flashback scenes with Jack Murdock. What projects are forthcoming for you?
Hayden: Well... tune in to season 2 and find out! Right now I am filming a great new series called Land of the Outlaws. I play the last good law man Curtis Ames in a post apocalyptic / cowboy throw down high octane ride. Look forward to everyone checking it out: @landofoutlaws on twitter to see photos and Land of the Outlaws on Facebook to see daily updates.
--------------------------------------------------------------------------------------------
(c) 2015 Kuljit Mithra & John Patrick Hayden
Daredevil: The Man Without Fear
http://www.manwithoutfear.com
--------------------------------------------------------------------------------------------

---
Read more interviews!