Interview with Charlie Cox
(October 2018)
This interview was conducted via Skype in the evening of October 18th, 2018, just a few hours before DAREDEVIL Season 3 was to launch on Netflix. Hope you enjoy this chat with Charlie Cox, it was great to have this chance to speak with him and ask a few questions.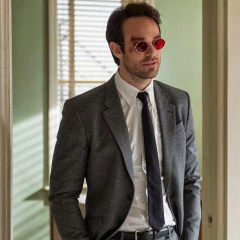 Kuljit Mithra: When did you know that this show was special? Was it when Joe Quesada and Jeph Loeb were explaining the show to you, when you started filming or when you first got the scripts? When did you know that this was different than all the other shows or movies that you've done?
Charlie Cox: You know I think there's been a few moments like that and when you make a TV show or a film you know there's no formula and there's so many departments, so many people and elements that need to fall into place in order for a show to work. It can kind of all fall to pieces at any point. And so you need a lot of luck along the way.
The first time I think I knew that this had a chance of being really good was before I was cast, when I knew they were interested in me in playing the role. I was allowed to go to Disney headquarters in London and read the first two scripts under supervision. I think I had auditioned once at this point. I just auditioned for another job and I had no idea if I wanted to do it or not. But when I read the first two scripts by Drew Goddard... when I walked up out of that room I was like "oh wow, this is a really cool show. This is unlike anything I've ever read."
Now that so much time has passed, I think we forget the things that made it special. There's the bit in the first episode when it says something along the lines of Matt is beating up a guy. The guy's on the floor. And he keeps hitting and hitting him. And I just remember thinking "oh my god I've never seen that before and never seen a hero behave that way." And not that I'm necessarily into the violence in that regard... I just remember thinking that's a complicated hero, that's a complex person, and that's interesting to me. That was the first point that I remember thinking this is potentially very, very cool.
Mithra: This was the introduction to you, right? You had never read anything before about this character at all?
Cox: By the time I'd gone into Disney, I started researching him. I think I probably read a couple of comics. I was just getting a sense of who this character was. I've always been a fan of the Marvel movies and comic book characters portrayed in film in general. I always go and watch those films. So I knew what the genre was going to be like.
When I got the job I remember thinking that it's one thing to write two episodes that are really good but can it sustain itself all season? Once I committed and we started filming, as the later episodes came in for me to read, I remember being worried that if I didn't think they were good that I'd be upset by that. I remember when episodes 3 and 4 came in, I read them back to back and I was just blown away by them. That whole first season I am still blown away by it. But even still, even when the first reviews came out, even then I was shocked. You can't predict something like that.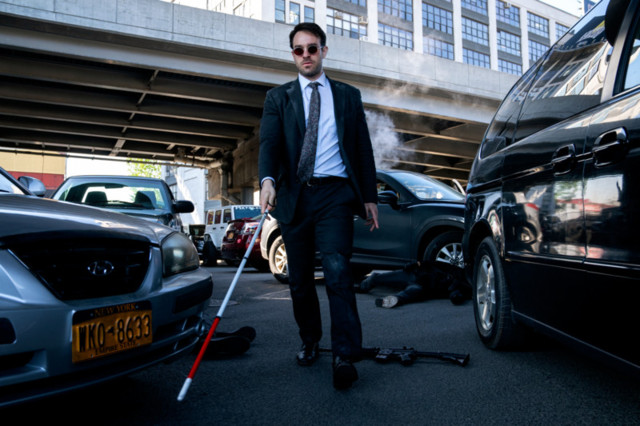 Charlie Cox in DAREDEVIL Season 3. Image courtesy of Netflix.
Mithra: There was so much riding on this show too because it had to be the flagship of all the rest of the Defenders shows that were going to come right after it. But it's been amazing. I re-watch a lot of the episodes if I can't find anything on Netflix to watch, I'll watch another episode that I've watched a hundred times. My kids make fun of me. It's like "why are you watching that again?" They don't get it. My wife can't watch the show, she doesn't like the violence of it. But she knows tomorrow she can't talk to me because I'll be watching the new season.
Mithra: Onto the next question... If Matt Murdock was a real person, would you actually like him? Would you want to hang out with this guy? Would you want to be friends with him?
Cox: I think, yeah, I think the answer is I would. If I was able to get to know him a little bit and the tricky thing with Matt is obviously he doesn't really let people in. He doesn't let many people in to get to know him but if he did I probably would. It would be similar to how Foggy and Karen find him pretty infuriating at times. He wouldn't make it easy for you to be his friend. But I don't think you can deny that what he's trying to do is be of service. He's trying to be helpful. Ultimately it's not for personal gain, prestige or financial benefit or anything like that, he's trying to help people. And that is hard not to admire.
Mithra: And hopefully we'll see a lot of Matt, Foggy and Karen together in the new season. And everything is going to be okay for them. [Laughs]
Cox: [Laughs] I'm not going to spoil anything for you, you've got four hours until it comes out!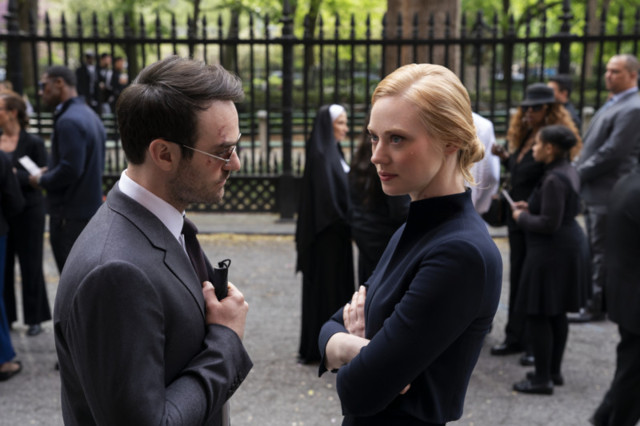 Charlie Cox and Deborah Ann Woll in DAREDEVIL Season 3. Image courtesy of Netflix.
Mithra: [Laughs] Okay, speaking of Karen... Is Matt Murdock in love with Karen or does he think he has to be?
Cox: Tell you what, these are very good questions. [Short pause] I think that Karen is Matt's soulmate. I think that ultimately she is the one that he is capable of loving the most and is probably the woman that in order for him to be really happy, he would have to end up with her. Having said that, we don't always in life make those right choices. We don't always end up necessarily with the person we are meant to be with, not always at first at least anyway. I would say that in his current mental state he's too preoccupied with everything else that's going on with the Wilson Fisk stuff, the state of the city, of Hell's Kitchen. He also feels a huge burden on the repercussions of himself. Meaning what his existence as Daredevil has done to Hell's Kitchen, meaning it's brought on a whole load about other problems. And so until he kind of finds a bit of peace with who he is and what he does and the state of the city that he loves, he's probably not capable of loving Karen in the way that she deserves or could. I don't think he feels like he has to love her. He does love her but sometimes he's so preoccupied with everything else that's going on and emotionally he's such a wreck that he can't even begin to think about it.
Mithra: In the show and in the comics, they've also tried to have Elektra as the soulmate.
Cox: If you notice in the show, the one time where they [Matt and Karen] get very close is right in a period where Matt suddenly feels like things are okay. It's right after Frank Castle is taken away. And he's feeling a moment of relief and a moment of peace from everything. He feels like everything's gonna be alright. And in that moment he is able to be himself with Karen, to explore those feelings and vulnerability. But then of course by the end of that episode Elektra shows up and it all gets thrown out the window.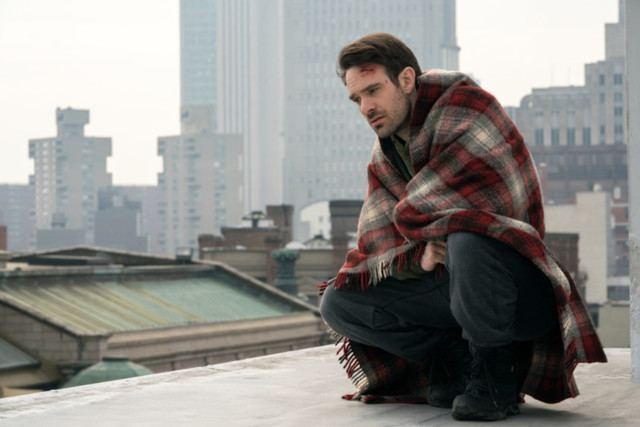 Charlie Cox in DAREDEVIL Season 3. Image courtesy of Netflix.
Mithra: What does Foggy say? Like how does Matt get all the attractive women. It's funny how that works in the comics too.
For my last question... if you weren't playing Matt Murdock, who would you want to play on the show?
Cox: [Long pause] Maybe Wesley.
Mithra: Oh yeah, that was a good role.
Cox: Toby Leonard Moore did an amazing job. I miss that role, I miss that character. That would be a cool role to play. [Another pause] I mean it's hard because I'm thinking what roles could I actually be cast as. In a different scenario of events it would be interesting to play like Ben Urich or something like that.
Mithra: Or maybe a villain? Bullseye?
Cox: Yeah, yeah, he'd be cool.
Mithra: I know you have to get going, but thank you for this interview. I'm glad we were able to do this.
Cox: We had looked at your website and we were like, yeah, let's try and figure out a way to make this happen.
Mithra: I really appreciate it. Good luck with everything. I just wanted to say that whenever you are talking about Daredevil, you sound like you are having the most fun. I hope they announce Season 4 like one hour after it gets released tomorrow.
Cox: [Laughs] Thank you very much. God bless buddy.
--------------------------------------------------------------------------------------------
(c) 2018 Kuljit Mithra & Charlie Cox
Daredevil:The Man Without Fear
http://www.manwithoutfear.com
--------------------------------------------------------------------------------------------

---
Read more interviews!