Interview with Matt Deangelis
(November 2018)
Matt Deangelis played Jasper Evans in the third season of DAREDEVIL. Here we talk about his important scene in the show with Vincent D'Onofrio, and the intense scene at the New York Bulletin. Many thanks for the interview!
Please note this interview discusses spoilers from Season 3, so do not read this interview if you haven't watched the whole season yet!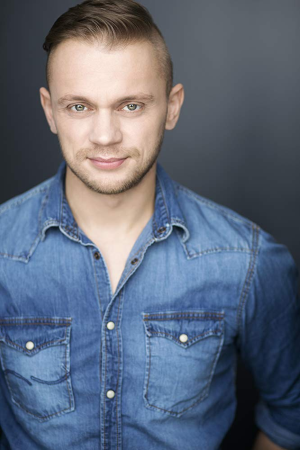 Kuljit Mithra: Nice to chat with you. DAREDEVIL Season 3 has been out for a few weeks now... just wondering if you've watched the show yet, or even your scenes?
Matt Deangelis: I have TOTALLY watched. I'm a big fan. I'm only up to episode 11 though.
Mithra: The buzz around this show can't be ignored ever since it came out in 2015, so can you briefly describe what it was like for you to get this chance to audition, and did you even know it was for "Daredevil" before it was offered?
Deangelis: I knew it was for Daredevil but I didn't know who my scenes would be with. That was a really awesome surprise!
Mithra: You've got quite a diverse background in music and theatre... how has it helped you when taking on these guest-star roles on shows? The ability to quickly adapt, learn lines, dealing with props, that kind of thing?
Deangelis: I think if you can act, you can act. I enjoy both mediums very much. Figuring out that you can't look at certain places because of lights and camera angles was a big adjustment.
Mithra: You had two really intense scenes on the show... the first being in the prison with Wilson Fisk. I was re-watching it today and aside from the "stabbing", you had to deal with the weights pinning you down, and then almost getting your head smashed in (all in a day's work). I guess I touched on it in the previous question, but just the physicality of that scene must have been tiring, especially if there were multiple takes. To the viewer it wasn't a long scene, but how long did that sequence take to film, and is there anything you'd like to share about the preparation and working with Vincent D'Onofrio etc.?
Deangelis: He is a Pro's Pro... he's been doing this at such a high level forever. I learned so much. Very nice, very professional. It was a thrill (and scary at times because he's also HUGE).
Mithra: Your other scene is at the New York Bulletin, and you meet your demise courtesy of Bullseye. Was it unnerving having a gun pointed at you like that? What was that like to film, especially seeing the blood after (or was that all CGI)?
Deangelis: Not gonna give away any tech secrets... that was a very intense day of filming. GREAT scene though!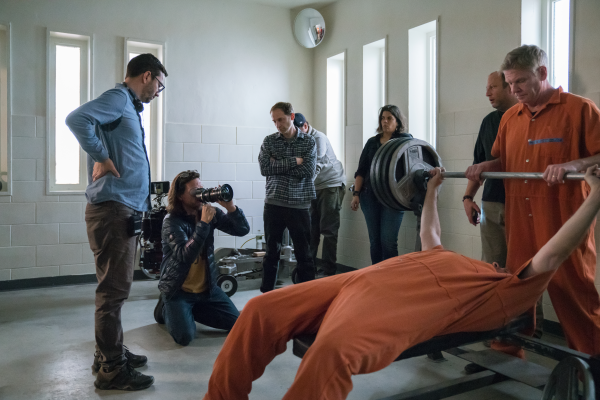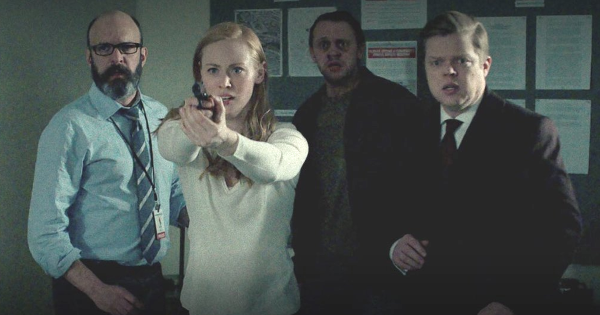 Prison scene with Vincent D'Onofrio, and New York Bulletin scene with Geoffrey Cantor, Deborah Ann Woll and Elden Henson
Mithra: What was it like working with Deborah Ann Woll, Elden Henson, Wilson Bethel and Geoffrey Cantor?
Deangelis: Deborah and Geoffrey are so wonderful! I barely was on set with Wilson so I didn't really get to know him. Deborah came to my show WAITRESS on Broadway after we filmed!
Mithra: Did you have a chance to watch any of the filming for the fight scene between Bullseye and Daredevil? Was that even in the same location?
Deangelis: I saw it when you saw it!
Mithra: Thank you for the interview. Are you currently back doing theatre work, and are there any other projects you can discuss? Thanks again.
Deangelis: I'm currently starring as "Earl" on the National Tour of WAITRESS the Musical! Thanks for the questions!!
--------------------------------------------------------------------------------------------
(c) 2018 Kuljit Mithra & Matt Deangelis
Daredevil:The Man Without Fear
http://www.manwithoutfear.com
--------------------------------------------------------------------------------------------

---
Read more interviews!