Interview With David Mack
(June 2003)
The Kabuki creator speaks about working on Daredevil, particularly writing 'Parts of a Hole', his artwork on 'Wake Up', and his Echo storyline which debuts with issue #51. Many thanks to David Mack for this opportunity! Be sure to view the preview art provided by Mr. Mack at the end of the interview.
Kuljit Mithra: Back when it was announced that you would be writing Daredevil, I bought all of your Kabuki TPBs. I had heard of your work, but had never read anything of yours. Have you found that you have more Kabuki readers now because of your 'mainstream' work?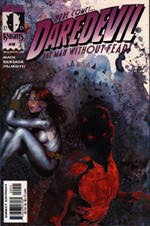 David Mack: Yes. I spent years cultivating an audience with my Kabuki books. I was very happy with that core readership. After I started writing Daredevil, I realized that it had opened me up to an entirely new demographic. Suddenly Marvel readers were aware of my existence and started buying all of my Kabuki collections. It made me happy that Daredevil readers enjoyed my DD story enough to try my Kabuki series, which to many of them, was an entirely new experience.
Mithra: After reading your work on Kabuki and your DD work, I get the impression that you were strongly influenced by comics of the 80's. Is it safe to say that Frank Miller and Bill Sienkiewicz's work motivated you to write Daredevil? I'm talking more of the Love and War graphic novel, rather than the series. It was a Kingpin character study more than anything else and I believe this what you wanted to explore too.
Mack: That is the Daredevil that I grew up with. My introduction to Daredevil was in 1982 when I was nine years old. The only Daredevil that I read is the Miller run of Daredevil. And the Miller collaborations with Sienkiewicz. I adored those stories as a kid. So when I was offered the writing chores on DD, it was very much about me writing a character that I read when I was a kid. The Kingpin character study that I did in Parts of a Hole is based on the Kingpin from those Miller stories because that is the only Kingpin I know.
Aside from that, I'd say my comic book work is most heavily influenced by real life experience than any thing else. And I brought personal experiences from my childhood into the Kingpin's childhood.
A lot of Fisk's early childhood memories are my own. The pet mouse, and the mouse wheel running at night (I used to breed mice when I was a kid. Hundreds of them of all colors shapes and sizes. Rats too. I won an award in the high school Science Fair for my research and documentation on Mice genetics), the fighting parents, shaving the head because of the lice infestation, his father's heavy footsteps on the stairs as he came home from work at night, the crayon family portraits on the refrigerator, the stepping into his father's shoes as his father crashed asleep on the couch, learning the names of the presidents on the money, learning the importance the family placed on that money because of the pressure from bills, the electricity being turned off, the youthful entrepreneurialism, the fighting, the immersion in study of history and books, the revelation of visual aids as the key to public speaking, the ambition to make things happen. All of those details and psychology of the youthful Wilson Fisk are from my own direct first hand experience.
In effect, the Parts of a Hole story is just as much a Kingpin story as it is a Daredevil story. And it turned out to be sort of a Kingpin origin story as well, as it deals with more of Fisk's childhood that has ever been told before.
Mithra: How did the writing gig occur for you at Marvel? Was it a difficult choice to keep Kabuki in the background while you pursued this work?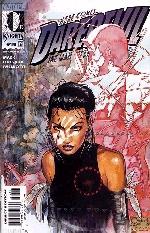 Mack: I was offered the job writing Daredevil based on my writing in Kabuki. Joe Quesada and Jimmy Palmiotti had been very kind to me in their support of Kabuki. They were always introducing Kabuki to new readers and were very encouraging to me.
In 1998, I got a call out of the blue from Joe. He said that he would be doing an imprint at Marvel and said he would like me to write and draw a book in his imprint. He asked me to pick a Marvel Character to have for my own book at Marvel. It sort of blew my mind. This is like a dream come true for the child in me. To have someone call and offer me to take my pick of a Marvel Character to just write and draw them the way I wanted to.
However, I had just moved Kabuki to Image Comics and had just begun a brand new bi-monthly Kabuki series. I told Joe that I would love to be a part of his books at Marvel, but that I needed to finish my Kabuki series first, and I could not responsibly commit to writing and drawing both Kabuki and my own book at Marvel at the same time.
He said maybe in the meantime I could paint some covers, and I said I'd be happy to. Then I got a call from Joe a couple weeks later and he asked me if I could write Daredevil. I said I'd love to.
Doing just the writing meant that I didn't have to put Kabuki on hold at all. I did a lot of notes for it while I was in Europe in June of '98. I was on a signing tour for Kabuki. So I wrote notes for it on trains in Holland, Belgium, France, and Germany. Then I wrote my six issue Daredevil story all at once in the six weeks between finishing Kabuki #7 and right before I started Kabuki #8 of the Kabuki Metamorphosis story. So it made Kabuki #8 and #9 a few weeks later than they would have been, but it really didn't interrupt my flow on Kabuki. Kabuki is a long term commitment to me. It is something that I will continue building on for a long time.
Mithra: Daredevil and Kabuki are interesting characters in the sense that both are who they are because of one of their parents. Do you believe both are trying to prove something to themselves and their parent figure?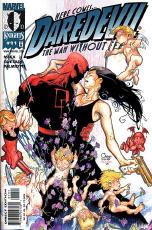 Mack: I feel like I am who I am largely because of the influence of my parents. Much of my relationship with my father is put into my Daredevil story. My brother and I even called my father the Kingpin when we were little. I even named the Kingpin after my father. My father is Wilson Grant Mack. The Kingpin is Wilson Grant Fisk. They already shared the same first name, and I gave the Kingpin my father's middle name.
Kabuki is in a large part a story that I used to deal with the death of my mother.
Mithra: Is this what you wanted to explore in Parts of a Hole with Echo and the Kingpin (their motivation)? Metaphorically speaking, is this 'hole' the loss of a parent? What are the 'parts'? Dealing with the loss?
Mack: I started with the idea of the motivation for each of these three characters. I realized that what motivated them as adults was a traumatic experience they had in childhood. An experience that they were not in control of. And then they spend the rest of their adult lives reliving that experience but now confronting it in a way in which they are in control. Each of them have what would be considered physical flaws or oddities. These physical flaws are metaphors for their emotional and psychological scars.
So I wanted to start with the childhood situations that started that cycle. Then I wanted to push each of them all the way to confronting and resolving that cycle. To take that path as far as it goes.
Each of the characters has a hole in their life. Matt's father is killed so he spends the rest of his life fighting like his father did. But also he spends his life as a lawyer like his father wanted him to become.
His mother is missing from his life. So he spends his entire adult life going from woman to woman trying to find a person who understands him and completes him. Each of those women fulfill one missing part of his life. Elektra is his youth, Black Widow relates to his crime fighting persona, and so on. But none of them could relate to him on more than a couple levels and none of them can completely understand his natural disassociation from the world that comes from his blindness. The other hole in his life.
Echo is a character who can understand that because of her own physical handicap. Because of her own holes in conventional perception. And ultimately each of the characters learns to take what makes them flawed or different, and use that difference as their asset instead of their detriment. That is one of the more inspirational themes of the story.
Mithra: What was your basis for Maya (Echo)? Did she come out of some inkling of a character you wanted to do for some time?
Mack: Joe asked me to create a new character for this story. That was one of the things he wanted from the story. He said Daredevil really didn't have much of a rogues gallery. Most of his villains are borrowed from Spider-Man. He said that he liked the antagonists in my Kabuki stories and he wanted me to create a villain that was uniquely a Daredevil related character.
So I started with the Kingpin part of the story and began with Echo's father. What kind of guy is brave enough or crazy enough to be Fisk's teenage friend. What is this guy like. Naturally Fisk will eventually turn on his friend but the rub is he is stuck with the promise to take care of this kid. That sounded just ridiculous enough to work. Fisk and a little girl. And it touches on a kind of hero's journey mythos for the child. How does this kid see things. How does she see the world. How does she cope with what she is missing. How does she react when she learns what happened.
Mithra: Were you concerned at all that you were going to introduce a new romantic interest for Matt so soon after Karen had been killed?
Mack: I wrote this story before I ever saw Kevin Smith's story. Before it came out. I was told that Karen would die, but that was the motivation for Fisk. We open up Parts of a Hole and Matt is grieving. Fisk knows that so he sends in Maya to unknowingly screw with Matt's emotions. Fisk is capitalizing on Karen's death. He can see what Matt can't. That Matt is endlessly replacing the role of a woman in his life with a string of new woman.
Mithra: I'm not sure how you wrote your issues of DD, but I'm guessing you let Joe Quesada know how you wanted panels to be set up etc... am I correct? Because some of your 'writing' is in the art too. Was it any problem at all trying to convey what you wanted on the page while working with someone else? Kabuki seems like a one-step process where the writing and art blends together at one time and you know what you want and where.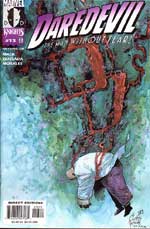 Mack: It was no problem at all. Whenever I write for another artist, I give them layouts. Just so they know what I'm talking about. Sometimes the description in the script can be very unconventional. My layouts just let the artist know what I am seeing and serve as a jumping off point for their own take on it.
As an artist, Joe has amazing strengths, and I wrote specifically for those strengths and for Joe's art style.
Joe took the best parts of my layouts and storytelling styles, and married that with his own graphic sensibilities and a sort of new hybrid art style materialized. I loved it. It is still my favorite Quesada work ever!
That is the beauty of comics. To make the writing and the art indistinguishable from one another. The perfect synthesis of type and image to the point that the type is the image and the art is the story they are one thing.
Mithra: The reason I ask about collaborating with others is that I'm wondering how you feel about doing art from someone else's scripting. I think I've read that 'Wake Up' was one of the few projects you've ever done from someone else's plot (Brian Bendis). Do you feel confined? Should the page always be open to a different interpretation?
Mack: I loved Wake Up with Bendis. I'm generally not interested in doing artwork for someone else's story unless it is a writer that I really want to collaborate with. The reason is that I'm doing artwork for the reason of telling my own story. I start with the story and doing the art is the means for me to tell that story. The art is just another tool of the storytelling, like words, grammar, and pacing.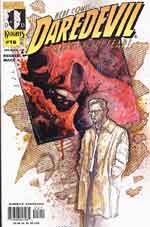 The fact is, that when I first created Kabuki, I only meant to write it. Back in 1993, the plan was for me to write Kabuki and for Brian Bendis to draw it. I still have those early Kabuki drawings that he did for it! This still cracks us both up.
But being that Brian and I had been friends for over ten years, this Daredevil project was finally something we could collaborate on when we were both evolved enough in our own creative skills and it was a project worthy of our collaboration and worthy of our friendship. We had worked on several things together in the early 90's. But they were mostly little projects for us to learn on and pay our rent with. Wake Up was basically an excuse for us to work together on a project that had themes that were personal for both of us. It was an experiment for us. And at times it pushed me out of my own comfort zone in drawing a script that I didn't write. But it was a great script and looking back, we are both very happy with the end result. And we've even decided that we will do another collaboration together again someday.
Mithra: Back to 'Parts of a Hole'... your arc was severely delayed and literally took years to come out. I know you had finished the writing a long time beforehand. Did it ever become frustrating to you to see the flow of your arc getting chopped up like that because of all these delays? Was it ever explained to you as to why the comic had these problems coming out?
Mack: I haven't spoken about this before. It was frustrating. There was so much excitement and exhileration about the story at first. It was my very first work for Marvel, and I put a lot of thought and effort into the story as a whole. It was a very high profile book and it received a lot of positive feedback and enjoyed a lot of critical appreciation. But as the books started coming out late, that became the first thing that was mentioned in later reviews. "fantastic. But why is it so late?". People would ask me about it all the time, and I didn't have an answer for them. After I wrote it, it was out of my hands and I did not feel it was my place to speak for anyone else about it. Which is how I still feel about it. It is not my place to speak about the reasons for it or to try to find blame for it. It was frustrating for the immediate exhileration the story was met with to be turned into "Why is it late?". But I was also grateful for Joe for bringing me to the project and I saw no point in giving him a hard time about it by complaining.
I do understand that the flow of the story was interrupted. People had trouble remembering what had happened the issue before. Which I guess contributed to it doing so well as a collected trade paperback. The story reads great in one sitting.
Mithra: How did you feel when the Daredevil/Spider-Man series came out and spoiled your ending for Parts of a Hole?
Mack: That was the worst part. When Joe read my story he loved the ending. Kevin Smith loved the ending. He said he couldn't believe that no one had thought of it before. Once Kevin jibed me when we were on a panel at Wizard Con Chicago that it was the ending he wished he had thought of. The ending was one of the secret weapons of the story. It needed to be a big surprise. I was very disappointed when the spoiler happened. I didn't learn of it until it was in the store. I couldn't believe anyone could let it happen. But I saw no point in complaining about it after the fact.
Mithra:In your Kabuki Reflections books, you go over how you did some covers of DD. Were they all based on sketches by Joe Quesada? What types of media did you use? From what I can see, there's watercolour of course, but is there photo cut-outs and tissue paper in some too?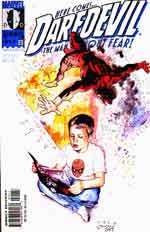 Mack: Reflections #3 and #4 go into that. For those not familiar with it, Reflections are a series of books that show the process of a lot of my art, the sketches, life drawings, paintings, how I did them and that sort of thing. There are four of them so far. They are published by Image under KABUKI: Reflections 1-4.
For DD #9 I did the cover myself. I drew it and painted it. It was technically the very first piece of work I ever did for Marvel. For the other five covers of Parts of a Hole, I sent Joe layouts for each cover. Then Joe penciled them. Jimmy dropped in the inks. And then I painted on top of them.
For Wake Up, Joe faxed me a sketch of DD. I incorporated his sketch of DD into the drawings of the rest of the cover that I drew and then painted. Check out the Reflections books for a detailed account of each step of the cover process.
Mithra: How long did it take you to do all the paintings, drawings etc. for the Wake Up arc?
Mack: I tried to do a page a day. I did as much as I could for a page in one day and then I moved on to the next page. After I had all the pages done, I'd go back and spend a few more days tweaking each of the pages now that I could see how they related to each other.
Mithra: How much research did you do on autism for the arc?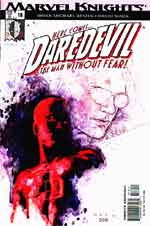 Mack: Everything was in the script. It was all there. I don't know exactly what research Brian did, but he didn't over work the script with needless information. It was all in the actions and dialogue. All I had to do was just not screw it up. I just had to make you feel it.
We did get a lot of touching mail about personal stories from parents who remarked at the authenticity and saw their own children in Timmy's likeness and actions.
Mithra: I know you use photo reference for your work, and throughout 'Wake Up', some characters look like actors, singers etc. that people know. I've heard that Bendis suggested doing this. What was the reasoning for putting 'famous faces' in there? Did you think it may have been distracting to the story to do this?
Mack: My next door neighbor modeled for Timmy, the kid in the story. He was perfect for it. He looked just like an angel. He's very proud that he's in a Daredevil book. I used myself for Ben, Matt, and Daredevil. I went to the second hand store and bought a trench coat just like Ben's. Then I put glasses on and just sort of hunch and wrinkle up to capture Ben's posture and body language for the photo. Then I age him in the drawing. The script said to make the teacher look like Lauryn Hill. I thought it was good casting. I like her and was listening to the Fugees at the time. Most people don't seem to notice it. Parker looks a little like Leo. That's only because at the time I drew that story, Leo was the one mentioned to play the role. Not many people realize that Wake Up was Bendis' first ever work for Marvel. It was published after Ultimate Spider-Man started, but he wrote it prior to that.
Mithra: You are continuing to do covers for Alias... what can you discuss about the Echo story? What other projects are coming up?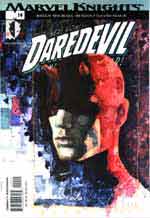 Mack: I'll continue to do covers for Alias as long as the series lasts. They are a lot of fun.
The Echo project turned into my new DD project. I will be writing and painting a five issue Echo story in the regular Daredevil series. It is the return of Echo. It is offered in the current Previews catalogue and it begins shipping in September.
It started as an Echo limited series. A couple years ago when we were at a convention in Spain, Joe Quesada told me that I should write an Echo story that further fleshed out the character. He said that though I created her for our DD story, she's now a permanent part of the Marvel Universe, and eventually she's going to end up in future Marvel stories. So he said I should really set the tone of the character by writing her own story in her own series. And we had a lot of readers from our story asking for the return of Echo.
Last year I wrote a six issue Echo story. Joe and I had a couple of story meetings mid-year (at the 2002 San Diego Con, and later at the Marvel offices in New York) and he suggested that we condense the story from six issues to five and actually put it into the regular DD series as it sort of serves as a sequel to our DD story in that Echo is resolving her situation with Daredevil and the Kingpin in the course of the story. And the added bonus was that five issue story being in the DD series will give Bendis and Maleev plenty of time to get ahead on their next Daredevil storylines, as they return to DD when my story is over.
After that, I will be writing and painting a brand new Kabuki series from Image.
Right now the Echo DD story and the New Kabuki story are my focus. But I have several things in the works after that. I'll continue to work on the Kabuki stories for a very long time. I'm also focused on the Kabuki film. And I've recently been offered to work on another film project and offered to write a very high profile Marvel series. I can't speak about any of that yet.
I have a new gallery exhibit of my artwork in October. It will be held in the art gallery of the University that I graduated from and will extensively feature original pages from Kabuki, Daredevil, Echo, and many non-comic related works and paintings.
The gallery show is timed to correspond to the Pop Culture Con in Cincinnati (Mike Turner, Frank Cho, Andy Lee, and I will be signing at that con's debut on October 3-5). The opening night reception of the gallery will be 7-10pm on Friday October 3 (after the first day of the con). It will be held at the main gallery of the Art Building at Northern Kentucky University (a ten minute drive from the show in downtown Cincinnati). The University will even have free shuttles to take people to the gallery show.
It is a one man show and my work will be up thoughout October but I hope people can make it on the opening night, as there will also be a signing held, a free poster for the gallery show, and books available. On Friday October 22 I will be having a lecture/discussion at the University. Last year NKU had Neil Gaiman do this at the University, and If you attended that you know how fun and interactive this can be.
The last two years the NKU Literature dept hosted something like this. I did it the first year, and Neil Gaiman did it the second year. This October the art dept is sponsoring my show and working hand in hand with other departments of the University including the Literature dept, and book stores in the area. Both events are free to the public, and everyone is welcomed to attend!
As a bonus, here are some preview pages of the upcoming Echo story, provided by Mr. Mack and Marvel.
----------------------------------------------
(c) Kuljit Mithra 2003
Daredevil:The Man Without Fear
http://www.manwithoutfear.com
----------------------------------------------

---
Read more interviews!