Interview With Jason Copland
(November 2013)
Jason Copland is a Canadian artist who will be working on DAREDEVIL #33, which ships in a few weeks. Here we chat about being a fan of DD and what it's like for him to work on his favourite Marvel character. Many thanks to Mr. Copland!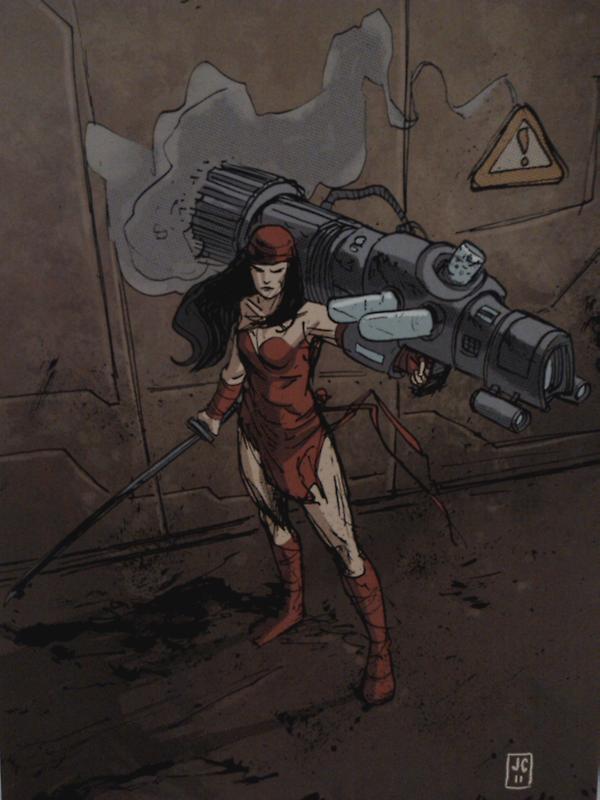 Kuljit Mithra: It's been about a week now since the announcement about your work on DAREDEVIL #33. I don't know if you remember or not, but I met you at the Toronto show and immediately saw how big of a Daredevil fan you were. This must be exciting for you and it must have been very difficult to keep this news to yourself.
Jason Copland: There is no other book on the stands that I am a bigger fan of than Daredevil, so getting this opportunity to draw him is huge for me. Keeping it a secret was one of the hardest things I've had to do in comics, so far.
Mithra: Is the Daredevil character the main interest for you, or is it the creators who have worked on the title, like Miller etc.?
Copland: It's a solid mix of both the character of Daredevil and the creators that have worked on the title. The Miller run of DD was one of the reasons I wanted to draw comics. I'm also a huge fan of Mark Waid, Chris Samnee and Javier Rodriguez's run that getting to work with them on DD is a dream come true.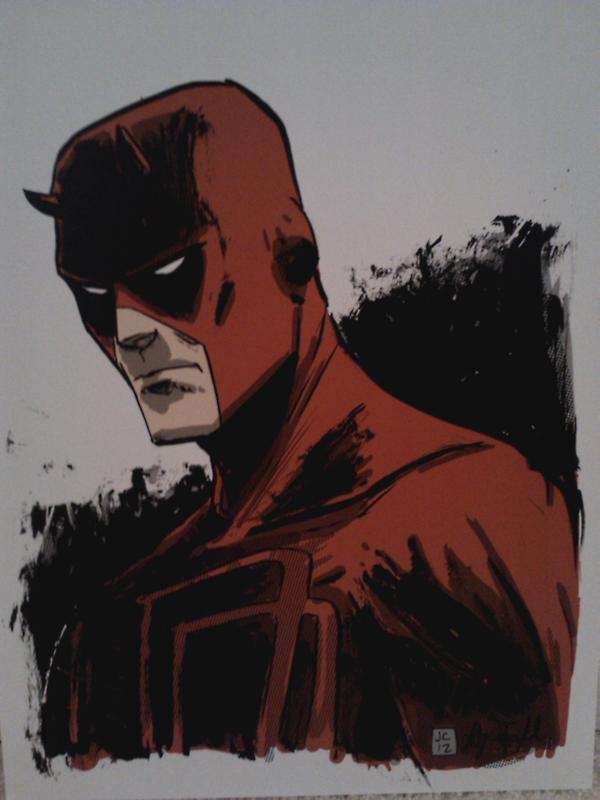 Mithra: What was it about Miller's work that drew you in, and do you see any of his influence in your work?
Copland: I think the thing that I really liked about Frank Miller's run on DD was the tone of the book he brought to it. I really like books that have a heavy crime noir/street-smart feel to them. I didn't really consider Daredevil a "super hero" once Miller took over the book. The world building that Miller did was incredible. He wrote the characters in shades of gray and made them far more interesting. Plus, you know, he created Elektra and the Hand! How can you not love that?
Mithra: Can you go over how you got involved with the issue? Had you been submitting samples to Marvel, or did they call you out of the blue?
Copland: I got an email from [editor] Stephen Wacker right out of the blue. I'm not sure if he remembered me from some samples I sent him well over a year ago or if it was just blind luck of my name being drawn out of a hat. It was probably the latter. I think that Mark Waid might have been the one to suggest me to Stephen, though. Mark and I have been talking about working together in some capacity for a while now. I never would have dreamed it would be on a Daredevil issue, though!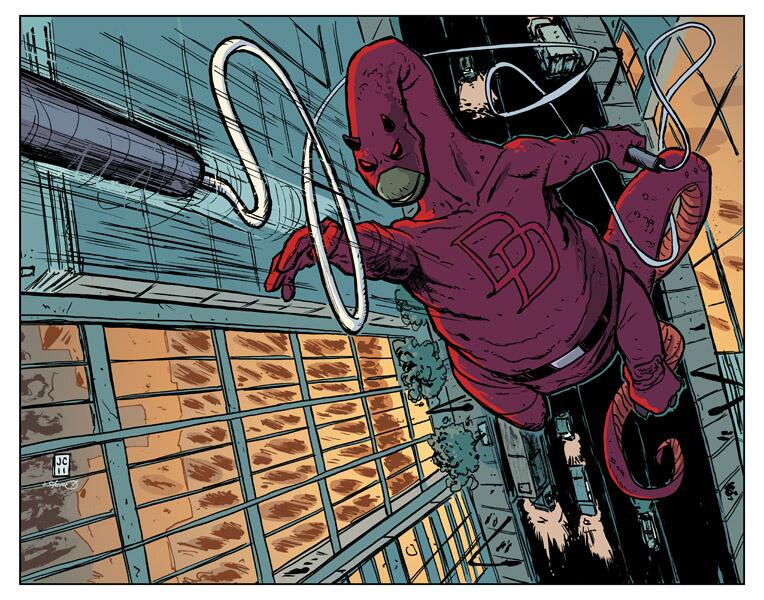 Mithra: It's funny that the first artwork I ever saw of yours was the Daredinosaur (or is it Dinodaredevil?) that you drew and it's the reason I sought you out at the show. Then I saw all your DD and Elektra prints and picked those up as well. For those that haven't seen your work before, what's the quick Jason Copland bio?
Copland: I started in comics doing work for a number of really cool anthologies as a way to get work out there and to meet likeminded creators. A couple of the anthologies I have work in, like Postcards and Trickster, were nominated for Eisner awards. I then started working on a web comic with Michael May called Kill All Monsters. While drawing KAM I was also doing short story work with people like Ed Brisson, Todd Dezago and Chuck Dixon. I've done a handful of short stories for the FUBAR anthologies, too. I.ve had backup features in some Image books but Daredevil was my first major work with a larger publisher.
Mithra: Obviously you can't give too many details about the issue itself, but from the preview you get to draw some cool monsters. How has it been working with the DD team and did you feel any kind of intimidation now that you're going to be part of DD history?
Copland: Oh man! You want to talk about pressure? Try coming onto a critically loved book created by top notch creators that are firing on all cylinders! Drawing this issue of DD was an amazing experience. Everyone involved were super supportive and they made me feel like a part of the team immediately, which was very cool. Artistically, I felt pretty good once I got about 3 pages in.
Mithra: Did you have to adjust your style at all to make it "similar" to Chris Samnee's style for the issue?
Copland: I was lucky as I was working from layouts that Chris did for the whole issue. I tightened up the layouts and moved a few things around but the pacing was all Chris. I did adjust my inking a bit to try and fit what Chris does on the book, though. I started to feel like I was inking more like "me" once I hit page 7.
Mithra: You mentioned Kill All Monsters before... How has the experience been with Kickstarter and the project?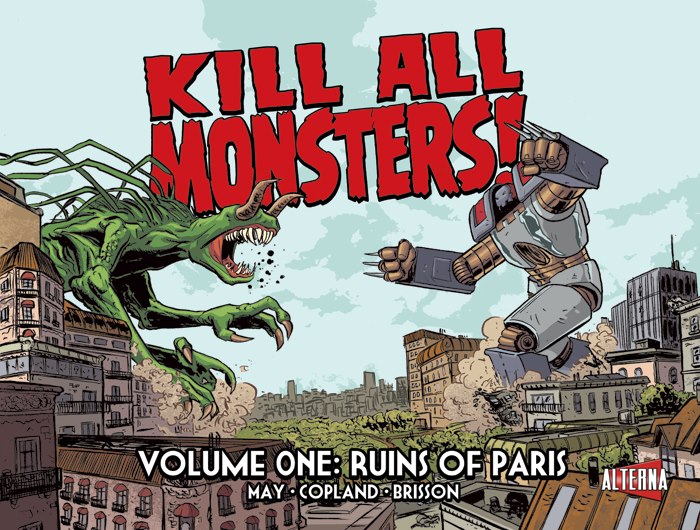 Copland: The Kill All Monsters Kickstarter was a huge success. Not only did we cover all our expenses but we got the book into a lot of people's hands, which was a major goal of ours. Michael did most of the heavy lifting for the Kickstarter as I'm Canadian and I couldn't run the campaign. The organizing and mailing of all the rewards is a pretty big job but I think we handled it pretty well. When we do the Kill All Monsters Kickstarter for Volume 2, we'll be better prepared for all the work that comes after the book is funded.
Mithra: Now that you've got some experience in the Marvel world, do you want to explore more work with them, or do you want to do some kind of balance between your own work and work for other companies?
Copland: I'd love to do more work at Marvel. I have a real fondness for Marvel characters and feel that I would bring an interesting style to the table. Having said that, I'm going to be drawing some exciting work-for-hire stuff for a very cool publisher and I have a few creator owned pitches circulating at various publishers. And, of course, I'll be drawing more Kill All Monsters!
Mithra: And last question... what conventions are next for you? I'm guessing there will be some new DD artwork for sale!
Copland: I'll be attending a number of shows in 2014. Emerald City Comicon, Heroes, Fan Expo Vancouver and Rose City are all confirmed. I hope to add a few more shows like C2E2 and Fan Expo Canada but those are still in the planning stage.
As for DD artwork, I'm not sure I'll sell these DD pages. I will have a few new Daredevil prints for sale, though!
DAREDEVIL #33 Preview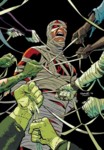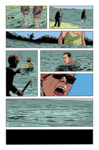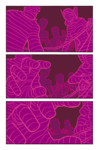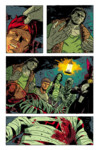 --------------------------------------------------------------------------------------------
(c) 2013 Kuljit Mithra & Jason Copland
Daredevil:The Man Without Fear
http://www.manwithoutfear.com
--------------------------------------------------------------------------------------------

---
Read more interviews!