Daredevil #96

| | |
| --- | --- |
| Title : | "To The Devil, His Due: Part Two" |
| Writer: | Ed Brubaker |
| Penciler: | Michael Lark/Stefano Gaudiano |
| Inker: | Michael Lark/Stefano Gaudiano |
| Cover: | Marko Djurdjevic |
| Colours: | Matt Hollingsworth |
| Letters: | Virtual Calligraphy's Chris Eliopoulos |
| Editor: | Warren Simons |
| Assistant Editor: | Alejandro Arbona |
| Date: | June 2007 |
| Cover Price: | 2.99,3.75 |

Characters

Assistant D.A. Palmer
Becky Blake
Daredevil
Dr. Devereaux
Foggy Nelson
Gladiator I
Gus
Lily Lucca
Matt Murdock
Melvin Potter
Milla Donovan


| | |
| --- | --- |
| Daredevil #95 | Daredevil #97 |
Issue Summary
Summary by Samuel Johnson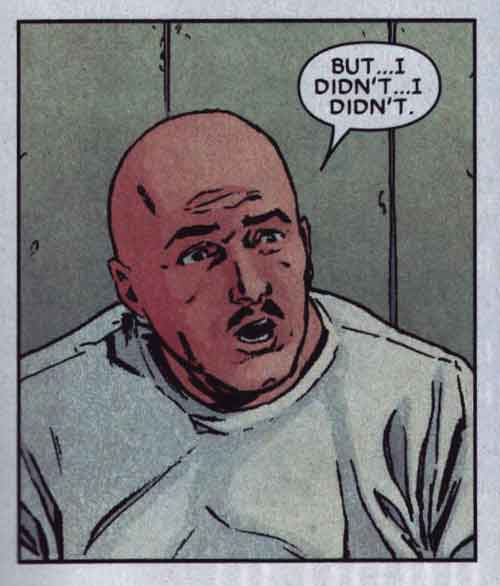 The assistant DA is convinced of Melvin's guilt and despite being confused by what his hyper-senses tell him, Matt is starting to agree. The doctor who evaluates Melvin the next day agrees Melvin is lying and he is scheduled to return to Ryker's.
Milla visits her new psychiatrist, where she talks with an unseen man in the reception before returning home to find the house empty.
Matt is out as Daredevil. He wonders if Melvin could be being manipulated or mind-controlled, and if so is his return to Ryker's part of the plan? He follows the armoured truck along with two cars tailing it. A passenger in one shoots the driver at point-blank range, causing the truck to crash. Inside, Melvin is distressed: "It's happening, but not like they promised."
The hijackers blast the doors off, but instead of aiding them Melvin kills two before attacking DD and running away.
The next morning, Lily Lucca shows up at the Nelson, Murdock & Blake offices, saying she needs Matt's help.
Meanwhile, Melvin runs through the sewers to a hideout of his, finding an old Gladiator suit.