2018 NEWS
---
Follow updates to NEWS on

Click on the links to display article!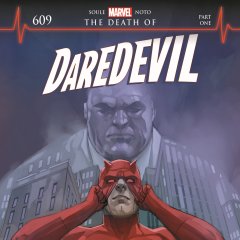 09/21 - The Death of Daredevil
Charles Soule Teases THE END for Daredevil?
New York, NY-September 21, 2018-Charles Soule's long-running tenure on DAREDEVIL is coming to an end...and he is not leaving Matt Murdock in a good place.
Is this THE END for Daredevil?
This October, Charles Soule and Phil Noto will kick off Matt Murdock's darkest chapter yet - one which will lead to a chilling and surprising finale in November's DAREDEVIL #612, that no reader will want to miss!
Watch this video to learn more Marvel.com.
DAREDEVIL #609
Written by CHARLES SOULE
Art and Cover by PHIL NOTO
On Sale 10/17/18
DAREDEVIL #610
Written by CHARLES SOULE
Art and Cover by PHIL NOTO
On Sale 10/31/18
DAREDEVIL #611
Written by CHARLES SOULE
Art and Cover by PHIL NOTO
On Sale 11/14/18
DAREDEVIL #612
Written by CHARLES SOULE
Art and Cover by PHIL NOTO
On Sale 11/28/18
---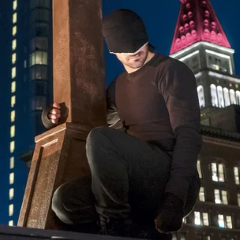 09/21 - Entertainment Weekly Sneak Peek
Looks like we're going to be getting daily news on DAREDEVIL Season 3, and today Entertainment Weekly had an interview with showrunner Erik Oleson, who had this to say:
"Matt starts the season broken physically, broken emotionally, and broken spiritually. He's angry at God, he's angry at the fact that he had risked his life to do God's work, and he's questioning whether or not he was a fool."
EW also spoke with producer Jeph Loeb about future plans for DD and other shows.
"Our first problem in front of us was that Matt Murdock was dead, so how are we going to fix that in a way that didn't feel like it's been done before? So when we first sat down with Erik, we had a fairly good idea as to what we wanted to tackle in terms of story, and then Erik had a great deal of freedom with where he was going to take that story.… [Season 3] goes very much back to the world of the crime story. This will be a very memorable season."
The magazine also had a sneak peek of DD in costume in an iconic pose that DD fans will recognize, and also, a meeting between Matt and Foggy!
More details at:
Entertainment Weekly
Some other pics courtesy of Netflix:
---
---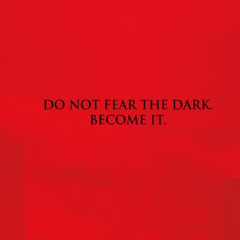 09/20 - DAREDEVIL Season 3 Poster
OCTOBER 19th!
---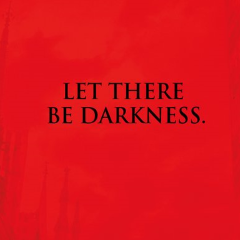 09/19 - DAREDEVIL Season 3 Poster
Still no word on an official release date, but here's the latest promo for DAREDEVIL Season 3.
"Let There Be Darkness"
And if you want to know what Job 30:26 says...
---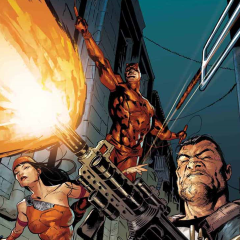 09/18 - DAREDEVIL December 2018 Solicits
For the first time in a long time, there's no issue of DAREDEVIL solicited. With the "THE END?" teaser from last week, and the wording of the DAREDEVIL #612 solicit, it certainly sounds like the current volume is ending in November.
So will we get more clues on Friday? Stay tuned.
There are other DD-related titles in December, however. MARVEL KNIGHTS continues with issues #3 and #4, and two more collections for Unusual Suspects and Volume 7 of the current run.
DAREDEVIL December 2018 Solicits
---
---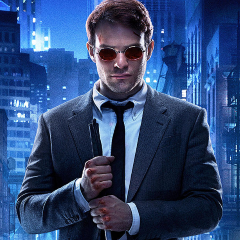 09/11 - DAREDEVIL Season 3 Release Date Revealed?
Netflix Thailand's Twitter account tweeted the promo video for Season 3, along with some details...
If you run the text through Google Translate, you see the date "19 October"... did they accidentally reveal the DDS3 release date?
If true, DDS3 is coming one week after the review embargo lifts, and a few weeks after the panel at NYCC.
I expect we'll get the official "official" release date announcement at New York Comic Con.
---
---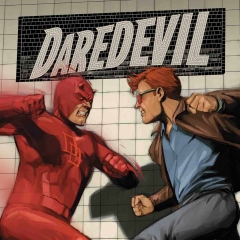 09/06 - DAREDEVIL #608 Preview
CHARLES SOULE (W) • PHIL NOTO (A/C)
• In a surprising turn of events, Matt Murdock's fictional twin brother, MIKE MURDOCK, has shown up alive in Hell's Kitchen!
• Dodging DAREDEVIL'S attempt to capture him, Mike hunts down the only person who can help him find his brother — FOGGY NELSON!
32 PGS./Rated T+ …$3.99
DAREDEVIL #608, by Soule and Noto ships September 12th.
DAREDEVIL #608 Preview
---
Click on links to display articles below...
2018-09-06-DAREDEVIL-Season-3-Promo
---
2018-09-05-DAREDEVIL-Season-3-at-NYCC
---
2018-08-24-HUNT-FOR-WOLVERINE-DEAD-ENDS-1-Preview
---
2018-08-24-DAREDEVIL-ANNUAL-1-Preview
---
2018-08-21-November-2018-Daredevil-Solicits
---
2018-08-17-More-Marvel-Knights-Information
---
2018-08-17-DAREDEVIL-ANNUAL-Interview-Schultz-Takara
---
2018-08-17-DAREDEVIL-607-Preview
---
2018-08-14-DAREDEVIL-Sales-Data
---
2018-08-06-Latest-Daredevil-Merchandise
---
2018-08-03-DAREDEVIL-606-Preview
---
2018-07-31-Weapon-Lost-4-Preview
---
2018-07-31-DAREDEVIL-ANNUAL-Variant-Covers
---
2018-07-26-Interview-with-Loren-Weeks
---
2018-07-25-Diamond-Select-Daredevil-Statue
---
2018-07-24-October-2018-Daredevil-Solicits
---
2018-07-21-More-Marvel-Digital-Originals
---
2018-07-20-Mezco-Netflix-Daredevil
---
2018-07-20-Marvel-Knights-Relaunch
---
2018-07-19-IRON-FIST-S2-Teaser
---
2018-07-19-DAREDEVIL-607-Cover
---
2018-07-18-JESSICA-JONES-Digital-First
---
2018-07-17-IRON-FIST-SDCC
---
2018-07-15-Sideshow-Daredevil-Elektra-Print
---
2018-07-12-Marvel-Netflix-Emmy-Nominations
---
2018-07-11-Amazing-Comic-Con-Panel
---
2018-07-05-DAREDEVIL-605-Preview
---
2018-06-29-Weapon-Lost-3-Preview
---
2018-06-29-Marvel-Legends-Defenders-Pics
---
2018-06-27-Daredevil-Pinball
---
2018-06-21-Charles-Soule-Daredevil-Interview
---
2018-06-19-September-2018-Daredevil-Solicits
---
2018-06-19-San-Diego-Marvel-Legends-Defenders-Exclusive
---
2018-06-19-Charles-Soule-Daredevil-Interview
---
2018-06-18-Interview-with-Martin-Ahlgren
---
2018-06-15-DAREDEVIL-604-Preview
---
2018-06-12-Marvel-Legends-Pics
---
2018-06-12-LUKE-CAGE-S2-Final-Trailer
---
2018-06-06-Weapon-Lost-Variant-Covers
---
2018-06-01-Weapon-Lost-2-Preview
---
2018-05-26-Charlie-Cox-Weekend-Conventions
---
2018-05-24-DAREDEVIL-603-Preview
---
2018-05-23-Phil-Noto-Daredevil-Promo
---
2018-05-22-August-2018-Daredevil-Solicits
---
2018-05-19-Donofrio-Zurer-DAREDEVIL-S3-Updates
---
2018-05-16-Is-Wilson-Bethel-Bullseye
---
2018-05-15-DAREDEVIL-Season-3-Set-Pics-and-Video
---
2018-05-14-Interview-with-Christos-Gage
---
2018-05-11-DAREDEVIL-602-Preview
---
2018-05-10-INFINITY-COUNTDOWN-DAREDEVIL-Preview
---
2018-05-09-Sideshow-Elektra-Pre-Order
---
2018-05-07-Luke-Cage-S2-Trailer
---
2018-05-02-Project-Daredevil
---
2018-04-26-Weapon-Lost-1-Preview
---
2018-04-20-Infinity-Countdown-Daredevil-Changes
---
2018-04-18-July-2018-Daredevil-Solicits
---
2018-04-18-Interview-with-Alex-Huynh
---
2018-04-12-Sideshow-Daredevil-Pre-Order
---
2018-04-12-Daredevil-News-From-The-Week
---
2018-04-12-DAREDEVIL-601-Preview
---
2018-04-10-DAREDEVIL-Sales-Data
---
2018-04-09-Weekend-Conventions
---
2018-04-04-Deborah-Ann-Woll-Charity-Shirt
---
2018-04-03-Daredevil-Gamestop-Exclusive-PVC
---
2018-03-31-New-Sideshow-Daredevil-Statue
---
2018-03-30-Marvel-Knights-20th-Anniversary-Collections
---
2018-03-29-DAREDEVIL-Season-3-Set-Pics
---
2018-03-28-Marvel-Knights-Collections
---
2018-03-22-DAREDEVIL-600-Preview
---
2018-03-21-Jay-Ali-Joins-DAREDEVIL-Season-3
---
2018-03-21-Daredevil-Upper-Deck-Set-Giveaway
---
2018-03-20-June-2018-Daredevil-Solicits
---
2018-03-18-Eric-Michael-Gillett-DAREDEVIL-Interview
---
2018-03-12-Quesada-DAREDEVIL-600-Variants
---
2018-03-12-DEFENDERS-Mondo-Soundtrack
---
2018-03-08-DAREDEVIL-600-Adi-Granov-Variants
---
2018-03-07-DAREDEVIL-600-Scorpion-Comics-Variants
---
2018-03-06-LUKE-CAGE-Season-2-Teaser
---
2018-03-05-Joe-Quesada-Marvel-Netflix-Artwork
---
2018-03-05-Even-More-DAREDEVIL-600-Variants
---
2018-03-04-More-JESSICA-JONES-Promos
---
2018-02-28-More-DAREDEVIL-600-Variants
---
2018-02-22-May-2018-Daredevil-Solicits
---
2018-02-18-Toy-Fair-Daredevil-Figures
---
2018-02-18-DEFENDERS-10-Preview
---
2018-02-16-DAREDEVIL-599-Preview
---
2018-02-13-Weapon-Lost
---
2018-02-12-DAREDEVIL-600-Maleev-Variant
---
2018-02-08-Infinity-Countdown-Daredevil
---
2018-02-07-JESSICA-JONES-Trailer
---
2018-02-06-Garney-Leaves-DAREDEVIL-with-Issue-600
---
2018-02-02-Soule-Interview-Mayor-Fisk
---
2018-02-02-DAREDEVIL-598-Preview
---
2018-01-30-Daredevil-Upper-Deck-Card-Set
---
2018-01-26-DEFENDERS-9-Preview
---
2018-01-25-Joanne-Whalley-Joins-DAREDEVIL-Season-3
---
2018-01-23-April-2018-Daredevil-Solicits
---
2018-01-17-NECA-Toys-Daredevil-Final-Packaging
---
2018-01-17-Interview-with-Stephen-E-Henderson
---
2018-01-16-Daredevil-Fan-Survey-Results
---
2018-01-16-22-Years-of-Man-Without-Fear
---
2018-01-10-DAREDEVIL-597-Preview
---
2018-01-10-DAREDEVIL-596-2nd-Printing
---
2018-01-07-Daredevil-Fan-Survey
---
2018-01-06-Ron-Garney-Sneak-Peek
---
2018-01-03-Daredevil-Season-3-Set-Pics
---