2020 NEWS
---
Follow updates to NEWS on

Click on the links to display article!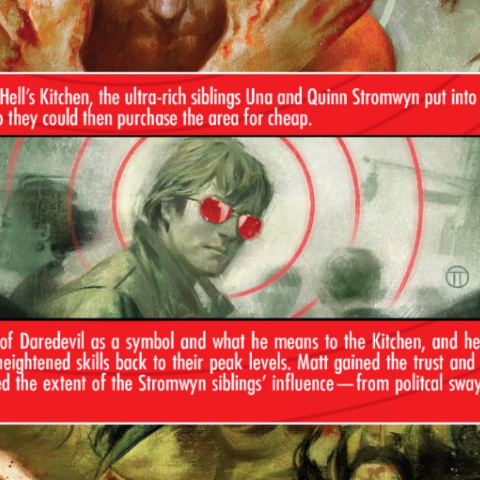 07/15 - Previously in DAREDEVIL
Marvel has released a few recap guide for many of their comics and it is available online and in stores.
Here's the DAREDEVIL page and the link to ComiXology for your convenience: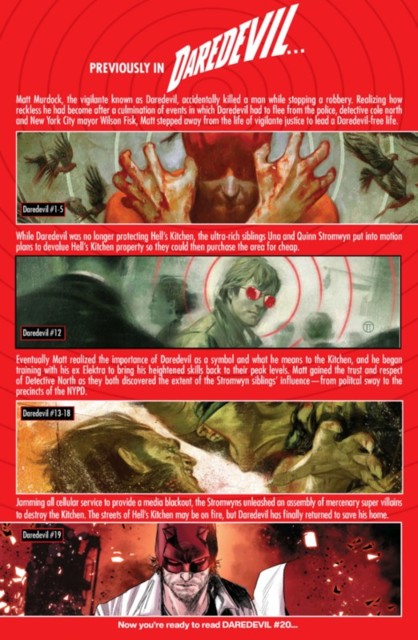 ComiXology
---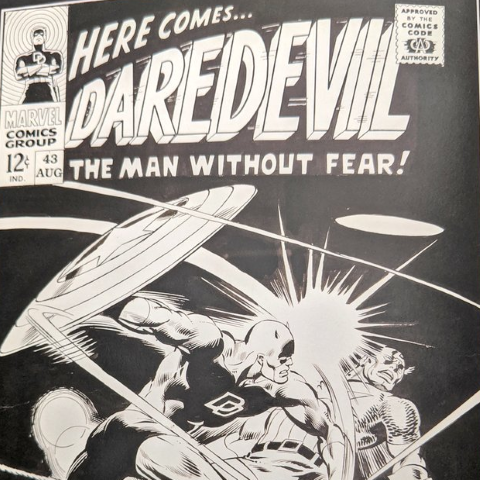 07/14 - Original DAREDEVIL 43 Cover
The Jack Kirby cover for DAREDEVIL #43 is famous for is depicition of a fight between DD and Captain America.
But did you know there was a cover drawn by Gene Colan that wasn't used? The story goes like this... when this cover by Colan came into the Marvel office, Jack Kirby was visiting and had an issue with it. He said Cap shouldn't be shown losing that fight... so he drew his own cover, and Marvel ultimately used it.
The original pencils were owned by someone for 30 years, and then sold to a new owner. That new owner had the pencils inked by Josef Rubinstein. And here it is below:
---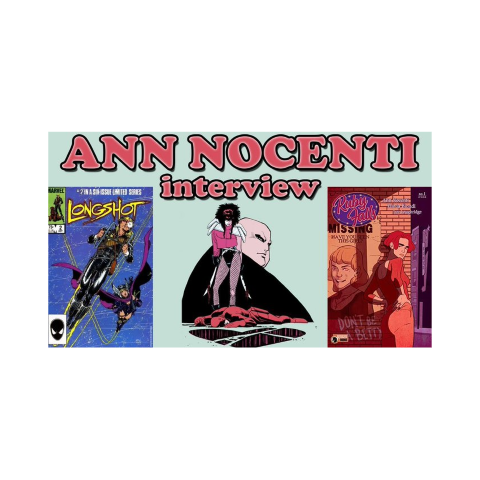 07/12 - Ann Nocenti Interview
Ed Piskor and Jim Rugg's Cartoonist Kayfabe interviewed former DAREDEVIL writer Ann Nocenti.
Learn some more about her time at Marvel and specifically her time on DAREDEVIL.
---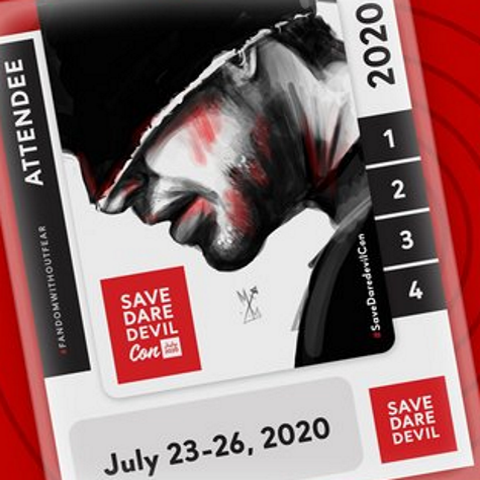 07/03 - Save Daredevil Convention
The folks from SaveDaredevil are organizing a special DD-related event to help fans overcome the cancelled San Diego con.
Starting July 23, there will be special interviews and panels, and an artist alley to showcase some creations.
For more details, visit their site. (And get ready... I might be making an appearance on a panel)
SaveDaredevil.com
---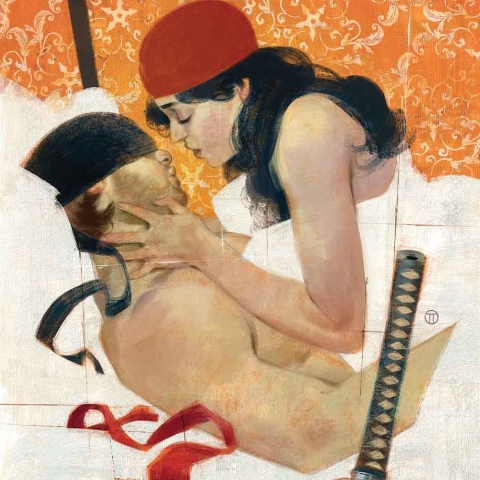 06/27 - DAREDEVIL So Far
Marvel.com has a quick catch-up for the current DAREDEVIL run before the next issue that comes out in July.
They go over all the arcs, the various characters that have appeared and there are also links to the issues mentioned. Have a read...
Marvel.com
---
06/23 - Defenders Auction Catalog
The Marvel Television auction from Prop Store will be coming in July, and like the previous auctions, there will be a special catalog available with highlights of some of the items available.
The limited edition comic-sized catalog will be limited to 200 copies and will also come with a signed limited print by Joe Quesada.
The pre-order is now on for £13 / $15 (use the shipping quote, it might be cheaper to ship from England for you).
Prop Store
---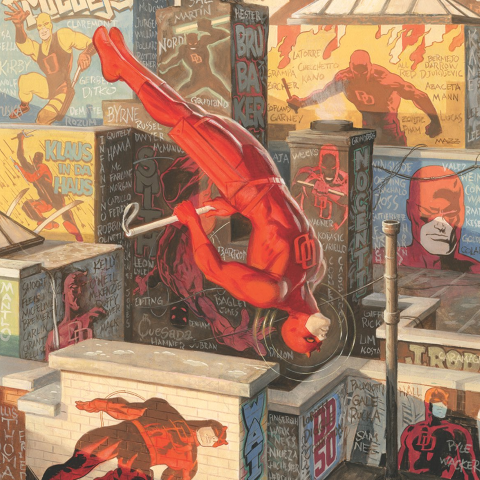 06/23 - Painted Works of the Marvel Universe by Paolo Rivera
More details soon... be on the lookout on Thursday!
---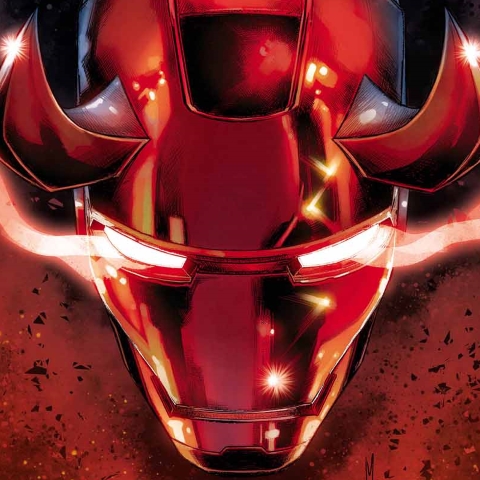 06/19 - DAREDEVIL September 2020 Solicits
Looks like we're finally caught up to the previous solicitations. What was once scheduled for June is now coming in September, as DAREDEVIL #22 is back on track.
There will also be the fourth collection of the series, with issues #16-20 in DD BY CHIP ZDARSKY V4 TPB.
DAREDEVIL September 2020 Solicits
---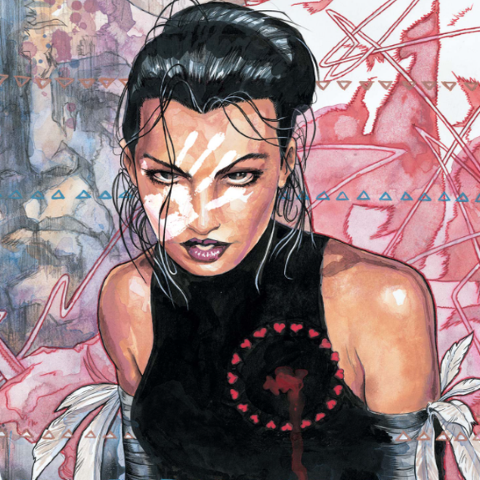 06/18 - Is Marvel Casting Echo?
On June 17th, a curious casting search description appeared on Twitter:
That description certainly sounds like a certain character that first made her appearance in the pages of DAREDEVIL. Is it Echo?
And if it is Echo, are they going to have her appear in Hawkeye (as a previous Ronin), or maybe Moon Knight?
Murphy's Multiverse goes into more detail with their theories...
Murphy's Multiverse
---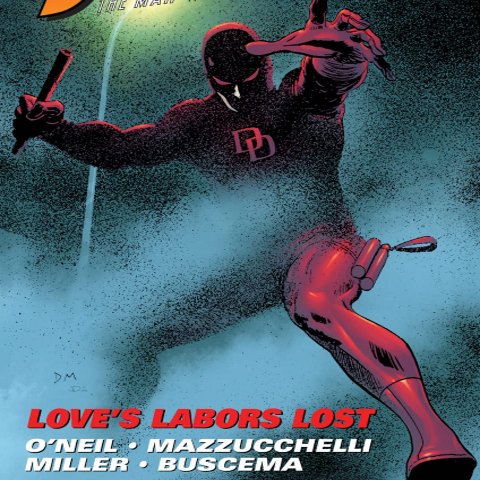 06/12 - Denny O'Neil Dies At 81
Comics Legend Dennis "Denny" O'Neil passed away today at age 81. He left his mark on so many titles for DC and Marvel as an editor and a writer.
In 1985, I was just starting my comics hobby, gravitating towards Daredevil. While I started collecting DAREDEVIL monthly with issue #219 (by Miller & Buscema), the issues I bought after were #220 and #218. I started collecting monthly and worked my way backwards. Those issues were written by Denny O'Neil.
While other creators seem to get mentioned for their runs on this book, Mr. O'Neil's run only seems to be fondly remembered by fans. But these were some amazing issues with David Mazzucchelli, William Johnson, and with characters like Micah Synn, the "crossover" with Matt Hawk, Glorianna O'Breen... yes, it's mostly nostalgia for me, but these were good comics.
One of the first interviews I ever did for the site was with Mr. O'Neil. We talked about taking over writing after Frank Miller. If you want to read the interview, it is here.
Mr. O'Neil edited the title when Miller & Janson were doing their thing. He also edited BATMAN YEAR ONE and DARK KNIGHT RETURNS. His association and importance with Batman cannot be understated. His work with Green Arrow, The Question, so many great runs. Rest in Peace.
Denny O'Neil worked on the following issues of DAREDEVIL (as writer):
Hey Marvel, get more of these issues collected please?
---
Click on links to display articles below...
2020/06/10/Ann-Nocenti-Interview
---
2020/06/08/DAREDEVIL-20-Preview
---
2020/06/07/Elsa-Sjunneson-Interview
---
2020/06/04/DAREDEVIL-Eisner-Awards-Nominations
---
2020/06/03/Chip-Zdarsky-Interview
---
2020/05/28/JESSICA-JONES-SerialBox
---
2020/05/26/Chip-Zdarsky-Interview
---
2020/05/25/DAREDEVIL-Shipping-Update
---
2020/05/22/Marvel-Legends-Armored-Daredevil-Figure
---
2020/05/22/Jack-DiFalco-Interview
---
2020/05/21/August-2020-Daredevil-Solicits
---
2020/05/19/DAREDEVIL-Shipping-Update
---
2020/05/18/Cori-Dioquino-Interview
---
2020/05/16/Chip-Zdarsky-Interviews
---
2020/05/15/DAREDEVIL-20-Interview
---
2020/05/13/Marty-Pasko-Dies-At-Age-65
---
2020/05/12/Will-Stout-Interview
---
2020/05/09/LOVE-AND-WAR-Gallery-Edition
---
2020/05/06/PUNISHER-DEFENDERS-Auction
---
2020/05/05/JESSICA-JONES-SerialBox
---
2020/05/01/DAREDEVIL-Shipping-Update
---
2020/04/30/Charlie-Cox-Interview
---
2020/04/29/Charlie-Cox-Addresses-Spider-Man-Rumors
---
2020/04/28/DAREDEVIL-Quarantine-Watch-Party
---
2020/04/28/Chris-Tardio-Interview
---
2020/04/27/DAREDEVIL-Shipping-Update
---
2020/04/24/Jimmy-Palmiotti-Interview
---
2020/04/22/Klaus-Janson-Interview
---
2020/04/22/Kevin-Smith-Interview-Part-2
---
2020/04/20/Sideshow-Daredevil-Elektra-Print
---
2020/04/20/Kevin-Smith-Interview
---
2020/04/14/DAREDEVIL-Shipping-Update
---
2020/04/10/Happy-5th-DAREDEVIL-S1
---
2020/04/09/Deborah-Ann-Woll-Interview
---
2020/04/07/More-Delays
---
2020/03/31/Sideshow-Daredevil-Shadowland-Figure
---
2020/03/30/DAREDEVIL-20-Delayed
---
2020/03/28/1982-Proposed-Daredevil-Cartoon
---
2020/03/27/Sideshow-Shadowland-Figure
---
2020/03/26/Grey-Matter-Daredevil-Print
---
2020/03/23/Diamond-Halts-All-New-Shipments
---
2020/03/19/June-2020-Daredevil-Solicits
---
2020/03/18/MARVELS-X-3-Preview
---
2020/03/16/Chip-Zdarsky-Interview
---
2020/03/15/Elodie-Yung-Interview
---
2020/03/13/Daredevil-Links
---
2020/03/08/Nyla-Skin-Returns
---
2020/03/07/HAWKEYE-FREEFALL-4-Preview
---
2020/03/04/DAREDEVIL-19-Sketches
---
2020/02/28/DAREDEVIL-19-Preview
---
2020/02/20/May-2020-Daredevil-Solicits
---
2020/02/20/DAREDEVIL-Sales-Data
---
2020/02/19/DAREDEVIL-Annual-One-More-Day
---
2020/02/17/DAREDEVIL-Inferno
---
2020/02/14/DAREDEVIL-18-Preview
---
2020/02/12/Recent-Daredevil-Appearances
---
2020/02/07/MAN-WITHOUT-FEAR-MARVEL-SELECT
---
2020/02/06/DAREDEVIL-Back-in-Red
---
2020/02/05/DAREDEVIL-19-Spider-Woman-Variant
---
2020/01/31/Holly-Cinnamon-Interview
---
2020/01/30/DAREDEVIL-17-Preview
---
2020/01/28/Marco-Checchetto-Interview
---
2020/01/23/April-2020-Daredevil-Solicits
---
2020/01/21/DAREDEVIL-20-Marvel-Zombies-Variant-Sliney
---
2020/01/21/DAREDEVIL-18-Rivera-Gwen-Stacy-Variant
---
2020/01/16/24-Years-of-Man-Without-Fear
---
2020/01/10/More-Tedesco-Sketches
---