2020 NEWS
---
Follow updates to NEWS on

Click on the links to display article!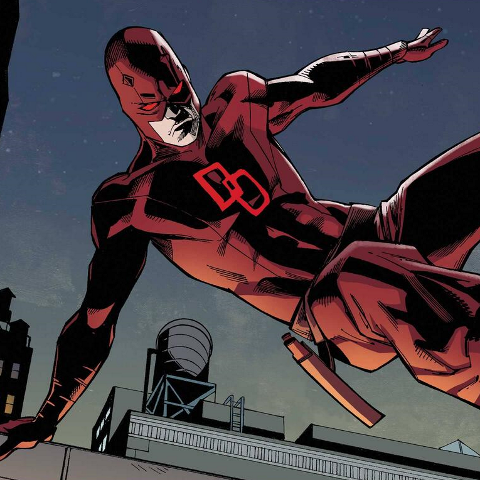 10/30 - DAREDEVIL 24 and 25 Preview
Marvel.com posted a new article today, proclaiming that the situation for Matt Murdock will get worse in DAREDEVIL #24 and #25.
SPOILERS AHEAD!
Marvel.com
As part of the article, some preview pages were posted...
DAREDEVIL #24 page 2 by Mike Hawthorne, JP Mayer and Mattia Iacono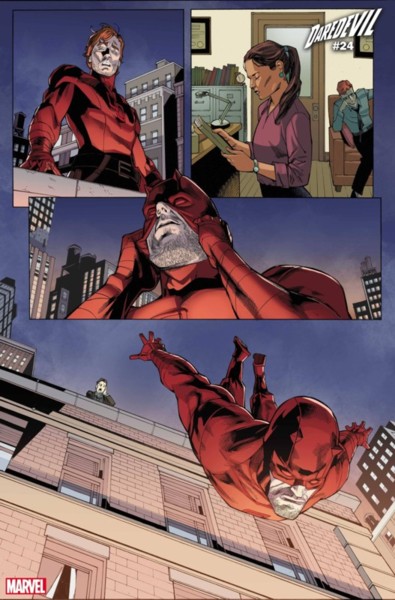 DAREDEVIL #24 page 10 by Mike Hawthorne, JP Mayer and Mattia Iacono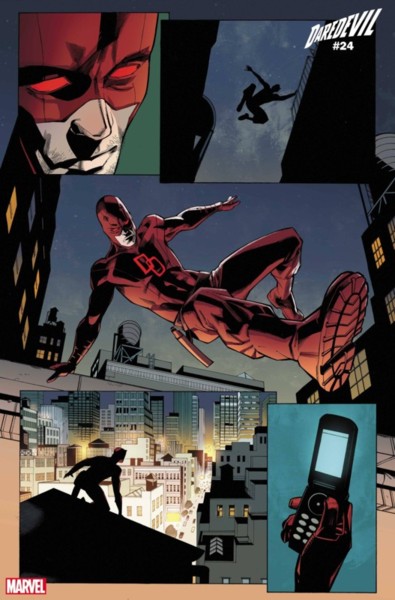 DAREDEVIL #25 page 3 by Marco Checchetto and Marcio Menyz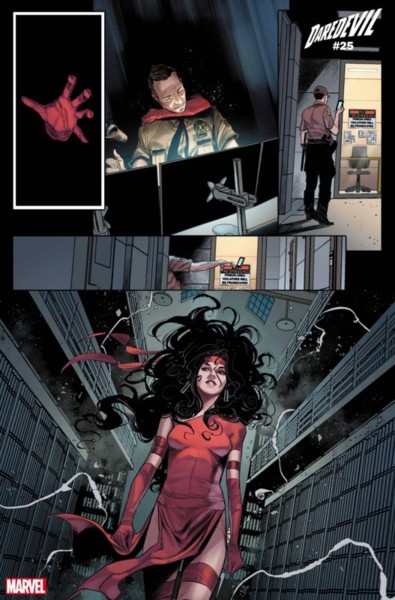 After the preview/article was posted, artist Mike Hawthorne also posted the pencils for his preview pages: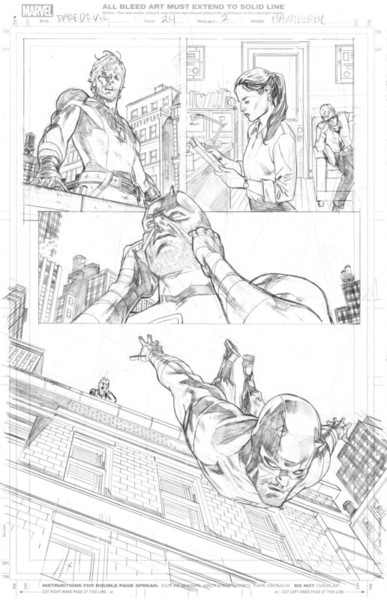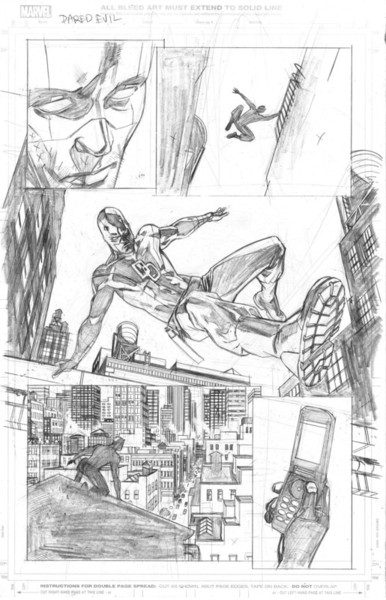 DAREDEVIL #24 will now ship November 18 (up a week from the original date), and
DAREDEVIL #25 will ship December 2.
---
---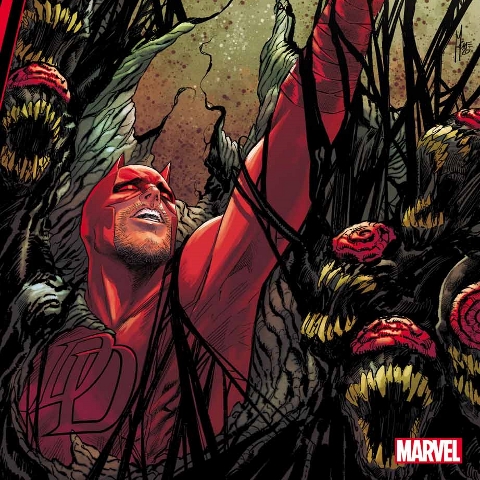 10/22 - DAREDEVIL January 2021 Solicits
As we knew a few weeks ago, DD#26 will be a King in Black tie-in, but we also got a surprise Daredevil vs Alien variant cover. The fifth Zdarsky TPB is also coming in February.
DAREDEVIL January 2021 Solicits
---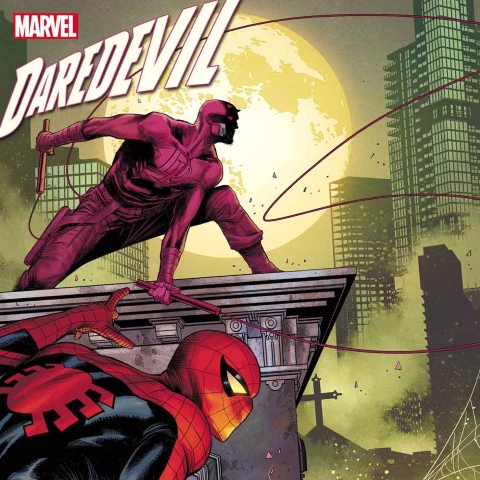 10/16 - DAREDEVIL #23 Preview
CHIP ZDARSKY (W) • MARCO CHECCHETTO (A/C)
Daredevil Timeless Variant Cover by ALEX ROSS
EISNER-NOMINATED FOR BEST CONTINUING SERIES, COVER ARTIST, WRITER & LETTERER!
• Matt Murdock, A.K.A. DAREDEVIL, has been putting his life back together after the monumental first year of Chip Zdarsky and Marco Checchetto's run - but the criminals of Hell's Kitchen aren't inclined to give him any more time to heal.
• Criminals aren't all Matt will have to contend with on the road ahead, as the likes of TYPHOID MARY and BULLSEYE have made their presence known once more.
• To say nothing of ELEKTRA, and her designs for The Kitchen, the city and the world…
32 PGS./Rated T+ …$3.99
---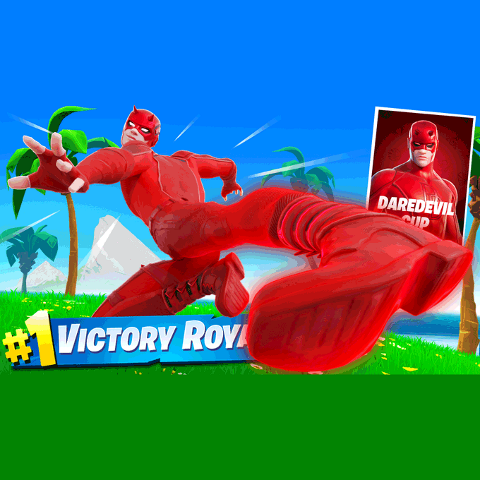 10/15 - Fortnite Daredevil Cup
On 10/14, the "Daredevil Cup" in Fortnite was played across the world, with teams working together to get a chance of early access to the Daredevil outfit.
There were some connection issues, and many people were unaware that they needed a trio to play the game.
Here were some of the lucky people who got the Daredevil skin early:
And here's Marvel showcasing Daredevil:
There are unconfirmed reports that the DD outfit and gear will be available this weekend in the Fortnite store.
---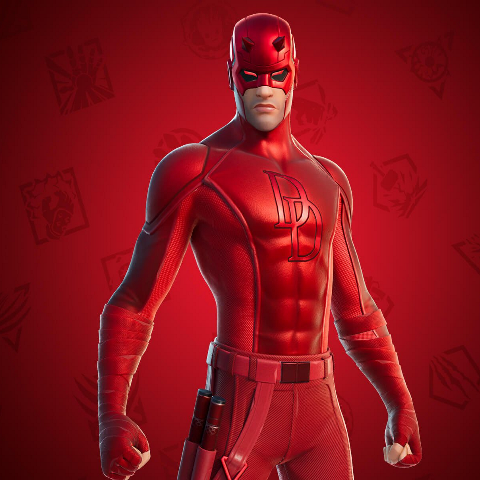 10/12 - Daredevil coming to Fortnite
Daredevil's appearance in Fortnite was teased with a variant cover for VENOM #29 (which is coming Oct 21)... and today we got official word from Epic Games that Daredevil will be available soon in their store... however...
If you join the "Daredevil Cup" on Oct 14, you could win early access to the DD skin.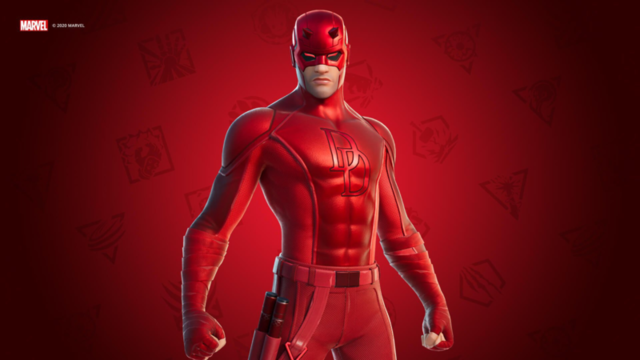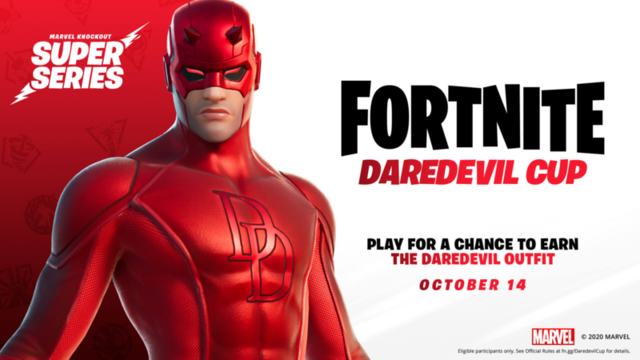 More details:
Epic Games
---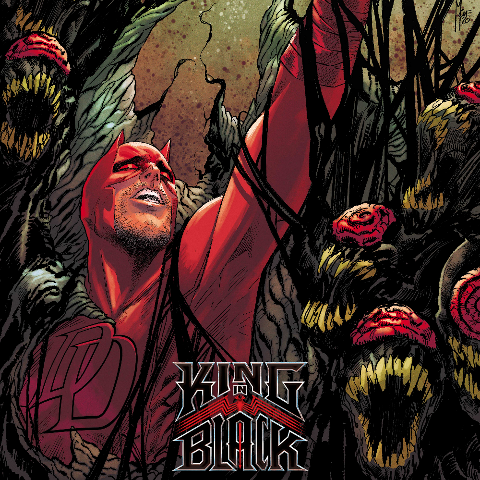 10/07 - King in Black Tie-In
DAREDEVIL writer Chip Zdarsky hinted at a King in Black tie-in coming up for the title, and today we get a first look of issue #26's cover by Marco Checchetto.
Newsarama posted some info, including the solicit:
"A devil consumed! Matt faces a darkness unlike any before. Meanwhile, Elektra may be in over her head for the first time in her life. Daredevil must find the strength to continue the fight as all hell breaks loose."
Both Checchetto and Mike Hawthorne will be drawing the issue in January.
Look for more details when the solicits are released later this month.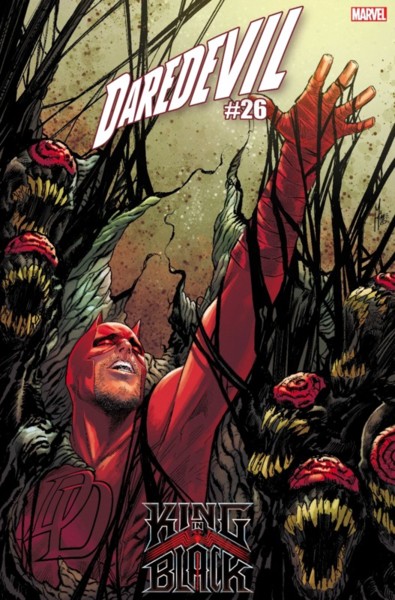 ---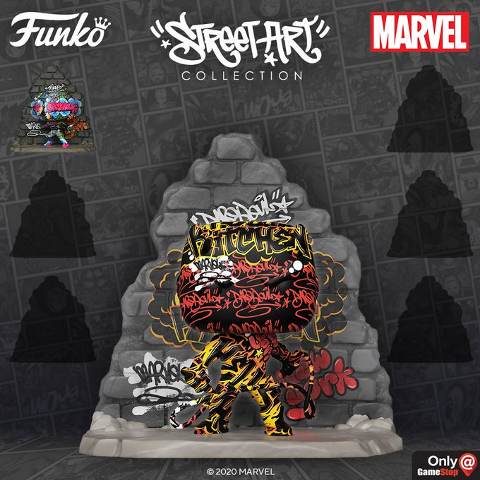 10/01 - Street Art Daredevil Funko Pop! Vinyl
Funko revealed its second Pop! coming from their "Street Art" collection, and it's Daredevil!
In the US it will be exclusive to GameStop and in Europe it will be available exclusively at HMV.
GameStop pre-order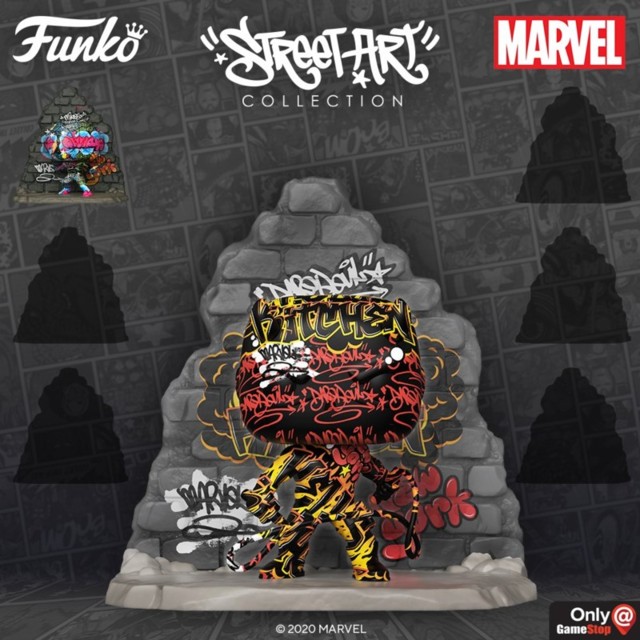 ---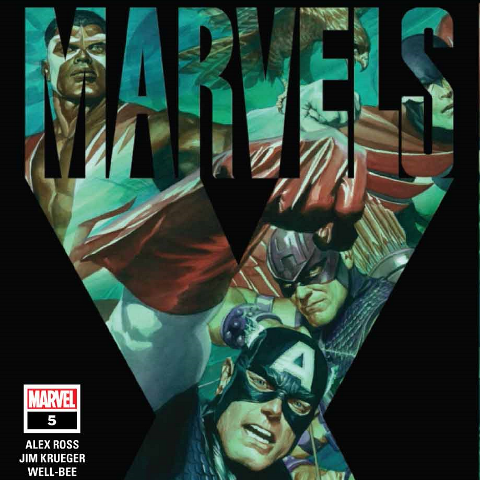 09/28 - MARVELS X #5 Preview
The Earth X prequel continues and this version of Daredevil continues his appearance in the series...
(W) Alex Ross, Jim Krueger (A) Well-Bee (CA) Alex Ross
Finding a cure for whatever it is that turned all of humanity into monsters proves almost impossible for even Reed Richards, Bruce Banner, Tony Stark and the greatest minds in the Marvel Universe. The fact that no one wants to be cured leads to a revolt against the heroes themselves. Alex Ross, Jim Krueger and Well-Bee continue their invincible prequel to the EARTH X trilogy.
Rated T+
---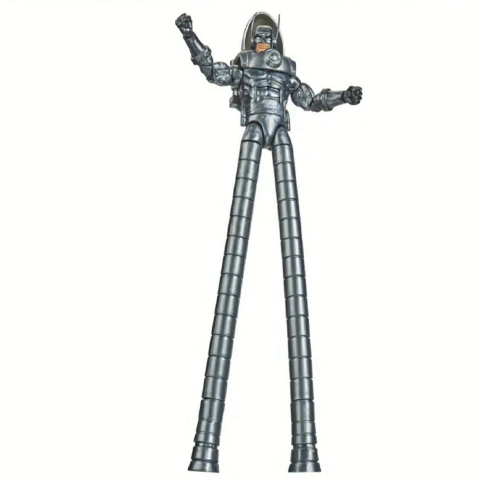 09/25 - New Marvel Legends Stilt-Man BAF
Hasbro Pulse had some reveals last night as part of its online Con.
In the Spider-Man wave of figures, there will be a "build-a-figure" for... Stilt-Man! Yes, Stilt-Man.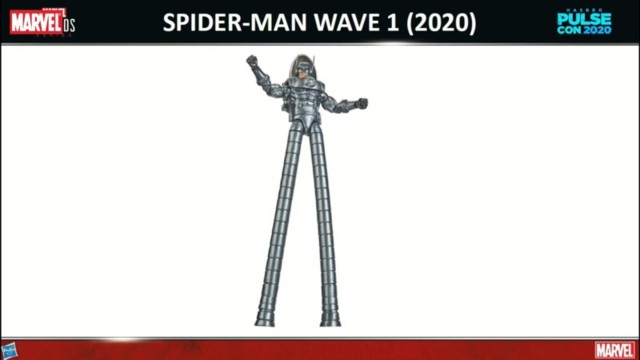 And here's the best part... there's also a Hand Ninja figure that is part of this wave, that has the leg pieces.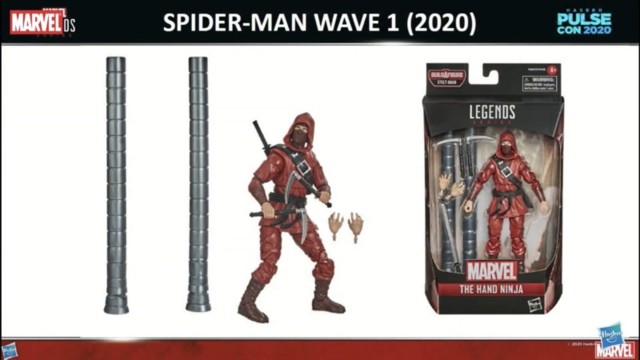 Now, if you keep buying Hand Ninja figures, you can keep adding those legs to the Stilt-Man figure and make him as tall as you want.
More details on price and order date coming soon!
---
Click on links to display articles below...
2020/09/24/DAREDEVIL-23-Ross-Sketch-Cover
---
2020/09/18/DAREDEVIL-22-Preview
---
2020/09/17/December-2020-Daredevil-Solicits
---
2020/09/16/Marvel-Zombies-Daredevil-Funko
---
2020/09/10/Marvels-Voices-David-Mack-Variant
---
2020/09/06/Chip-Zdarsky-Interview
---
2020/09/02/Overstreet-Mack-Cover
---
2020/08/31/Mike-Hawthorne-Daredevil-Previews
---
2020/08/27/Venom-Fortnite-Cover
---
2020/08/23/Heroes-Reborn-Daredevil
---
2020/08/22/DAREDEVIL-Annual-1-Preview
---
2020/08/20/November-2020-Daredevil-Solicits
---
2020/08/19/Mike-Hawthorne-on-DAREDEVIL-24
---
2020/08/13/Mark-Waid-Interview
---
2020/08/05/Grey-Matter-Daredevil-16-Print
---
2020/08/03/Oversized-Hardcovers-Zdarsky-Checchetto
---
2020/07/31/Vincent-DOnofrio-Interview
---
2020/07/31/Marvel-Crisis-Protocol-Daredevil
---
2020/07/27/DAREDEVIL-ANNUAL-Declan-Shalvey-Variant
---
2020/07/27/Chip-Zdarsky-Word-Balloon-Interview
---
2020/07/26/Save-Daredevil-Con-Day-4
---
2020/07/25/Save-Daredevil-Con-Day-3
---
2020/07/25/DAREDEVIL-21-Poster-Cancelled
---
2020/07/24/Save-Daredevil-Con-Day-2
---
2020/07/23/Save-Daredevil-Con-Day-1
---
2020/07/23/October-2020-Daredevil-Solicits
---
2020/07/20/DAREDEVIL-23-Variant-Alex-Ross
---
2020/07/18/Elektra-White-SDCC-Statue
---
2020/07/17/DAREDEVIL-21-Preview
---
2020/07/15/Previously-in-DAREDEVIL
---
2020/07/14/Original-DAREDEVIL-43-Cover
---
2020/07/12/Ann-Nocenti-Interview
---
2020/07/03/Save-Daredevil-Con
---
2020/06/27/DAREDEVIL-So-Far
---
2020/06/23/Defenders-Auction-Catalog
---
2020/06/23/Daredevil-Grey-Matter-Print-Paolo-Rivera
---
2020/06/19/September-2020-Daredevil-Solicits
---
2020/06/18/Is-Marvel-Casting-Echo
---
2020/06/12/Denny-ONeil-Dies-At-81
---
2020/06/10/Ann-Nocenti-Interview
---
2020/06/08/DAREDEVIL-20-Preview
---
2020/06/07/Elsa-Sjunneson-Interview
---
2020/06/04/DAREDEVIL-Eisner-Awards-Nominations
---
2020/06/03/Chip-Zdarsky-Interview
---
2020/05/28/JESSICA-JONES-SerialBox
---
2020/05/26/Chip-Zdarsky-Interview
---
2020/05/25/DAREDEVIL-Shipping-Update
---
2020/05/22/Marvel-Legends-Armored-Daredevil-Figure
---
2020/05/22/Jack-DiFalco-Interview
---
2020/05/21/August-2020-Daredevil-Solicits
---
2020/05/19/DAREDEVIL-Shipping-Update
---
2020/05/18/Cori-Dioquino-Interview
---
2020/05/16/Chip-Zdarsky-Interviews
---
2020/05/15/DAREDEVIL-20-Interview
---
2020/05/13/Marty-Pasko-Dies-At-Age-65
---
2020/05/12/Will-Stout-Interview
---
2020/05/09/LOVE-AND-WAR-Gallery-Edition
---
2020/05/06/PUNISHER-DEFENDERS-Auction
---
2020/05/05/JESSICA-JONES-SerialBox
---
2020/05/01/DAREDEVIL-Shipping-Update
---
2020/04/30/Charlie-Cox-Interview
---
2020/04/29/Charlie-Cox-Addresses-Spider-Man-Rumors
---
2020/04/28/DAREDEVIL-Quarantine-Watch-Party
---
2020/04/28/Chris-Tardio-Interview
---
2020/04/27/DAREDEVIL-Shipping-Update
---
2020/04/24/Jimmy-Palmiotti-Interview
---
2020/04/22/Klaus-Janson-Interview
---
2020/04/22/Kevin-Smith-Interview-Part-2
---
2020/04/20/Sideshow-Daredevil-Elektra-Print
---
2020/04/20/Kevin-Smith-Interview
---
2020/04/14/DAREDEVIL-Shipping-Update
---
2020/04/10/Happy-5th-DAREDEVIL-S1
---
2020/04/09/Deborah-Ann-Woll-Interview
---
2020/04/07/More-Delays
---
2020/03/31/Sideshow-Daredevil-Shadowland-Figure
---
2020/03/30/DAREDEVIL-20-Delayed
---
2020/03/28/1982-Proposed-Daredevil-Cartoon
---
2020/03/27/Sideshow-Shadowland-Figure
---
2020/03/26/Grey-Matter-Daredevil-Print
---
2020/03/23/Diamond-Halts-All-New-Shipments
---
2020/03/19/June-2020-Daredevil-Solicits
---
2020/03/18/MARVELS-X-3-Preview
---
2020/03/16/Chip-Zdarsky-Interview
---
2020/03/15/Elodie-Yung-Interview
---
2020/03/13/Daredevil-Links
---
2020/03/08/Nyla-Skin-Returns
---
2020/03/07/HAWKEYE-FREEFALL-4-Preview
---
2020/03/04/DAREDEVIL-19-Sketches
---
2020/02/28/DAREDEVIL-19-Preview
---
2020/02/20/May-2020-Daredevil-Solicits
---
2020/02/20/DAREDEVIL-Sales-Data
---
2020/02/19/DAREDEVIL-Annual-One-More-Day
---
2020/02/17/DAREDEVIL-Inferno
---
2020/02/14/DAREDEVIL-18-Preview
---
2020/02/12/Recent-Daredevil-Appearances
---
2020/02/07/MAN-WITHOUT-FEAR-MARVEL-SELECT
---
2020/02/06/DAREDEVIL-Back-in-Red
---
2020/02/05/DAREDEVIL-19-Spider-Woman-Variant
---
2020/01/31/Holly-Cinnamon-Interview
---
2020/01/30/DAREDEVIL-17-Preview
---
2020/01/28/Marco-Checchetto-Interview
---
2020/01/23/April-2020-Daredevil-Solicits
---
2020/01/21/DAREDEVIL-20-Marvel-Zombies-Variant-Sliney
---
2020/01/21/DAREDEVIL-18-Rivera-Gwen-Stacy-Variant
---
2020/01/16/24-Years-of-Man-Without-Fear
---
2020/01/10/More-Tedesco-Sketches
---