Interview with Will Stout
(May 2020)
Will Stout appeared in DAREDEVIL Season 3 as Karen Page's former boyfriend, Todd Neiman. Here we discuss filming his flashback scenes with Deborah Ann Woll and what it was like to work in a small town for the show. Many thanks to him!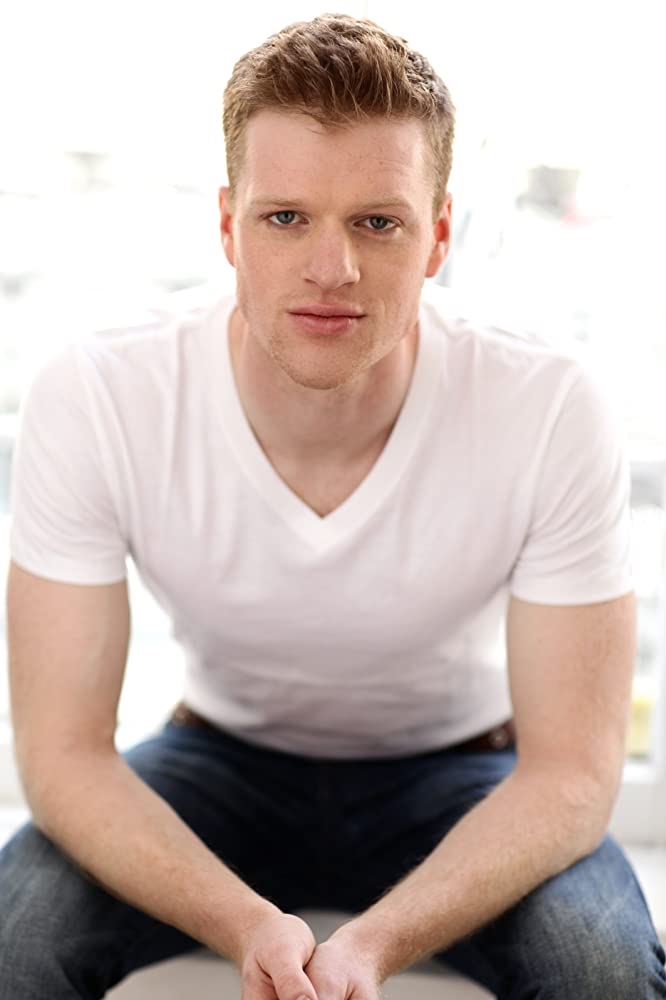 Kuljit Mithra: It's been over two years since you filmed your scenes for DAREDEVIL Season 3. Can you tell me a little bit about your audition process with Marvel? I ask this question all the time, considering the secrecy, many times actors didn't even know what role they are up for.
Will Stout: They are pretty secretive. I forget what they were calling the show, but it wasn't DAREDEVIL. The scenes were different as well. Originally I went in for another Marvel show/role, and after I did the scene they handed me these sides and asked if I could read this as well.
Mithra: Considering the show takes place in Hell's Kitchen, NYC, did you know you would be working in Windham/Hensonville NY instead?
Stout: I didn't know until the read through, which was a day or two before. I also did not know the episode was a flashback until the read through. Ha! It was pretty funny.
Mithra: What was it like working in a small town like that? Around that time in March 2018, some of the local papers were writing about the production (but none of the crew would admit it was for Daredevil).
Stout: Yeah.. it was very hush hush. They are very good at keeping things secret. I was impressed. But it was easy to avoid people because I would film all night and sleep all day.
Mithra: You got to work closely with Deborah Ann Woll, and we learned about her character's tragic past. When you got the role as Todd Neiman, how did the writers describe his background? I was watching the episode again and caught some lines with Buddhist sayings and "Namaste" as well.. was he supposed to be some "enlightened" drug dealer? Do you think he was as "bad" as he was made to look.
Stout: Because I was handed the audition sides on the spot I was unaware of his character description. I don't think he was "enlightened", but he was dabbling in Buddhist practice. I think it seemed like a good way to deal with the come downs from consumption lots of alcohol and drugs. I don't think he was that bad... but I'm very biased. [laughs]
Mithra: What was it like working with Woll? Did you have time to really go in-depth with preparation, discussing the different aspects of this relationship and also some of the physicality of the role?
Stout: Deb is the best. Total pro/actors actor. She is incredibly kind and made me feel so welcomed on set. We had a rehearsal (which I think she said was her first rehearsal in 3 seasons that wasn't for a fight scene) and we met up before the shoot to have lunch and get to know each other better. The turn around from booking the role to being on set was pretty quick though (less than a week), so we didn't have time for much else.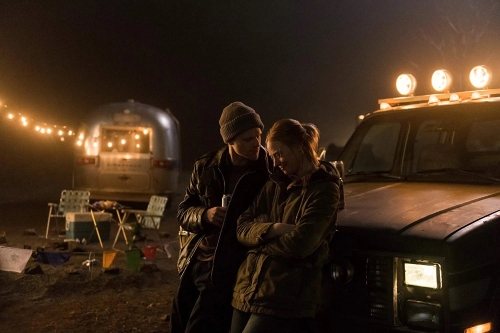 Mithra: In addition, how was it working with Jack DiFalco (Karen's brother)? Were all three of you closely working off-screen in terms of the fighting, since it didn't look like any stunt people were used.
Stout: Jack is great. He brightens every room he walks in. I wish I didn't have to fight him. We have stayed good friends.
We did the fight ourselves. They have a great team that helped us, but we didn't have much time to prepare. We practiced for less than an hour, and then shot. Plus we only had a few takes because the Airstream trailer would melt from the flames. It was exciting and very hot!
Mithra: When we last see your character, he's been shot by Karen in the arm... and after the accident that kills Kevin Page, everything is swept under the rug by the local police... but we really don't find out what happens with Todd. How do you imagine his future? Did he leave town and hide? Was he put in jail? Did he die? Has he been looking for Karen ever since?
Stout: I had my fingers crossed he would come back in the present day with one arm, a big beard, and enlightened. And then we would realize he was actually some super villain.. haha one can dream right?
Mithra: Thanks for the interview. With the quarantine situation, has this affected any projects you were working on? Are you able to do any preparation work for something coming out after? Thanks again.
Stout: Thank you! I hope you and yours are happy and healthy. It has definitely slowed things down. I had just finished an episode on Blue Bloods when things started to get bad. Thankful for that. I'm currently in the woods in WV camping and truly social distancing.
--------------------------------------------------------------------------------------------
(c) 2020 Kuljit Mithra & Will Stout
Daredevil:The Man Without Fear
http://www.manwithoutfear.com
--------------------------------------------------------------------------------------------

---
Read more interviews!