Interview with Chris Tardio
(April 2020)
Chris Tardio appeared in DAREDEVIL Season 1 as Detective Blake, one of the cops on the wrong side of the law. In this interview we talk about some of his favorite scenes and what he enjoyed most about playing the character. Many thanks to him and hope you enjoy this look back at Season 1.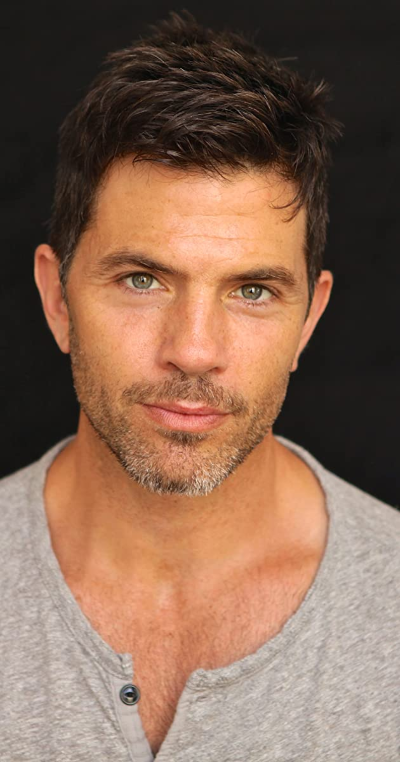 Kuljit Mithra: Nice to chat with you. It's been over five years since you worked on DAREDEVIL as "Detective Blake". Does it seem like that long ago for you? What comes to mind when I remind you about that?
Chris Tardio: When I booked Daredevil, I was still living in LA. The audition came through while I was back in NY visiting family. Booking the role was partly what convinced me to move back east. Years ago, when I'd gone out to LA there weren't many productions in NY but by the time Daredevil was being done, that had changed.
Mithra: I've interviewed many cast members and one thing I always ask about is the audition process with Marvel... how was the secrecy with the role, and did you even know it was for DAREDEVIL?
Tardio: The audition process for me was basically two steps. I'd first read for the Matt's/Daredevil's father. From what I was told they had responded to my audition but a week later they came back and asked me to read for Detective Blake. I was actually on vacation so I had to tape the audition and send it to casting. Then I found out I got it. But there's a maxim that applies here. When i got to set, I learned that the director of the pilot was Phil Abraham whom I'd worked with on Sopranos. I think he's the one who got me the job. So it's true when they say it's all who you know, in this instance anyhow. Great guy, lucky me.
Marvel raised the secrecy bar. We never got hard copies of scripts. We had to log into their site in order to read our scenes and the scenes couldn't be printed or downloaded. They run a tight ship, understandably.
Mithra: I really enjoyed your "bad cop"/"bad cop" relationship with Detective Hoffman, played by Daryl Edwards. What was it like riffing off each other, and did you both know after the first episode that you weren't playing honest cops? Was the story arc planned that far in advance, or were you learning about everything as scripts came in?
Tardio: Daryl was great to work with. We really had no idea where the story was going for our characters. We knew we were dirty cops, but thats about it. Each time new scenes were released to the Marvel site, we'd run to see if our characters were still breathing! So we we're learning about everything basically day to day but I'm sure the writers had worked all that out in advance. My understanding is the writer's rooms usually have the season beat out before shooting begins.
Mithra: My favorite line of yours in the show is "I don't care if you're blind, I'll kick the shit out of you." Still makes me laugh. You got to do a lot of different things with the role... these interrogation scenes, some physical work in the alley getting beaten by Daredevil, the warehouse search, getting shot, the hospital death... got to flex some acting muscle. What did you enjoy most about the role and which scenes were memorable for you?
Tardio: My favorite line too! Haha. When I read that I was thrilled. Kind of thing an actor dreams to say. I enjoyed all of it. Acting can be a rough road so when you're actually getting paid to do it and on a show the caliber of Daredevil, you're walking on clouds. But if I had to narrow down a day/scene that was a highlight of my experience, it would be the interrogation scene in the precinct with the Russian prisoner. That scene was fun to do and I think a viewer can actually see that we were having fun.
Chris Tardio as Det. Blake in Daredevil from Smashcut Studios on Vimeo.
Mithra: Did you wish you had more episodes or were you satisfied with how things ended with your character?
Tardio: This a trick question? Of course I wish I had more episodes! Haha. But grateful for what I got and to be a part of the Marvel universe.
Mithra: At the time, this deal Marvel did with Netflix had a lot riding on this first series with DAREDEVIL. Did you ever get a sense from everyone about that importance?
Tardio: I know the show was important for Netflix and Marvel, but in my capacity as a recurring actor, none of that really came my way. Of course I saw the effort, the attention from the producers and whatnot, but I wasn't privy to the 'stakes' . That was probably more on the series regulars.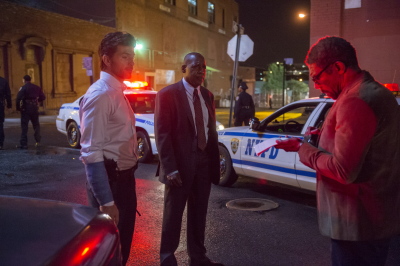 Mithra: Since DAREDEVIL, you've appeared on RAY DONOVAN on Showtime and YOUNGER on TV Land. Is there any difference in how the three different production companies approach the work? Netflix is all about the binge, Showtime on cable has a weekly schedule, and TV Land is producing content on what used to be a channel for re-runs.
Tardio: Not sure I see a difference about how the networks and their approach the work. The difference is usually in the cast and crew, how well they get along and how long they have been working together. The longer, the better, generally speaking. They develop a shorthand. But I've been fortunate to work for these networks and on these shows, with the talented casts and crews.
Mithra: Thanks for the interview. During this time, are any of your projects on hold or are you able to still do any preparation for something coming later? How has it been for you? Thanks again.
Tardio: Younger was supposed to start shooting the 7th season mid-March but that got cancelled due to the virus. I've been keeping busy, writing, painting. Actually have some movement on film I wrote about ska music. Now that people are home and looking for things to do, it seems it's easier to gain steam. We shall see. Thanks for having me. Good luck! Stay healthy!
--------------------------------------------------------------------------------------------
(c) 2020 Kuljit Mithra & Chris Tardio
Daredevil:The Man Without Fear
http://www.manwithoutfear.com
--------------------------------------------------------------------------------------------

---
Read more interviews!