11/16 - DAREDEVIL Comics News Updates
Some comics news updates to share, so here goes...
WAR OF THE REALMS
There's a new mini coming in April by Jason Aaron, Russell Dauterman and Matthew Wilson, and take a look at the preview image: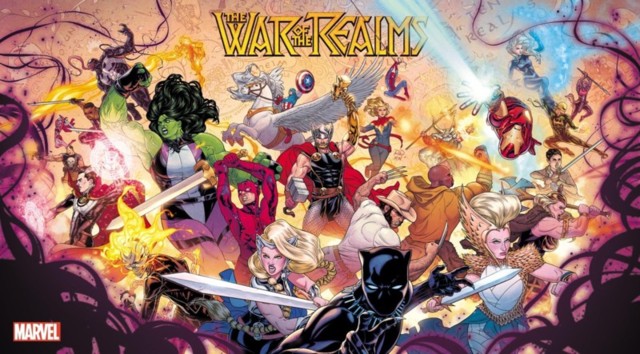 Is that Daredevil with a sword? And is he a Captain Universe Daredevil? And is he Matt Murdock?
---
SECOND PRINTINGS
DAREDEVIL #609, #610 and #611 by Charles Soule and Phil Noto are going back for second printings.
Orders are due by December 3rd for January 2nd shipping.
Codes are: OCT188203, OCT188204, and OCT188205.
---
ARTIST CHANGES FOR MAN WITHOUT FEAR
Some changes for the MAN WITHOUT FEAR series. Originally solicited to have art by Danilo Beyruth for all 5 issues, there's been an update and Beyruth will not be drawing issues #2 and #3.
#2 will now have art by Stefano Landini.
#3 will now have art by Iban Coello.
MAN WITHOUT FEAR #1 ships January 2nd.