DAREDEVIL: THE LOST TALES
Irwin Allen TV Show Part 1
Hello everyone, and welcome to a new feature on the site entitled "Daredevil: The Lost Tales". Over the years, I've been lucky to find or purchase some unpublished Daredevil stories, and I thought it would be cool to summarize what's in them.
I hope to post something every week (we'll see how that goes). I'm going to start with a draft for a never produced Daredevil television series from 1983.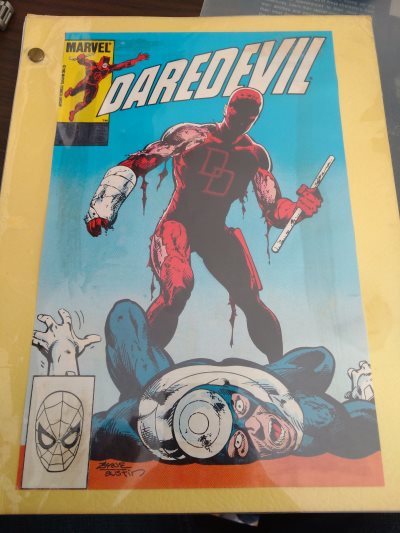 Producer Irwin Allen, who you may know from Lost in Space, Towering Inferno, and Poseidon Adventure, was behind a script written by Tony Kayden for Columbia Pictures Television. I'm guessing at the time, the rights to Daredevil were given to Columbia, and Stan Lee was shopping the character around in California.
A few years ago, I stumbled upon an old auction for this script... it featured a cut out cover of DAREDEVIL 200 pasted onto a mylar sheet. It was the first time I had heard of this, and apparently there were only two copies of this script in existence. So when I saw it on eBay in December 2015... I had to get it.
The script is typewritten, 61 pages and bound between those mylar sheets I mentioned before. It's only one episode, and it's entitled "Blinded by the Light". It's the first draft, dated November 11, 1983. There are some handwritten notes on the first page, but I can't decipher them... maybe something about keeping Jack Murdock alive longer, or not killing him at all? There are five Acts in total, so to make it easier to summarize, I'll post about each Act each week.
ACT ONE
It's daytime in an unknown city, and a woman is standing on a ledge of a building. Firemen are trying to coax her down. From an adjacent building, Daredevil shoots a billy club line to a flagpole above the woman. The woman loses her balance and her coat gets stuck on the long hand of the clock on the building. Daredevil jumps across, does a flip on the flagpole and reaches down to the woman. As her coat tears away, Daredevil saves her. Firemen pull her in through a window. Daredevil jumps back to the other building and waves to the crowd below.
In an alley, Daredevil gets into the back seat of a waiting car driven by Freddie Gomez (more on him later). Daredevil rips off his mask to reveal his blindness. DD's voice: "Life was dull before I was blind..."
Flashback to an unknown night. A six story tenement building in the poor part of town is on fire. Fire crews can only watch as the building collapses. Chic Tanner stands at the back of the crowd. He's in his late 30's. He smirks then walks away from the scene.
The families from the building are all standing on the sidewalk. Crews carry a body on a stretcher and Maria Flores clutches her three kids as she finds out it's her dead husband.
Scene switches to an unknown later date. It's daytime, in court. Matt Murdoch (with an 'h') is 6'2", blue eyes, wavy red hair, early 30's, and he's presenting a case for compensation for the death of Emilio Flores. Karen Walker (not Page), 26, attorney with Nelson and Murdoch, is also here helping. She's described as witty, intelligent, and beautiful without knowing it. Chic Tanner watches from the back of the courtroom.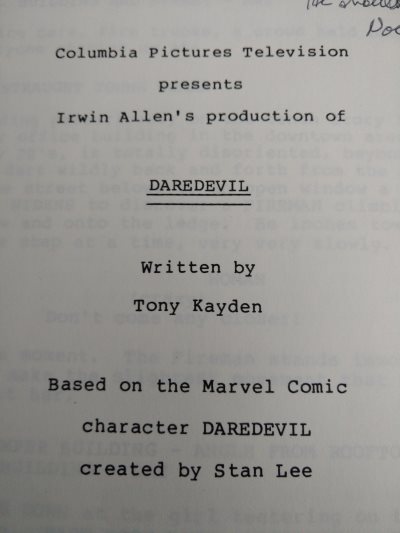 Later, on the court steps, Matt and Karen talk about the case and working the jury. Foggy Nelson arrives. He's in his late 30's, old school Harvard (he's described as actor John Hillerman). Foggy proclaims Matt should spend time working with paying clients, not the ones in his free clinic downstairs at the firm. Foggy leaves with Karen, but she reminds Matt of her party he's invited to, and he needs a costume. Matt doesn't remember the party, so...
At a costume shop, a clerk shows Matt a gorilla mask, and then a bright red form-fitting suit, with a hood covering half the face and with horns. It's a devil costume without a pitchfork and tail. The clerk says he's never been able to sell it... but Matt buys it. [It should be noted, I was confused with all the flashbacks etc. and had to re-read to understand Matt was not blind at this point in time.]
Later that night, at Matt's apartment, Matt's gymnast trophies and photos of Battling Jack Murdoch and his mother Grace are shown. Matt tries on his costume and laughs.
The next day, at the law offices of Nelson and Murdoch (the building is described as being built in 1920, downtown, and Matt's office has a private gym). We are properly introduced to Alfredi "Freddie" Gomez, 18, Hispanic, street-smart, and looks up to Matt as a father figure. He's the office gopher.
Karen shows a newspaper with the headline "Arson claims another tenement". Is it related to the Flores case? Foggy and Karen leave for dinner, while Matt and Freddie wonder who owns all these tenements that have burned down. Their friend, reporter Ben Urich at the Evening Mirror would know. They give him a call. Urich, 55, is smoking a pipe at the newspaper office. He asks Matt how his father is, and says he'll gladly help out.
Switch to an office with the words "Westside Development Corp" on the door. At a desk, mob boss Mallory "Mr. Big" Leopold, 50ish, shaved head talks to Chic Tanner and another unnamed thug.
"Murdoch has been snooping around, asking questions. See that he has an accident."
Later in the afternoon, at Nelson and Murdoch, Matt exits the building. Tanner guns his car straight for Matt. Matt moves out of the way, but a truck carrying chemicals hits the car and gasoline spills out. There's an explosion, and a bright light. Matt screams and the scene fades out.