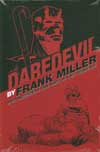 Written by FRANK MILLER, BILL MANTLO, DENNY O'NEIL
Penciled by FRANK MILLER, BILL SIENKIEWICZ, DAVID MAZZUCCHELLI, JOHN ROMITA, JR., JOHN BUSCEMA
Covers by DAVID MAZZUCCHELLI AND JOHN ROMITA, JR.
The Man Without Fear is born and reborn in this collection of Frank Miller's finest! Follow the fledgling Daredevil through his earliest adventures and errors at the dawn of the Age of Marvels, then into the depths of desperation and back again after being cut down by the Kingpin! Guest-starring the Avengers and Nuke, later of WOLVERINE: ORIGINS! Plus: a seldom-seen saga by Miller and artist extraordinaire Bill Sienkiewicz! Collecting PETER PARKER, THE SPECTACULAR SPIDER-MAN #27-28, DAREDEVIL #219 and #226-233, DAREDEVIL: MAN WITHOUT FEAR #1-5, and DAREDEVIL: LOVE AND WAR.
Rated T+ ....$49.99
Related Link: Daredevil by Miller & Janson Omnibus